A Letterkenny Tidy Towns volunteer couldn't hide his disgust after finding the remains of two puppies during a recent clean-up.
The tiny animals were discovered on the roadside in the Killylastin area of the town.
Letterkenny man John Wilkie, who came across the sad scene on Thursday, said it was one of the most disturbing finds in all his years volunteering with Tidy Towns.
"Who does that? There are some very sad people about," he said.
"There are a lot of children walking on that road. All I could do was put the pups in a bag and take them away."
John has been helping clean up his community for many years and, despite this week's distressing find, said he finds a great personal reward in helping out.
Hoovers, drinks cans and masks are just some of the most recent items he's collected from the roadside. Last Sunday he gathered up to 20 bags full of rubbish.
"If you don't have humour you can get very angry with the amount of litter out there and what people are dumping," he said.
"We are living with the Covid-19 pandemic, but I say there is an epidemic of rubbish out there.
"Volunteers are still working with Tidy Towns during the crisis, and with so many people out of work, we would like to encourage others to join up and give back."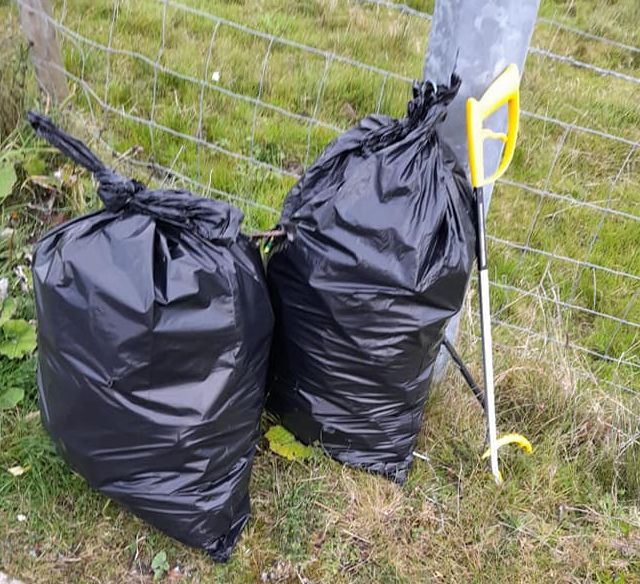 If you're looking for something fulfilling to do in your local area this month, John says that volunteering with the Tidy Towns could be a project that's right up your street.
"It's a great way to get out and do something. We all talk about mindfulness but if you are giving back to others, that is a reward to yourself," John said.
John volunteers in his area on various days during the week. For newcomers, joining the organised Sunday clean-up is a good place to start.
The Letterkenny Tidy Towns team do not meet up in person under the current Level 5 restrictions, but newcomers are welcome to get in touch online (visit the Facebook page here or email lktidy@gmail.com) and get advice and equipment to help tidy wherever you are.