The Ulster Canada Initiative will be hosting the 12th annual Laurentic Forum on November 10th, 12th, 17th & 19th.
This year's Forum, which was originally scheduled be hosted in Newfoundland, Canada is now being hosted virtually
Over the course of four days, the Laurentic Forum will examine the common purposes and challenges that coastal communities face in the North West of Ireland and the Province of Newfoundland and Labrador, Canada, finding and sharing best practices on the sustainable development of coastal communities in the peripheral North Atlantic area.
Don McNeill of the Ulster Canada Initiative, event promotor and coordinator explained that they were in the middle of planning stages to host this year's Laurentic Forum in Newfoundland when the Coivd-19 crisis threw a spanner in the works.
He explained "Initially we considered putting everything on hold for a year but then our strategic partners on both sides of the Atlantic came together and agreed that the show must go on. It was decided that we would utilise the technology available to us and host the conference virtually.

"The one big advantage of the virtual concept is the reach obtainable by attracting a much larger more international audience. We are very excited about this new virtual project, but we will miss the personal camaraderie of a physical conference".
The event is free and you can see the full agenda and Register by logging on to our website http://laurenticforum.com/
The Laurentic Forum provides a unique opportunity for all representatives, with involvement from a diverse group of attendees, from regional councils, governments, governmental agencies, to NGOs, private sector practitioners, community groups and educational institutions.
Representatives from both regions will be coming together to explore best practice through shared learning, as well to discover potential collaborative projects.
By finding common purpose, through dialogue, forum meetings will look at ways to collaborate more effectively in the future, as well as exploring opportunities to develop funding applications between the regions through programmes such as the EU Northern Periphery and Arctic Programme and the Atlantic Area Fund, in which Newfoundland is a participating non-EU partner, opening up opportunities for Trans-Atlantic partnerships and collaborations.

The virtual conference will explore sustainability in both coastal regions under the sub-themes of:
1.Opportunities and Challenges in The Blue Economy.
2. Tourism during a Time of Covid.
3. Digital Hubs & Social Enterprise: Advancing remote work in rural communities.
4. Overview on the Northern Periphery and Arctic Program for 2021.
The Laurentic Forum 2020 aims deal with the long-term sustainability of coastal communities and its inhabitants, as well as strengthening partnerships from across the regions of Co Donegal, in Ireland, and the Canadian Province of Newfoundland and Labrador.
There are a variety of challenges that peripheral coastal communities face, including high unemployment, an ageing population, outward migration of youth, and an urban/rural divide.
Also, with the newly introduced Canada-European Union Comprehensive Economic and Trade Agreement (CETA), between Canada and Europe, the cross-border Northwest of Ireland and Newfoundland can be gateway regions to each other's markets. There is huge potential in this area.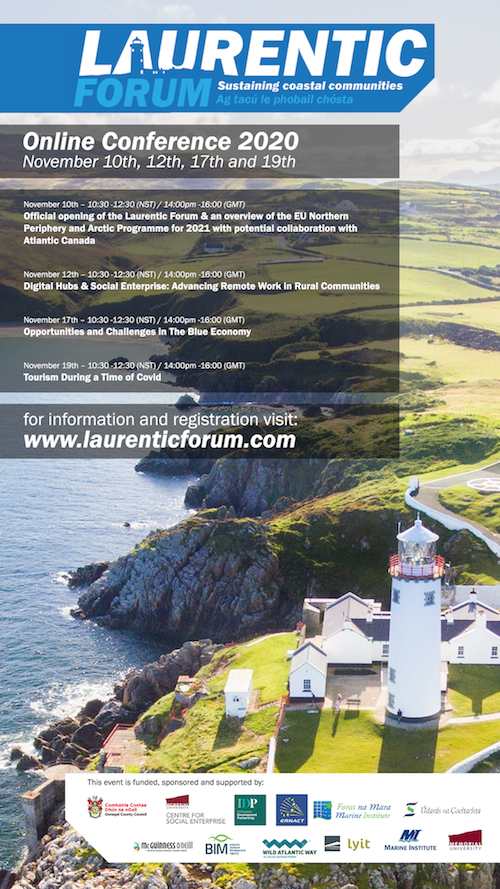 Several potential benefits have been identified in developing relationships between regions in Eastern Canada and Northwest Ireland. These include:
1)  The Laurentic Forum provides an opportunity for transnational partners and the Northwest Ireland region to learn from each other, giving opportunity for academic researchers, students and businesses to collaborate on research projects, student work placements and learning opportunities, and cross institutional exchanges.
2) It can also open up community engagement through the brokering of community to community conversations and provide an opportunity for governments and regional development organizations to learn best practices in developing a sustainable economy in peripheral coastal communities.
3) The forum gives an opportunity for private firms on each side of the Atlantic to make contact with prospective joint venture partners. As the two regions share a similar natural environment and cultural background, this may in turn lead to a demand for similar products.
4) Each region can serve as a gateway into their respective continental trading bloc, with representatives in Newfoundland and Labrador promoting goods or services provided by Irish enterprises, and vice-versa. The forum can also identify ways to connect on CETA as EU and Irish markets begin to open in the wake of the agreement.
5) The Forum encourages both regions to create a critical mass that can allow them to apply for Canadian or EU funding that might not be available to them separately.
The event is free, and you can register and see the full conference agenda on our website http://laurenticforum.com/
You can follow us on social media at;
https://www.facebook.com/Laurentic-Forum-105991157969006 
https://twitter.com/ForumLaurentic 
https://www.linkedin.com/in/laurentic-forum-ab96381b9/
Tags: