'The tide is coming in, and our time is running out,' warns Ben Harkin in his new book on the deadly and expensive problem of climate change in Ireland.
The 19-year-old student wrote about the urgency of the climate crisis during the Covid-19 lockdown. As the world changed around us, Harkin has set out to warn that the worst is yet to come for the future of planet Earth.
Time nor Tide: Ireland & Climate Change is an eye-opening fact-based book. It highlights that options are out there to reduce the devastating impact of climate change, but the right actions aren't being taken, and there has to be more willingness to act.
Harkin, a native of Termon, is in his second year studying Software and Electronics in Queens University Belfast. His urge to study climate change was sparked by a trip he took with this grandad to Maghery beach in Dungloe, where coastal erosion is having a serious impact.
"I've started writing in the past couple years and I wanted to use it for a good purpose – that is, explaining the danger of climate change to people in Ireland and making clear the opportunities we have to stop it – while building a better future," Harkin tells Donegal Daily.
The book was completed before the new college term, but Harkin simply couldn't wait to secure a publisher. He felt that his findings needed to get out as soon as possible, so he self-published on Amazon.
"The first section of the book shows that climate change is a serious problem, on a global scale and closer to home. Winters will be wetter and summers will be hotter. This is going to present a challenge to farmers around the country as growing seasons shrink.
"A rising sea will threaten rural and urban communities. Warmer summers will increase mortality and put stress on water supply systems and other infrastructure," he said.
Harkin points out that we have to adapt to these upcoming challenges, but we need to start dramatically reducing emissions.
"Luckily we can keep a lot of the systems we have if we change to cleaner energy sources," he said. "This is mainly renewable electricity, and then using excess electricity to generate hydrogen."
Agriculture is a more complicated matter, Harkin learned, and while the livelihoods of small farmers must be protected, he said more must be done on preserving and restoring/rewilding ecosystems like bogs and forests.
He added: "We need to reduce the cattle amount, it's just too high. Our emissions from cows alone makes up a 6th of our national emissions – as much as electricity generation. A reduction in animal numbers combined with an increase in protected areas like forests could give us a carbon neutral agriculture system."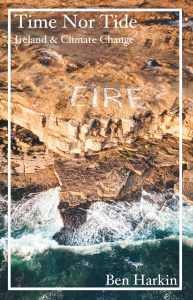 Amid all the uncertainty, the book looks at the options for building a cleaner, better future and states that urgent decisions and action needs to come from government:
"This isn't just a Green Party issue – this needs to be something that everyone from every party is working on, and this should be something we want to work on," Harkin said.
"1,300 people die in Ireland every year from air pollution that we could avoid if we changed our energy sources. Its deadly and expensive – in 2018 we spent €5.7 billion importing fossil fuels. And the money to change is there (in 2016 the government gave fossil fuels €2.5 billion in tax breaks and direct subsidies) it's just being invested in the wrong places."
Time nor tide, Ireland & Climate change by Ben Harkin is available now for Kindle and Paperback on: https:amzn.to/37qW8Ct