The Society of St. Vincent de Paul (SVP) has teamed up with the Letterkenny Chamber of Commerce this Christmas to launch a donations appeal to buy local gift vouchers.
The Letterkenny charity shop branch cannot accept donations of toys or food this year due to Covid-19, so they are asking the community to support them with a monetary donation online.
All funds will be used to buy ShopLK vouchers for local families in need at Christmastime.
SVP in Letterkenny came to the aid of 616 families last year and have reported an increase in demand this year already.
The charity is inviting people to donate online or to hold a workplace fundraiser to boost the appeal.
"The message is simple: Support local families, support local business!"
You can donate at https://www.svp.ie/shoplk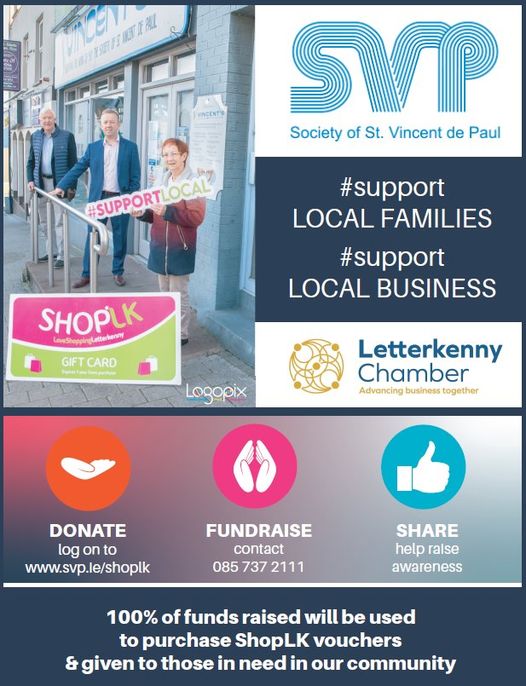 SVP Letterkenny is also running a 'knock and collect' service during the current restrictions.
The store is welcoming all donations of clothes, shoes, bags, bric-a-brac, good condition toys and books at this time and selling via Facebook. They have a first come first served policy, where anyone wishing to buy an item can call to the shop door, Monday to Friday 10am until 5pm, and purchase in person. Donations are also being accepted in this way.
For updates, visit the Saint Vincent De Paul Letterkenny Facebook page here: https://www.facebook.com/StVincentsLk/