A leading Hollywood actress has thanked a Donegal toddler for one of the best reviews of her career.
Anika Noni Rose is currently starring in the new Netflix seasonal film 'Jingle Jangle: A Christmas Journey.'
The musical spectacular was inspired by classic films Willy Wonka and Chitty Chitty Bang Bang and is being watched by thousands of families across Ireland.
It tells the story of a toymaker who has his famous inventions stolen and stars a number of A-listers including Forest Whitaker, Hugh Bonneville and Ricky Martin.
One such family who enjoyed the film is the Harkin family from Letterkenny in Co Donegal.
You all got the approval of our boys today too! Dancing the whole way through! pic.twitter.com/RttBskrwF7

— Ian Harkin (@ian_harkin) November 14, 2020
Dad Ian Harkin enjoyed the reaction of his sons Liam, 1 and Henry, aged 3, so much that he tweeted how much they liked it including a video of Liam saying "Woooooooow."
To his amazement, Anika, who has starred in numerous films including Dreamgirls and The Princess and the Frog retweeted the message.
Toni-award winner Anika said that little Liam simply filled her heart up after she watched the video of him enjoying the film so much.
She said "This just filled my heart all the way up. They are adorable. And that teensy one? His expression! Thank you for sharing this."
After switching the volume up on Ian's video Anika added "OMG! I just turned the sound on. That "woowwww" is one of the best reviews of my career."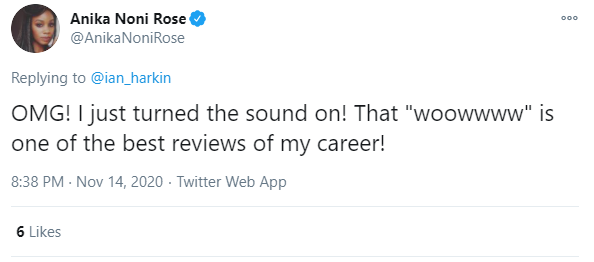 Ian, who runs the Lottie Dolls company, said he was gobsmacked when Anika retweeted his video.
He said "Myself and the family enjoyed the film so much. It's going to be one of those Christmas classics.
"The boys were just awe-struck by it and the costumes are just amazing.
"I couldn't believe it when Anika wrote back. I was never expecting that," he said.
In response to her message he tweeted back "It's a show the world needed right now on so many levels. Looks like it would have been a lot of fun making it too."
Tags: