JOHN Gildea spent the winter of 1997/98 working, waiting – and wondering. 
The new Donegal manager reassured him every night that his chance would come, but he wasn't sure.
Gildea had landed himself into hot water for playing illegally in New York in 1997.
He had become tired of knocking on the Donegal door, but a change of manager in '97 brought new hope for the Glenties native.
The first year under Bonner offered Gildea a glimpse at the man-management skills of Declan Bonner after the Na Rossa man was installed as the successor to PJ McGowan on his 32nd birthday.
"Declan kept me involved and he took a big chance on me," Gildea says.
"I was sick at that stage. I had a B12 deficiency and the more I trained, the more unfit I seemed to get. Declan was a part of the whole thing there, getting doctors involved to see what was wrong. I saw Declan behind the scenes; things people won't see or get. Many managers would just have tossed me aside."
Gildea felt he was ready, but one substitute's appearance, against Down in '95, was all he had to show when Bonner took the reigns.
The Glenties man had the small matter of a looming suspension when Bonner was formulating his plans.
The world was Gildea's oyster in the summer of '97 when he headed out to Paddy McDevitt in Boston.
When Donegal New York came calling and Gildea couldn't resist the Big Apple's lure for a couple of weekends. The big midfielder helped them to win a New York Championship.
"I don't even know who I was supposed to be in New York," says Gildea, who played under an assumed name at Gaelic Park.
"New York was a completely separate entity and players would often get weekend 'passes' to out to New York. The problem with me was that I had transferred to Boston for the summer and crossing over the clubs in America wasn't allowed.
"The lads called me and I was up to New York for three or four weekends. I went up, played the match, had a bit of craic and came back to Boston on the Monday.
"We reached the New York final and we lost; I remember Gregory McCartan scored a drop-kick goal.
"Going to America was an easy enough decision for me. I played a couple of League games for Donegal, but I wasn't getting a run and wasn't really part of the set up. I was still trying to break my way into the squad and it wasn't happening for me. I just took off for Boston for three months. At that age, it was brilliant."
Gildea was slapped with a one-year suspension but, on appeal, it was reduced to six months.
The new manager sat with Gildea and assured him that he was wanted.
This time, Gildea felt the sentiments were genuine.
He was every bit a part of the hard yards as those who could play.
"When I was suspended I shouldn't have trained with the county," Gildea says, "but this was an era before iPhones and where anything and everything was up for the world to see.
"We trained in places like the rugby ground in Donegal Town. We weren't in state-of-the-art, public places. Donegal was forgotten in terms of attention anyway.
"I trained away and didn't play a game. It was hard. In saying that, I didn't have any big plans and being a part of it was better than not being a part of it.
"When Declan took over as manager, he assured me that I was a part of his plans. He spoke a lot to me about being a part of the set-up. Declan has a great way with him.  He's a very good people person.
"Anyone who knows Declan will say that about him. A big part of a situation is doing things for people you like; things you wouldn't do for someone you didn't like. It's not about respect as such, it's just a genuine fondness for the guy."
Gildea's suspension was up at midnight on an April Saturday. Fourteen hours later, he started for Donegal in a National Football League semi-final at Croke Park. In front of 17,419, Gildea scored two points but they lost 3-10 to 1-14.
"Declan was true to his word," Gildea recalls. "He had figured out what he wanted out of me. He took a big chance on me because, remember, I wasn't part of the panel at all for that League campaign."
Donegal were traveling in the right direction, although they scraped past Antrim by a point, 1-11 to 1-10. In an Ulster semi-final, Donegal came up against the defending champions Cavan, who had Donegal legend Martin McHugh at the helm.
Gildea had played at wing-forward against Offaly and Antrim but when Martin Coll was sent off just ten minutes into the Cavan game, Gildea was moved to the engine room.
Gildea was outstanding as he dominated Cavan kingpin Dermot McCabe. From then until 2004, Gildea manned the Donegal engine room.
The manner of the 1998 Ulster final defeat still stings. Derry's late goal, scored by Joe Brolly, remains a haunting image for Gildea and those Donegal players who were within touching distance of provincial glory.
"Of all the Ulster finals I lost, that was the one that really got away," Gildea says.
"Michael Oliver (McIntyre), God rest him, was involved too and he was a great man too. He was so driven. Michael Oliver's training was savage. Training was just ridiculous. We beat Cavan that day and we were always going to beat them. We were absolutely flying.
"That team was as good as I ever played on. Declan was very unlucky. He came in and turn things around for Donegal.
"Look at our forwards: We had (Brendan) Devenney, Tony (Boyle), Manus (Boyle) and Adrian Sweeney; four of the most prolific forwards in Donegal's history.
"It was like an amalgamation of the back end of the '92 guys like Manus, John Joe Doherty, Barry McGowan, Tony and Noel Hegarty and then guys like Damian Diver, Noel McGinley, Devenney and Sweeney."
Bonner walked away after three years at the helm, but football remained his weakness.
Just shy of a decade ago, Bonner went back to aid a South Donegal Development squad and, having taken the role as Donegal Under-16s manager, the wheels were set in motion for his return to the senior stage.
Gildea isn't surprised that Bonner stands on the verge of history. Should Donegal defeat Cavan in Sunday's final, it will be the county's first ever three-in-a-row.
He says: "Declan has changed the way Donegal have played and they are as close a rival as there is to Dublin.
"They defend well, they transition well and have big men who can win ball. They can all kick scores.
"It's not all about Michael Murphy anymore. He carried the weight of Donegal football on his shoulders for ten years. What he does is exceptional. He has guys around him now who can be match winners. We have seen better, more influential performances from Michael in the last three years, purely because he's surrounded by these guys who have stepped up and grown up. Michael is still the guy driving the ship.
"I'm glad that Declan has gone back in now and is having success. He's a real Donegal man and has devoted his whole life to it.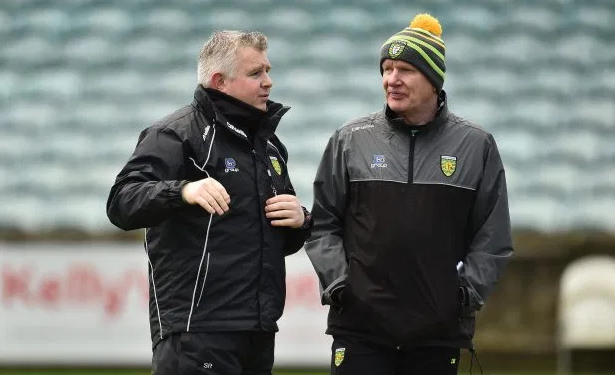 "When he first came into the job, Declan was very organised, very structured and he had good people in around him – exactly what he has done now."
In an old placement with AIB, Gildea got to know Stephen Rochford, the former Mayo manager brought in as a coach by Bonner. Rochford managed Mayo to an All-Ireland final, but Bonner reached out for his assistance.
Gildea has known Rochford for over 20 years. The pair were on two trips to Australia and Gildea laughs at those who suggest that Rochford's recruitment was a potentially dangerous move by Bonner.
Gildea says: "Stephen was an established inter-county manager in his own right and very few people would have had enough humility and confidence in themselves to bring someone like that in.
"This was someone who could have been perceived to have undermined him, but Stephen wouldn't be coming with that mindset.
"No better man that Stephen. His sole focus would have been just: 'Right Declan, what do we need here?'
"Something that could have been a complete disaster has worked because of the personalities.They have Paul McGonigle (Gildea's former midfield partner) there too: He's very bright, as honest as the day is long, but also very personable and knows his football.
"Donegal is in good hands."
Tags: