FORMER Finn Valley boxer Austeja Auciute has won her fifth Lithuanian title this weekend.
Auciute won ten Irish titles in the colours of Finn Valley ABC before returning to her native Lithuania at the tail end of 2015.
Yesterday in Kaunas, Auciute won the welterweight title at the Lithuanian National Championships.
In the 69kgs final, Auciute took a unanimous decision against Augustina Markelionyte.
Auciute took a clean sweep of verdicts from the ringside judges, two of whom called the bout 30-27 in her favour.
"I'm delighted to win my fifth senior title in Lithuania," Auciute said.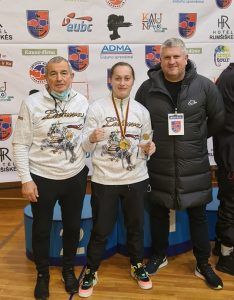 "Being into boxing is great. I felt really strong. It's been great to come back after a lot of injuries. I had five surgeries there in between my titles and had some serious injuries.
"I'll go straight into preparations for the Olympic qualifiers and I'm really looking forward to them."
Based in Silute, Auciute is coached by Vincas Murauskas.
In 2016, Auciute competed at the World Championships, where she lost out to Irish boxer Kellie Harrington.
Auciute was a dominant puncher during her days at Finn Valley ABC.
Only Jason Quigley and Steven O'Reilly have won more Irish crowns for a Donegal club than Auciute's nine-title haul.
In 2011, she was a bronze medalist at the inaugural Women's World Youth and Junior Championships in Turkey, while she also has multi nations gold and silver medals in her collection.
She has now won the Lithuanian welterweight title in each of the last five years.
Tags: