History and french students at Mulroy College in Milford undertook an exciting project when 15 students participated in a live interview with French Writer Sylvain Gache, author of recent publication ​Croke Park November 21, 1920: Bloody Sunday in Dublin.
​
The live interview took place through Google Meet and third year students bombarded the writer with questions they had brainstormed in history class while studying the tragic event.
Students were fascinated to learn of the events on that fateful Sunday when fourteen people were killed at the hands of the British army in Croke Park and wanted to further engage with the topic.
Students were particularly interested in why the French author had chosen a subject that is little known to french people.
Gache responded that as a history teacher who already had a love of Irish culture and the Irish landscape he immediately became interested in the topic after a chance encounter in a Dublin pub.
Gache had travelled to Dublin in 2007 to watch Ireland play France in a rugby game at Croke Park. He met a local man who explained the historical importance of the hallowed Croke Park turf and mentioned the events of Bloody Sunday.
For Gache the torch-paper had been lit and he immediately wanted to research that fateful day.
The 45-minute interview was a fascinating opportunity for students to question someone who has undertaken an ambitious and exciting project and brought it to fruition.
Students asked Gache about research methods and learned that he spent time at the Irish Military Archives in Cathal Brugha Barracks in Rathmines.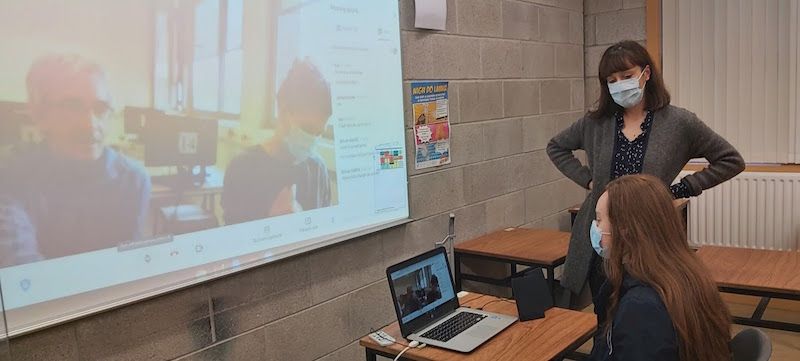 The historical writer enthused to the students about his love of handling primary sources that survived that turbulent period in irish history.
Students remarked after that one of the most potent points he made was in answer to a question posed by student James Brougham.
James asked "Why is it important to commemorate events like Bloody Sunday?".
His reply was "That to move forward we have to look back" and that as flawed humans we need to learn from the mistakes of the past."
He made a point of stating that Ireland and Britain need to learn from our shared history and cement our unusual relationship, especially with Brexit looming.
Mulroy College continued their commemorations of the 100th anniversary of Bloody Sunday throughout the rest of the week with Transition Year students presenting to 1st year subjects on the event.
Tags: