Motorists are being urged to take extra care to avoid collisions during deer rutting season.
Deer may be more active at this time of year due to their annual mating season, and gardaí are urging Donegal drivers to be on alert in high risk areas.
If you see a warning sign such as the one below, it means that animals are likely to be nearby.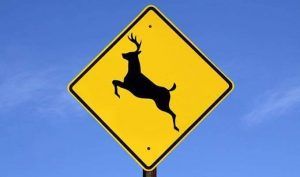 Gardaí issued the following advice for avoiding animal collisions:
"We have a number of areas throughout Donegal where there are road signs to indicate locations where animals are known to frequent the road. There are quite a few locations where Deer are known to cross roads. Should you see the sign pictured below along the roadside, please be extra alert and be prepared to stop if necessary.
"Always slow down and be prepared to stop when approaching or overtaking animals. If a person in charge of animals gives a signal to slow down or stop, you must obey it.
"Avoid using your horn if animals are in front of you, as it might frighten them."