The team at Castle Grove Country House Hotel have launched a fabulous array of luxury Christmas hampers this Christmas season, with prices ranging from €75, €100, €150 and €250.
The hampers are all full of goodies made within the CG kitchen using locally sourced produce from Donegal and of course from their Walled Garden.
There are some lovely tipples in there for the festive mood including their very own Strawberry Gin, Rhubarb & Ginger Gin and their very own Original Walled Garden Apple Cider. Delicious Festive Foods include, Turkey and Ham Pies, Mince Pies, Pickles, Christmas Puddings, Christmas Cookies, Soy and Ginger Cured Salmon, Honey Baked Ham and a selection of Castle Grove Sauces and Chutneys.
The hampers are available to order now until December 8th by calling 074 91 51118, direct message on Facebook @castlegrove1695 or online www.castlegrove.com
They can be collected at Castle Grove from December 10th-20th or shipped anywhere in Ireland.
As always Castle Grove Christmas Vouchers are available and make an ideal gift.
The Hampers are truly the perfect gift for the Foodie in your life and a great way to Support Local and Buy Donegal this Christmas.
The Family and team from Castle Grove would like to take this opportunity to thank all their loyal customers and friends for their support in 2020 and wish everyone a Very Happy and Peaceful Christmas with their family and friends.
GIVEAWAY: For the chance to WIN a hamper from Castle Grove worth €75 check out our Facebook post here: www.facebook.com/donegaldaily The competition post is pinned to the top of the Donegal Daily newsfeed. Winner announced 10th December 2020.
A Guide to the Exclusive Gifts at 

Castle

 

Grove this Christmas:
Castle Grove Christmas Hamper €75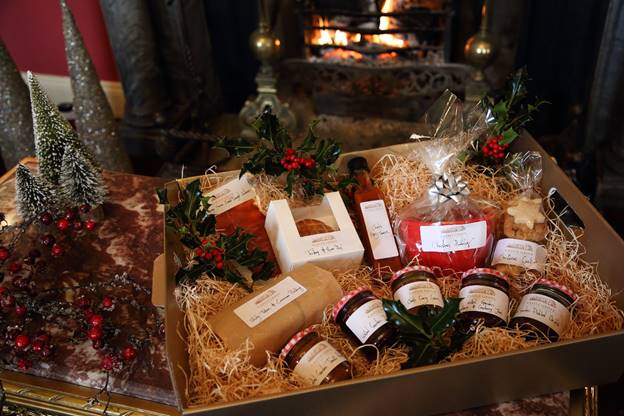 Contents:
Christmas Cookies (Shortbread and White Chocolate & Cranberry)
Sticky Toffee & Cinnamon Pudding
Soy Ginger Cured Salmon 100gr
Christmas Pudding 2lb
Walled Garden Strawberry & Cranberry Jam
Walled Garden Tomato Relish
Chef 's Recipe Curry Sauce
Chef's Recipe Spicy Sauce
Walled Garden Pickled Beetroot
Walled Garden Pickled Onion
Free Range Turkey & Ham Pie
Order Now: www.castlegrove.com/castle-grove-hampers
Castle Grove Christmas Hamper €100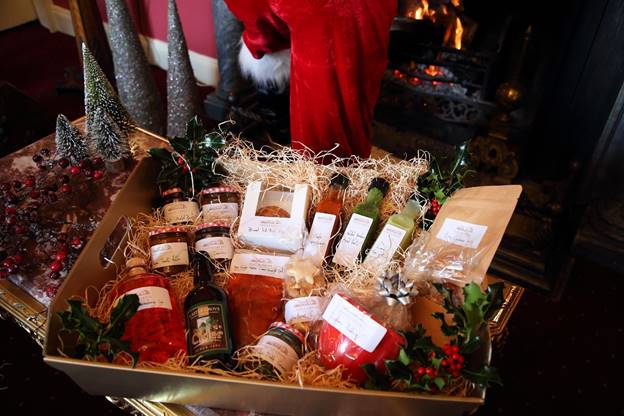 Contents:
Castle Grove Strawberry Gin 100ml
Castle Grove Original Cider
Christmas Pudding 2lb
Christmas Cookies (Shortbread and White Chocolate & Cranberry)
Cranberry Sauce
Soy Ginger Cured Salmon 100gr
Walled Garden Pickled Beetroot
Walled Garden Tomato Relish
Chef's Recipe Curry Sauce
Lime Dressing
100% Irish Braised Beef & Onion Pie
Walled Garden Basil Pesto
Chef's Recipe Spicy Sauce
Walled Garden Pickled Cucumbers
Cranberry Granola 500gr
Order Now: www.castlegrove.com/castle-grove-hampers
Castle Grove Christmas Hamper €150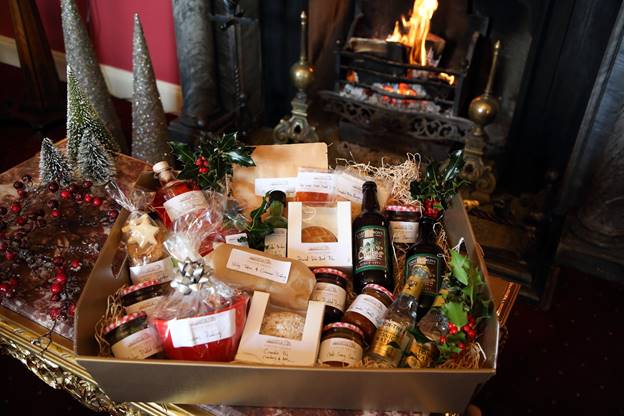 Contents:
Christmas Pudding 2lb
Sticky Toffee & Cinnamon Pudding
Cranberry Granola 500gr
Soy Ginger Cured Salmon 100gr
Lime Dressing
Smoked Chicken & Cranberry Terrine 150gr
Cranberry Sauce
Chef's Recipe Curry Sauce
Two Castle Grove Original Cider 2x 500ml
Castle Grove Strawberry Gin 100ml
Two Fever Tree Tonic
Walled Garden Tomato Relish
100% Irish Braised Beef & Onion Pie
Walled Garden Strawberry & Cranberry Jam
Cranberry, Apple & Cinnamon Tart
Walled Garden Basil Pesto
Chef's Recipe Spicy Sauce
Christmas Cookies
Walled Garden Pickled Beetroot
Chili Baked Pickled Herrings
Order Now: www.castlegrove.com/castle-grove-hampers
Castle Grove Christmas Hamper €250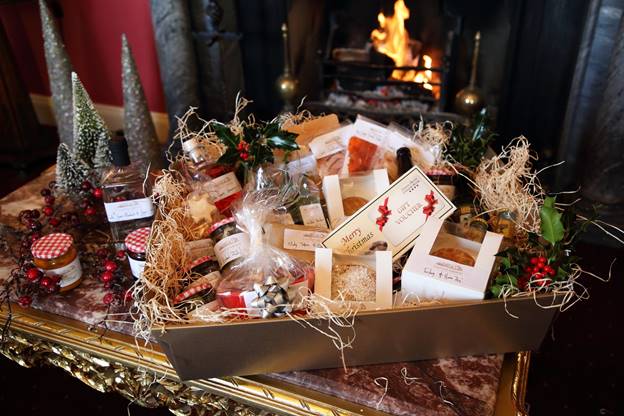 Contents:
Christmas Pudding 2lb
Sticky Toffee Cinnamon Pudding
Christmas Cookies
Cranberry Granola 500gr
Lime Dressing
Soy Ginger House Cured Salmon 100gr
Smoked Chicken Cranberry Terrine 150gr
Chef's Christmas Ham 150gr
Cranberry Sauce
Chef's Spicy Sauce
Chef's Curry Sauce
Walled Garden Strawberry and Cranberry Jam
Walled Garden Pickled Cucumber
Walled Garden Pickled Beetroot
Walled Garden Pickled Onions
Walled Garden Tomato Relish
100% Irish Braised Beef & Onion Pie
Free Range Turkey & Ham Pie
Chocolate, Rum & Chestnut Truffles
Castle Grove Strawberry Gin 100ml
Two Castle Grove Original Cider 2x 500ml
Castle Grove Rhubarb & Ginger Gin 700ml
Cranberry, Apple & Cinnamon Tart
Walled Garden Basil Pesto
Chili Olives
Chili Baked Pickled Herrings
Afternoon Tea Voucher for Two
Order Now: www.castlegrove.com/castle-grove-hampers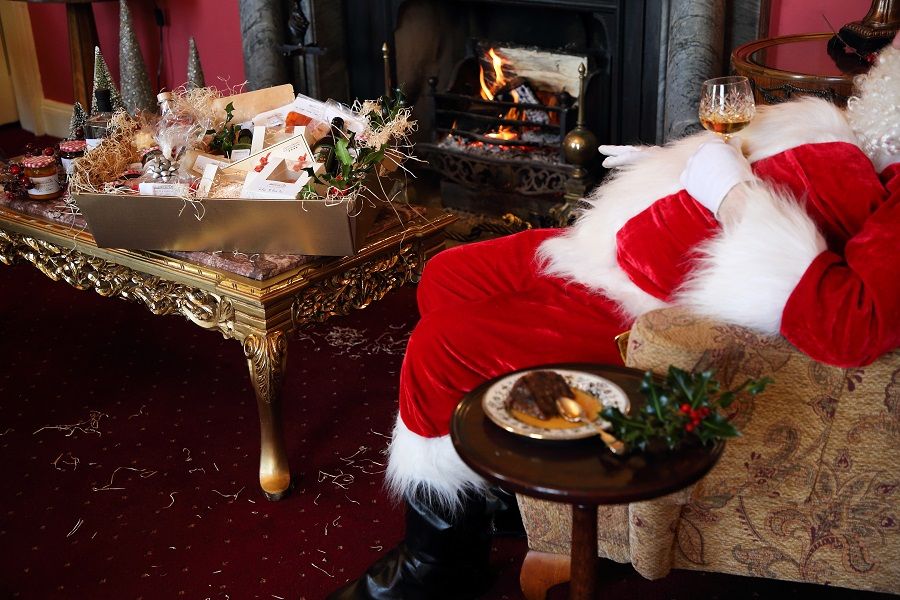 One Castle Grove hamper, valued at €75, will be won by one reader of this competition in conjunction with DonegalDaily.com and DonegalWoman.ie
Tags: