A newly-formed cycling and walking group, based in Carndonagh, aims to encourage Donegal County Council to construct 10kms of cycling infrastructure to connect schools, sporting amenities and businesses in the town.
Carndonagh Cycleway has now requested a meeting with the members of the Inishowen Municipal District to put forward their vision for a comprehensive cycling network that they believe will revolutionise the town – and for the good.
'Carndonagh is not a safe town for cycling at present', said spokesperson Odel Ward said.
She continued: 'while there are a lot of road cyclists passing through en route to or from Malin Head, how many people do you see cycling to work, to school or to access our excellent local sports clubs?
"Unfortunately, the answer is 'very few', because there's simply no safe, segregated cycling lanes. We are being encouraged to walk and cycle to school but it is currently dangerous with the high volume of motorised traffic in the town centre'.
Research shows 30% of all trips in the car cover distances of less than 3km and 50% are for less than 5km.
Many of these car journeys could be substituted with cycling. It is an efficient, sustainable way of getting around while reducing pressure on families daily taxi service, improving public health, lifting spirits and lowering CO2 emissions.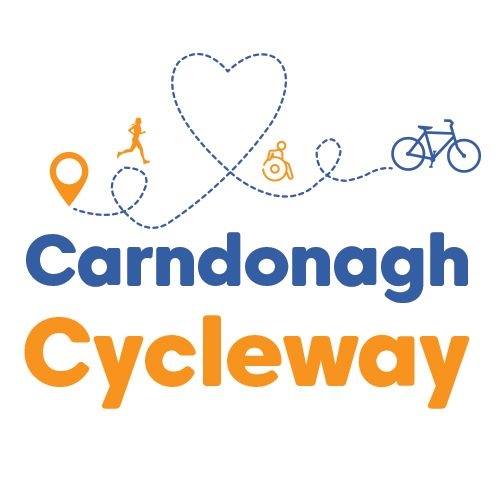 From the research we have carried out so far there is huge demand for safe cycle routes to link the community but safety concerns are stopping the government's health initiatives and policies from being implemented locally.
Families are simply not comfortable using the local roads to travel by bike and end up driving everywhere under pressure, she said.
'One only has to look at what's happening in other parts of Ireland, notably in Dun Laoghaire, to see the change that can occur given the political willpower and financial backing of the Department for Transport, Tourism and Sport.' It's not just for Dublin, cycling is a pleasant way of getting around on a daily basis and with the right infrastructure and appropriate clothing workers, shoppers, tourists and leisure users can all enjoy the benefit of the bike.
"While the current regeneration project for the town centre is to be greatly welcomed, we can also further enhance access in and to the town. Members of our group have audited the current road network in and around the town and we feel it is feasible to install segregated cycling lanes that will enable children and adults to safely move to school, to work, to our local sports facilities and for recreation."
The campaign comes on the back of a renaissance for cycling in Ireland, with bike shops currently sold out of stock and the percentage of those cycling having increased dramatically since March 2020, highlighting the massive unmet demand for cycling.
Odel concluded: "We need to use the outdoor space properly so that people can enjoy freedom, good health and a lifted mood while also reducing air and noise pollution. We want to improve our quality of life while spending more time in an attractive and sustainable town centre.'
The group is looking for the whole community to get behind this small working group as it will take a collective effort to make this vision become a reality.
They plan to circulate a petition to bring a cycleway to Carndonagh in the coming days and will be working on developing plans to present to the council.
Anyone interested in being involved in the campaign can email
carndonaghcycleway@gmail.com or check https://www.facebook.com/carndonaghcycleway
Tags: