The North West Simon Community is calling on Donegal to bring the spirit of Christmas to communities in 2020.
Christmas will be a little different this year but that doesn't mean that you can't get involved in festive fundraising activities and help make a real difference.
Here are some creative, virtual and fun ways for you to support those facing homelessness this Christmas.
Christmas Jumper Day
Fri, 11th Dec
Get your woollies on in your workplace, your school, college, or even on your morning Zoom call and pledge to donate €5 (or more) to North West Simon.
Gift Voucher Appeal
Give the gift of practicality and dignity to those facing homelessness this Christmas by donating a grocery, fuel, pharmacy, or toy shop voucher.
Simon Action Day 
Fri, 18th and Sat, 19th Dec 
Take action this December by donating an hour's pay or your commute fair, gift your coffee, or by swimming for Simon on New Year's Day!
To find out how to get involved, contact Mary mary@northwestsimon.ie (Sligo, Leitrim) or Collette collette@northwestsimon.ie (Donegal). All donations to the website can be made to northwestsimon.ie/donate and put either Jumper day/Vouchers/Action Day in comment box. 
Now more than ever, North West Simon needs your support to ensure we can continue to protect the most vulnerable individuals and families from the risks of homelessness.
Bring the spirit of Christmas to your community!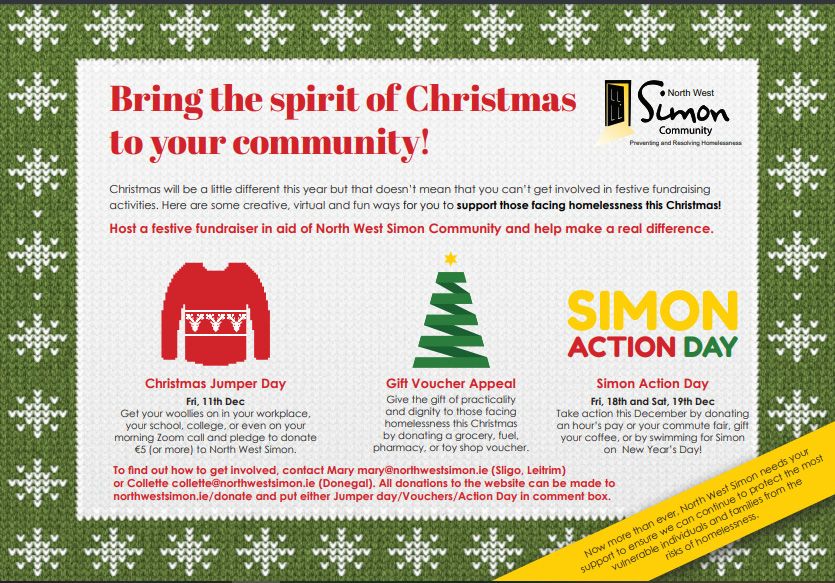 Tags: