The first meeting of the ambitious Árainn Mhór Blueway accreditation took place yesterday at Comharchumann Oileán Árainn Mhór on the island.
Blueways is a new tourism and outdoor recreation offering on the island of Ireland that aim to celebrate and promote our scenic inland waterways, lakes, rivers and coastal areas around the island of Ireland.
Blueways also aim to encourage more people to experience and enjoy outdoor activities in water locations with the human and mental health benefits that emerge. Árainn Mhór Blueway aims to be the first Atlantic Blueway in Ireland.
Customer Service Excellence Ireland (CSEI) are a Donegal based company who are contracted by Comharchumann Oileán Árainn Mhór to support the accreditation process as well as developing a marketing and management plan for the aspirational Árainn Mhór Blueway project.
Yesterday's meeting followed a 2-day visit to the Island by the CSEI team comprising of the former Director of the Cliffs of Moher, Katherine Webster, who was also an instrumental part of the Wild Atlantic Way team and a leading Northern Ireland expert Helen Matthews who has worked extensively with the Giant's Causeway.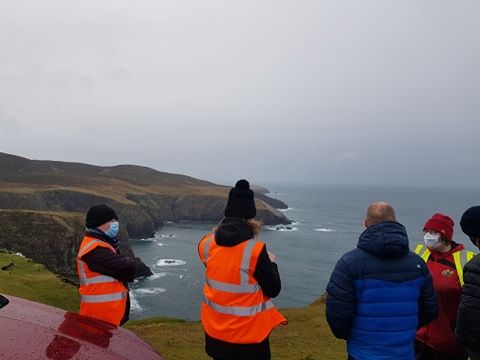 The Steering Group, established in early 2020, includes representatives of the management committee of Comharchumann Oileán Árainn Mhór, the Árainn Mhór Community Centre, Údarás na Gaeltachta, the Rural Recreation Officer, DLDC and representatives of Donegal Co Co .
In early 2021 there will be an extensive local consultation process where the outline of the Árainn Mhór Blueway will be discussed with interested groups on Árainn Mhór as well as with its natural connected region of Burtonport, The Rosses and West Donegal.
It is expected that an application for accreditation will be submitted to Blueways Ireland in the Spring of 2021 following the consultation phase.
In a joint statement after yesterday's meeting Comharchumain Oileán Árainn Mhór Chairman Jerry Early and Manager Nóirín Uí Mhaoldomhnaigh said –
"Although the opportunity is big, so too is the responsibility'. We must ensure that we take this all-important process of accreditation one vital step at a time. There is a compelling vision and a legacy at play in the Árainn Mhór Blueway application so we must make sure that we are in line with all that the Blueway accreditation asks".
Tags: