Sponsored Post
Innovation centres across Donegal offer much more than office space in this challenging year, more importantly they are places that nurture innovative, ambitious and supportive communities.  So, if you have a new tech business idea or are already established and want to expand, or if you need to work remotely in 2021, get in touch.  
 Here, we take a look at three local centres and the benefits they offer to entrepreneurs and workers alike…
Colab, LYIT campus,  Letterkenny  
A state-of-the-art facility where over 200 entrepreneurs have turned their business ideas into profitable commercial enterprises in numerous international markets.
The team at Colab are widely respected for creating an 'innovation ecosystem' for technology businesses. The centre provides exceptional connectivity and technology, flexible coworking space and office space. All 4 meeting rooms were recently refurbished with the latest video conference tech. Colab has just been awarded €150K from the Government under Enterprise Ireland's Enterprise Centres Fund, to help with the impact of Covid-19, which will be allocated to find ways to continue to sustain businesses and develop new services. 
Take a virtual tour here: https://www.lyit.ie/portals/colab/virtual/index.html    
Most importantly, Colab is a place where people with ideas come together, support each other and grow.  The community welcomes remote workers, people with innovative technology ideas and entrepreneurs at various stages. Get in touch about what your hopes and plans are for 2021 and the Colab team will do their best to help.
Contact Patsy Donaghy 074 9186703, Patrick.donaghey@lyit.ie or visit colab.ie.  
The BASE, Stranorlar  
The BASE is offering a great opportunity for anyone to 'test drive' the facilities for free, including desk space, meeting room or the BASE Studio for online meetings from Monday the 21st to Thursday 24th December. Aptly named 'Home for Christmas' the aim is to invite people returning to Donegal (or not) for Christmas to have a professional environment to work from.  
The BASE is a modern, high-spec centre, close to the border, which has flexible space equipped with the latest tech and communications, including professional lighting equipment to facilitate product or business shots.  In 2021, a new Digital/ICT business hub will open at the BASE with dedicated coworking space, office units, funded by The Western Development Commission (WDC), in partnership with Donegal County Council, under the Rural Regeneration and Development Fund (RRDF).  
Renowned for the strong networking culture and diversity of businesses, the BASE is a vibrant environment to work in. The team want to see clients succeed and are dedicated to supporting clients through signposting, connecting and encouragement.  To find out more about visiting the BASE Christmas week or to discuss what might suit you best in 2021 contact leah@thebaseenterprise.ie or +353 87 607 5555.  
gteic@Gaoth Dobhair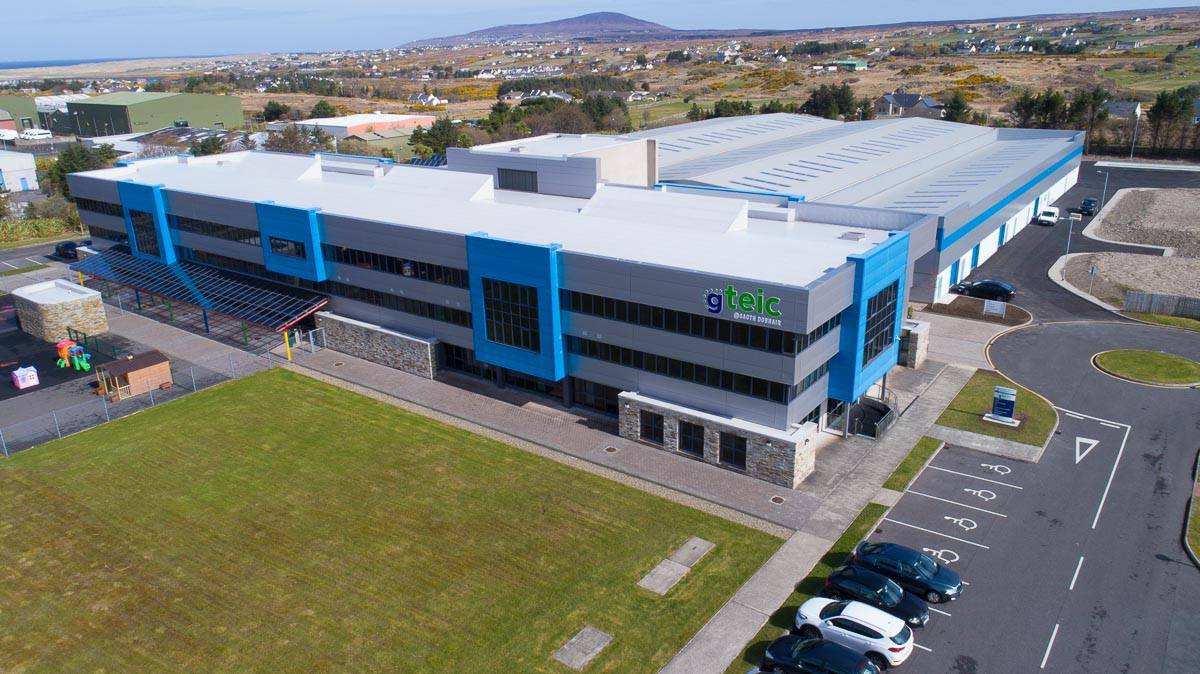 A hub for remote workers, businesses and start-up entrepreneurs located in Gaoth Dobhair in Donegal's Gaeltacht, gteic@Gaoth Dobhair is part of the gteic Gréasán Digiteach na Gaeltachta (Gaeltacht Digital Network), a network of 31 digital hubs being developed by Údarás na Gaeltachta. The centre offers a dynamic innovative professional environment with flexible modern workspaces and flawless high-speed broadband.
There is a choice of coworking and office space with exceptional connectivity and video conferencing facilities.
Have a look,  http://udaras.ie/en/business/gteic-digital-hubs/gteic-gaoth-dobhair/
gteic@Gaoth Dobhair is home to 25 companies and organisations, with nearly 70 people on site.   That makes it a natural place to network, share ideas and make connections.  
Whilst the unique Gaeltacht culture drives creativity and innovation, developing a business 'as Gaeilge' is not an essential requirement to become part of gteic.  The hub is truly a dynamic international community which includes satellite offices of multinational IT and healthcare companies, local businesses and start-ups. There is also a large contingent of remote workers at gteic@Gaoth Dobhair, working for companies based in USA, India, Norway, Dublin, Meath and Galway.
The hub offers a friendly, supportive environment with a team who are committed to guiding entrepreneurs at various stages of development. Due to the success of gteic in phase 1, phase 2, majority funded by The Rural Regeneration Development Fund, will open in early 2021 and will have a dedicated presentation theatre and 170 new workspaces.
To discuss how gteic@Gaoth Dobhair can meet your requirements, please call Micheál Ó Duibhir at 087-2313504 or e-mail GaothDobhair@gteic.ie  
Tags: