ON Christmas morning, Stephen Reburn will set off on an amazing non-stop 400km barefoot run from Letterkenny in Co. Donegal to Killarney in Co. Kerry in aid of Pieta House.
The Cavan native will start running in Letterkenny at 9am on Friday morning and won't stop until he reaches the Kingdom. He expects the run will take between four and five days.
So far, he has raised over €1,000.
Stephen hopes to raise both awareness and vital funds to support the work done by Pieta House.
"I have seen first hand the great work that they do and I admire their passion to save lives and their readiness to help anyone suffering from mental illness," he says. "There is a gap in the system that Pieta is trying to close, so there is a lot of strain on their services but they always cope with it brilliantly."
"There is a crisis of mental health in our country at the moment and it will continue to get worse if we do not act now.
"I have lost too many people to suicide, I've grown up seeing people end their lives by their own hand. I have been to two funerals this year alone, for young people who died by suicide, and I am not going to stand at a third.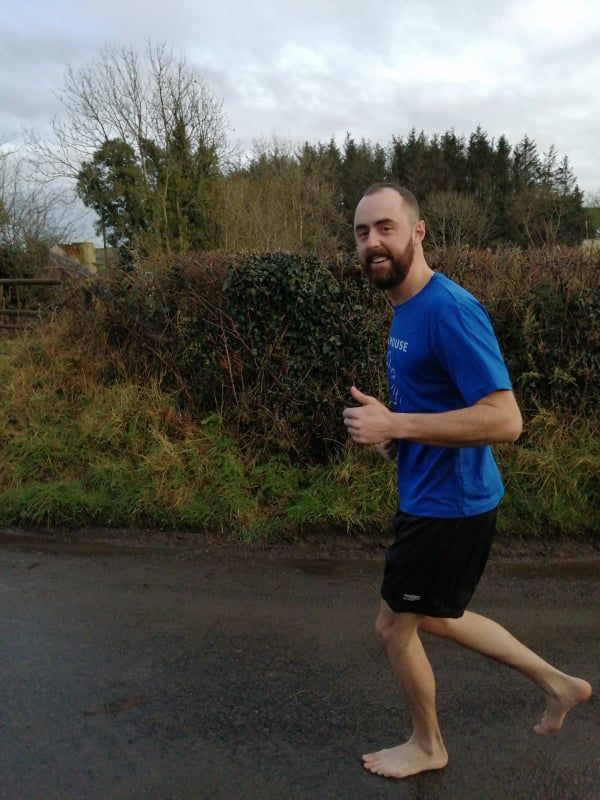 "Christmas is a hard time for everyone, especially those who have an empty chair at their dinner table this year. On a personal level, it always reminds me of my own suicide attempts and depression, so I know what it's like to be at the lowest level around this time of year.
"I want to show people that with willingness and endeavour and some luck thrown in, it is possible to overcome challenges. I also want to show the compassionate nature of people, because I know if I fall down, I will be picked up, if I reach a mental brick wall, I know someone will be there to carry me through it, I want this to be a metaphor for depression or mental illness in that sense, to show that no one is ever alone because people will always want to help.
"The reason for doing it in my bare feet is because I want this to be the hardest physical challenge I've ever faced, so I can learn about myself more and test my capabilities and be better fit to help people in the future as a result."
When it comes to training for the run, replicating the distance of 400km non-stop is challenging but he is pushing his body to the limits with arduous training.
"I am doing a thing called pain training, which includes running barefoot, running on my knees and river and lake diving in the current weather, this sounds very strange, I know, but my theory behind it is that I will get used to being uncomfortable because at the end of the day, endurance tests are a bit like life.
"The aim is 400km in one go but I will listen to my body if I need sleep on the third night or so, as I want to limit rest as much as possible."
This isn't his first feat of endurance. In 2016, Stephen cycled the circumference of Ireland, and his 24-hour Christmas run in 2016 raised over €4,000 for Pieta House.
"This is by far my hardest physical challenge to date, but I want it to be in order to test my physical and mental resilience. I have ran 160 km before which was my furthest, but not double it in the one go," he says.
Although he sets off on Christmas morning, he has a few festive plans up his sleeve.
"We'll break out the Santa hats and turkey and cranberry sauce sandwiches along the way," he laughs.
To donate to Stephen's No Socks Run for Suicide fundraiser, please visit his feelgoodwithpieta.ie page. 
https://www.feelgoodwithpieta.ie/fundraisers/stephenreburn/stephens-no-sock-run-for-suicide