The first Covid-19 vaccines have been administered in Letterkenny University Hospital today.
Lorraine Guthrie, Clinical Nurse Manager was the first staff member to receive the Pfizer/BioNTech vaccine.
Lorraine received the vaccine from her nursing colleague Virginia Murray.
Plans are in place to roll-out the programme to staff in the coming weeks.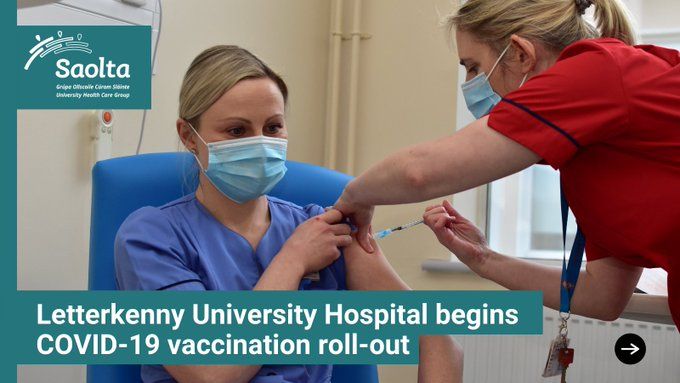 Today has been described as a day of hope for the county. The first groups being vaccinated are frontline healthcare workers and people who are most at risk from serious infection if they catch COVID-19. Once these priority groups have been vaccinated, the vaccine will be open to other groups.
County Councillor Ciaran Brogan told Donegal Daily: "The one thing the vaccine does is give people hope.
"I am delighted that the vaccinations are beginning today. This has been a very stressful time for a lot of people, especially those at the frontline and right across the board, the essential workers and the vulnerable and the people that need to vaccine most.
"Today will be a day remembered by many and hopefully in the weeks to come we will see people at the coalface and the people that need it most getting the vaccine.
"It sends out a message of hope, and I think that is something we all need at the moment."
Starting from Monday, vaccines are being administered in acute hospitals initially and in long-term care facilities. Each person receives a HSE vaccine information leaflet, along with the manufacturer's patient information leaflet, before getting the vaccine. Afterward, post-vaccination advice and a vaccine record card is given, showing the name and batch of the vaccine they have received.