IT STILL all feels like a bit of a whirlwind for Tyler Toland.
At 19, she is signed with Manchester City – one of the biggest clubs in world football – has played in the Champions League for Glasgow City, with whom she is on a season-long loan, and has been capped 13 times at senior level for the Republic of Ireland.
Just before the end of the 2018/19 term, Toland arrived home to St Johnston after punching in another day at Deele College.
She'd had her mind made up: A 'gap year' to focus on further development.
Alan Mahon, a former Republic of Ireland player who was then then assistant manager at Manchester City, was in touch with her father, the former Finn Harps star Maurice Toland.
A week later they were on a tour of the Etihad Campus.
The day after Toland's 18th birthday, she was unveiled as a City player.
"When we came back, there was an offer on the table from Manchester City and that's not something you can turn down," Toland says.
"When I was in sixth year, I planned a gap year. I said I'd play with the boys' teams to develop a bit more and see where that took me. Within two weeks, I was on a flight to Manchester.
"I never thought I'd move away. I'm such a home bird and I would struggle being away."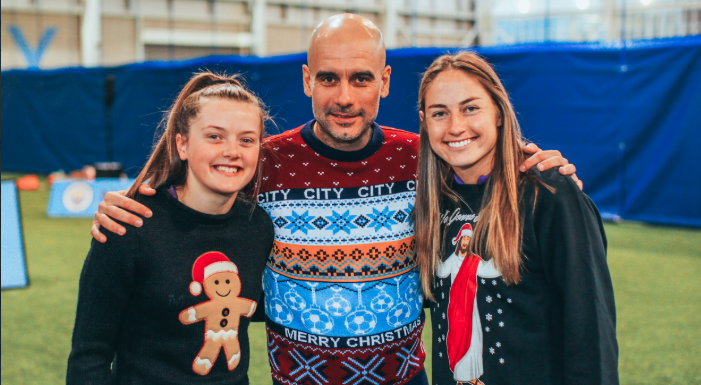 City's complex houses the entire club, male and female teams. Last Christmas, she attended a City in the Community charity day alongside Pep Guardiola.
"You're very aware walking in, the size of the club," she says.
"The men's team are in the other end of the building and you cross paths with them a lot.
"The year at Man City development me as a player and as a person. It was a really good year."
Toland has been on loan to Glasgow City since October, with Manchester City winning the Women's FA Cup since then.
Toland played in the earlier rounds and was entitled to a medal – becoming Donegal's first FA Cup winner since Kerrykeel native Billy Gillespie captained Sheffield United to glory in 1925.
Toland's minutes in Manchester were restricted; hence the move to Glasgow which she hopes will also reignite an international career that has oddly found itself in a state of limbo under current Ireland manager Vera Pauw.
Just weeks after signing at Manchester City, Toland struck her first Irish goal in a 2-0 win over Montenegro.
Goal for Ireland! Tyler Toland gives the hosts the perfect start at Tallaght Stadium https://t.co/6wUcHF8RW6 #RTEsoccer pic.twitter.com/nkXF8vvOq5

— RTÉ Soccer (@RTEsoccer) September 3, 2019
"The goal was surreal. It was mad, it just happened in a flash.
"That was a month after I went to City. I was feeling really good, my confidence was so high going into that camp. I had a few weeks behind me and could feel that already."
That appearance in the Euro qualifier was Toland's last in the green, coming in Colin Bell's last as Irish boss.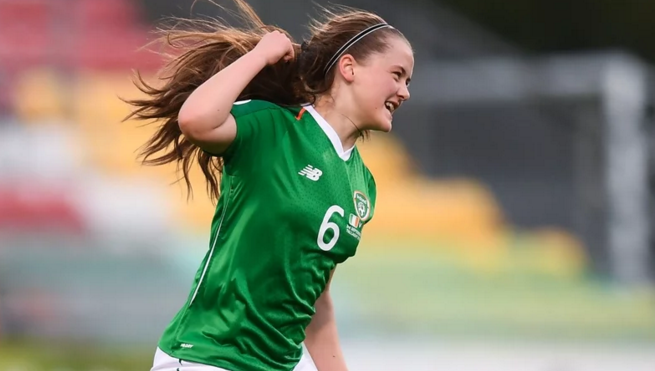 Unused in Pauw's opening two games, Toland has been effectively frozen out.
Pauw made the peculiar assertion in November that she was 'waiting' on a call from Toland.
Quite how long Pauw will continue to leave an on-form Toland out of her squads remains to be seen, but what is clear is the St Johnston woman's desire to add to her caps collection.
Toland said: "There is nothing that makes me prouder than pulling on the green jersey. When you pull on that jersey, it's something special. One of my biggest tasks now is to get back into the Ireland squad."
In 2017, Toland was only 43 days north of her 16th birthday when Colin Bell called her to take off the tracksuit at Mourneview Park in Lurgan.
In the 80th minute of a World Cup qualifier against Northern Ireland, with the Republic 2-0 in front, Toland replaced Megan Campbell.
The compact ground, the home of Glenavon, included some family and a sprinkling of others in an attendance of 877, who saw history as Toland became the Ireland's youngest ever senior international.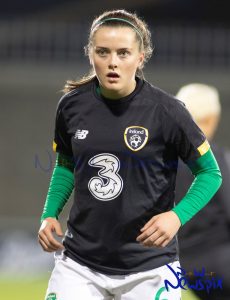 "You never feel young when you're going to play, but it's mad to think about it now," she says.
"Colin Bell had serious faith in me to put me in so young. I was so nervous on my debut. I'm not sure if I expected to get on or not.
"I remember sitting on the bench and Colin told me to get warm. I was warming up and I said to one of the other girls who was warming up: 'I can't feel my legs'. They were gone completely. When I ran onto the pitch, I didn't hear one thing for the rest of the game."
Just two months later – having started in a 2-0 win at Slovakia in between times – Toland ran out in front of almost 12,000 fans at a near-packed Stadion de Goffert in Nijmegen. The scoreless draw with the Netherlands, the just-crowned European champions, remains one of the best results ever in Irish women's team history.
"That was incredible," Toland recalls.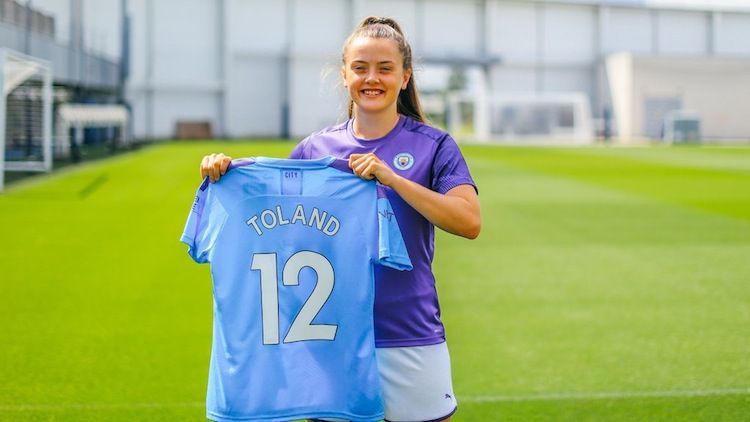 "Walking out in front of 12,000 people was ridiculous. When you're playing, you doing hear a person. After the match, the hype was mad.  That is probably my best memory from playing for Ireland.
"It was crazy. I came back from the Netherlands and was straight back to school again. Everyone was buzzing for me. Some girls I was playing with were heading back to play in England or America and I was going back to double maths."
It was at Deele College where Toland first learned of an international call-up.
It was the early months of 2015 when the mail arrived, inviting Toland to the Republic of Ireland Schools squad for an away friendly against England.
Donegal girls Amy Boyle-Carr and Danielle McDevitt were also on the Irish squad and Maureen O'Donnell, a teacher at Deele College, was part of the coaching staff.
Toland says: "It sort of went into fast forward from that, paying for Ireland. I wasn't long going up the ranks. It was mad.
"That first time was such a good experience. It was strange being away without my family. That was a big challenge."
On the park, Toland's poise and precision belied something of a battle she was fighting in her young mind.
"Getting out onto the pitch was actually a release," she explains.
"When I went away at the start, the football didn't bother me at all. The hotel at night did it for me. It came to a point at under-16 level before we were going to Hungary where I was crying the night before and daddy had to ring the manager: 'I don't know if she'll be able to go'.
"When we went to that tournament, mum and dad said to me how I would ring at any stage and they were only five minutes away. From there, I was reassured. That was a big challenge coming up the age groups, but being away like that does mature you."
In those formative years, Toland was playing on boys' teams.
She had played for Raphoe Town, but by the time the international set-up called she was playing for the Derry-based Maiden City.
"I would encourage every young girl to do that," she says.
I've got a long way to go yet, but playing with the boys helped me get to where I am and be the player I am.
"There weren't many girls' teams then, I suppose. I got into play with Maiden City when my cousin Luke was there. I played with Kildrum and Institute and I played on boys' teams right up until I moved to Man City. You develop more. It's a very good standard and you have to test and push yourself every week.
"I was always aware that I was the only girl. My own team never made a difference at all and the teams in our own League were fine as they were used to it.
"I would have got a bit of lip at times when we went away for a Cup game or played a new team. You have to be on the top of your game, sharpness wise. If you're not aware of what's around you, you'll be found out.
"At 14 or 15, you start to notice it and there is a massive jump at 16 or 17. The boys are getting so big, strong and fast, You know at that stage that you'll be ready for senior women's games. I was able to go straight from under-16 boys to senior women – that would've been harder if I was only playing on girls' teams."
Toland signed with Sion Swifts and, under Tony McGinley and Tommy Canning, dominated the Foyle Cup in those summers and the highlight was winning the Irish Women's Cup final in 2017 against Newry at Windsor Park.
Toland says: "Playing at Sion got me into women's football and that helped me so much.
"We had a really good squad at Sion and we had a lot of internationals.
"I played with Raphoe girls at under-12s level and I was about eight at the time, but I didn't play on a girls team until I went to Sion. Pkaying on the boys' teams meant I knew I was ready to play against senior women."
Toland also lined out for boys' teams at Kildrum Tigers and Institute, who were managed by her uncle Russell Porter – a former 'Stute player.
"I'd say Russell is one of the biggest influences in my football life," she says.
"Russell had a massive part to play and I can't thank him enough. He'd take me for a session at the drop of a hat any time I'm home. Even when I was playing with Maiden City, he had a boys' team in the same age group and he had no trouble letting me into train with his team before I signed for them."
A daughter of former Finn Harps star Maurice Toland, the sport courses through her veins.
From an early age, football always felt like her calling: "What got me into football was going to granny's every weekend. The likes of Russell and (cousins) Chris and Shane (Porter) would have been out playing football all the time. I was the only girl in the family at the time, bar my sister Cate who was a baby. I had no option, really, but to play football."
Scott Booth, the Glasgow City manager, called in September and Toland knew she had to bite.
"It was perfect timing," she says.
"I was up for it and I was ready for it. It wasn't ideal, going a year with very little games, but it had to be done too. It was needed for my development.
"I had the year's training with the likes of Steph (Houghton), Jill (Scott), Keira (Walsh) all the big players. It was a good year for development, but I needed to get back on the pitch and get games.
"Before I went away, I was training five or six times a week. I was in with Sion, Kildrum, Institute, whoever I could train with really, but I was still only doing one session a day, max.
"When I went over there, it was six days a week and it's not just out on the pitch. It was demanding. In pre-season, we were doing double sessions a lot and it was physically tough. It was a big adjustment.
"It's all about playing football. I went away home to play football. That's what makes me happy."
Toland was recently named as Glasgow City's Player of the Month for December and has been showing real signs of recapturing her best form since moving to the Broadwood Stadium and the 13-in-a-row Women's SPL champions, who trail leaders Rangers only on goal difference.
"I'm loving it," Toland, who has hit goals against Motherwell and Hearts, says.
"The environment is very professional and we've played some big games, against the likes of Celtic and Rangers, and the Champions League. It's been good to get those tests. I'm enjoying being back on the pitch and getting game time.
"The competitiveness of the League is something I've really enjoyed. It's all to play for now when we go back and've to play everyone twice again.
"There is pressure with every team, when you're wanting to win Leagues. There are big teams in this League and you play each other three times."
Her role has altered a bit, but her performances have really caught the eye in Scotland.
"I've always played as a number six," she reflects, "but Russell did play me as a number eight, just to develop me a bit more.
"Glasgow play a diamond in the middle. When I came on against Celtic, I played on the left of the diamond and in the next game I was on the right. Mostly, I've been playing on the right or left so it's a different position for me. I'm wider and higher, but I just do what I do: drop into the pockets, get on the ball…"
For now, her focus is on a return to action with a tasty derby against Celtic next on the agenda on January 17, but her want to wear Ireland's colours again is striking.
"It's a special feeling and I hope some day soon I'll pull that jersey back on."
Tags: