DONEGAL students were recognised and commended at today's BT Young Scientist & Technology Exhibition 2021 Awards Ceremony. 
A total of seven awards were presented to Donegal students for their impressive projects entered in this year's virtual exhibition.
Among the local winners was fifth year student of Coláiste Ailigh, Muireann Ní Mhathúna, who won 'Biological and Ecological Senior Individual' 3rd Place with her project investigating which local seaweed is most effective for creating biodegradable plastic.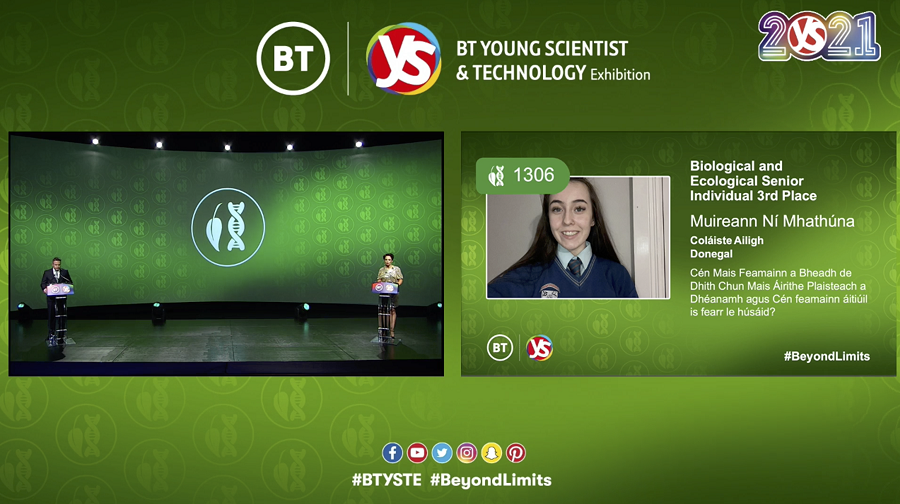 Winners of the The Central Statistics Office (CSO) Open Data Award were Rory Coleman and Katelyn Doherty from Scoil Mhuire, with their project entitled: "What's killing you? A statistical analysis of the associations between age, gender, place of residence and cause of death in the Irish population." The study also won Biological and Ecological Senior group 1st Place.
Hari Pranavam from St Eunan's College Letterkenny won Technology Internmediate Individual 3rd place with their project: "Building NOAA Weather Satellite Ground-Station".
A team from Loreto Community School won Biological and Ecological Senior group 3rd Place with a look at whether horses respond to human emotion. The students involved were Aoife Giles, Megan Hegarty and Tori Gallagher.
Highly Commended Projects from Donegal were Loreto Community School students Keeley Boyle and Aoibheann Boyle's chemical analysis of the alcohol content in hand sanitisers using chromatography.
Joseph Woods and Eadaoin Morphy from Abbey Vocational School won a Highly Commended prize for investigating the antimicrobial activity of native Irish tree barks.
The overall winner of the 57th BT Young Scientist & Technology Exhibition (BTYSTE) wass Gregory Tarr, aged 17, a 6th year student from Bandon Grammar School Co. Cork. Gregory has taken home the top prize of €7,500 and the BTYSTE perpetual trophy for his project titled "Detecting state-of-the-art deepfakes."
The announcement was made at the first ever virtual BTYSTE awards ceremony streamed live from the Mansion House.  Gregory presented his project in the senior age group of the Technology category.
Gregory impressed the judges with his project using a sophisticated artificial intelligence software program that can efficiently detect DeepFake media with state-of-the-art accuracy. The software, which is over 150,000 lines of code, made significant improvements on speed and efficiency when compared to the current best model without sacrificing its ability to accurately detect the fake. This tool could potentially be deployed at scale to filter out DeepFake media making the internet a safer place. This was Gregory's fifth time competing at BTYSTE having competed on four other occasions in the RDS.
Gregory will also represent Ireland at the European Union Contest for Young Scientists, which is scheduled to go ahead in Salamanca, Spain, in September 2021.