Every local electoral area in Donegal recorded an increase in Covid-19 cases in the first weeks of 2021, new data reveals.
The latest analysis of Covid-19 has been released tonight, showing the rates of transmission in each Local Electoral Area in Ireland.
Milford has been listed as the tenth worst-affected LEA in Ireland for the period between 29th December to 11th January. Belmullet in Mayo has recorded soaring Covid-19 rates, with one in every 16 people affected by the virus in the past two weeks.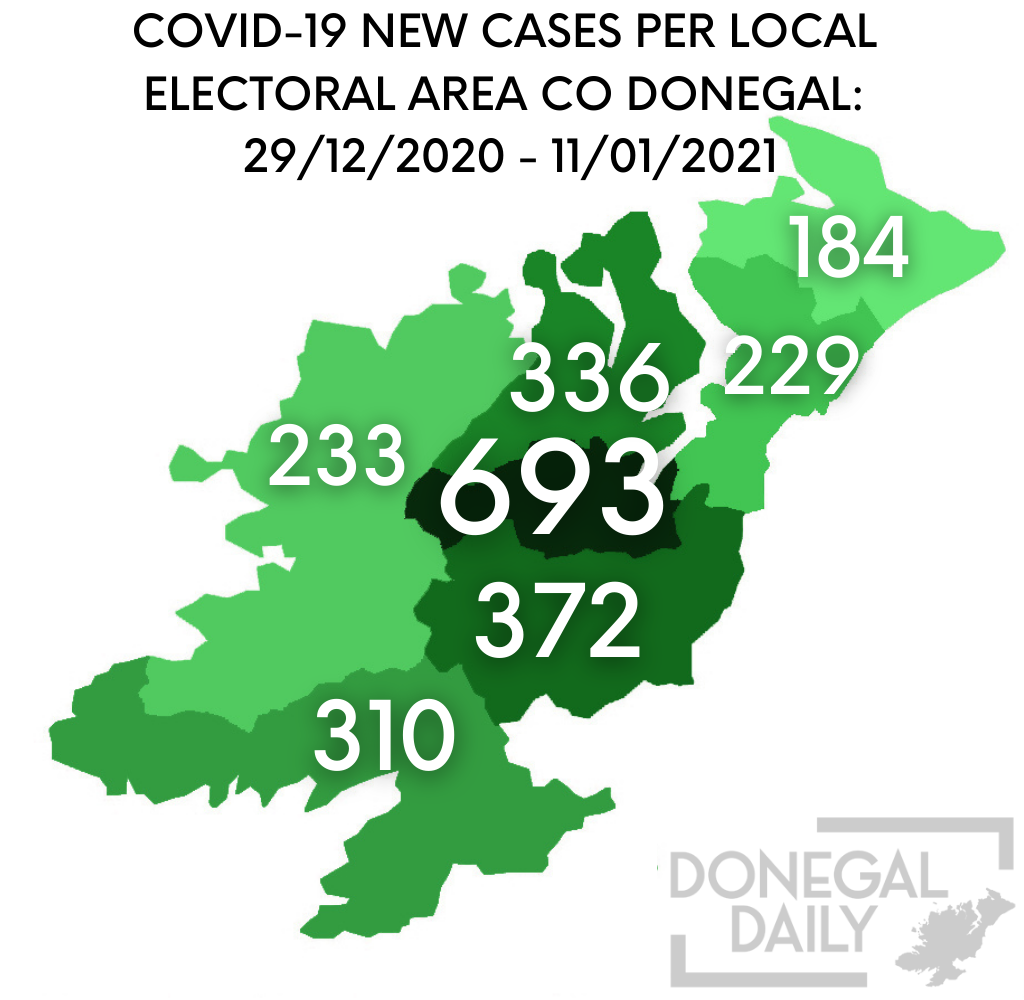 Location of cases detected between 29th December 2020 and 11th January 2021:
The Milford LEA continues to have Donegal's highest incidence rate – listed as the 10th highest in Ireland. With 336 new cases in the two week period, the area's 14-day incidence rate is 2439.9 per 100,000 – up from 1786 in the previous two weeks.
Covid-19 cases have quadrupled in the Letterkenny LEA since mid-December. There were 693 new cases detected in the two weeks up to 11th January – up from 500 in the previous two weeks. The incidence rate now stands at 2326.2 per 100,000. This is currently the 12th highest rate in Ireland.
Ireland's average 14-day incidence rate was 1,410 per 100,000 at the time of the analysis.
Case numbers have also taken a rise in Glenties. Case numbers have doubled in the area for the second time – up from 102 to 233. The 14-day incidence rate is 974.1 per 100,000.
The Donegal area had 310 new cases in the two-week period – up from 179 – and an incidence rate of 1170 per 100,000. 
The Buncrana/South Inishowen region had an incidence rate of 1023.9 per 100,000 up to 4th January. There were 229 new cases of the virus detected in South Inishowen at the time.
Carndonagh/North Inishowen had 184 new cases in the two weeks- up from 84 in the previous period. The area's 14-day incidence rate increased from 495 to 1084.6 per 100,000.
Lifford-Stranorlar also had a rise in cases, with 372 new detections in the last two weeks. The 14-day incidence rate is now 1436.9 cases per 100,000.
Commenting this evening, Dr Ronan Glynn, Deputy Chief Medical Officer, Department of Health said the power to improve local community figures lies in individual actions.
Dr Glynn said: "COVID-19 is having a very significant impact on our health system. The best way we can protect ourselves and each other is by staying home and only leaving home for essential journeys. We have the power to change the trajectory of the disease in our communities. We must hold firm and continue to stay home."