DANIEL O'Donnell has paid an emotional tribute to his number one fan, Máire Rua Gallagher, 'my Darlin', following her death overnight.
There is widespread sadness in Donegal this morning following the death of the much-loved Máire Rua. The Bunbeg woman passed away aged 91.
"I'm so sad today to hear of the passing of my good friend Máire Rua Gallagher otherwise known as "my Darlin"," Daniel said.
"Many of you will know her from going to our shows. She has followed my career from the very beginning and was a huge supporter of everyone on the country music stage.
"Rest in peace Máire. You will be truly missed x"
Her love of music and football became legendary and she was also a devoted Celtic supporter.
For many years, she worked as a bus conductress in Glasgow and it was during those years that her love of Celtic grew.
She first watched Celtic in a 4-0 loss to Rangers in an Old Firm Derby at Ibrox, but she was hooked on the Hoops. In 2013, she donated a sizeable collection of Celtic memorabilia to students at Pobalscoil Ghaoth Dobhair.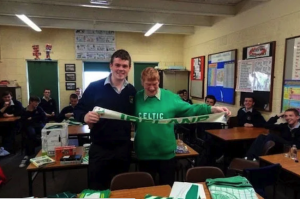 Máire Rua worked as a tattie hawker in Scotland in her teenage years, dispatched from home in west Donegal.
"When I was told I was going to work in Glasgow, I felt my heart rise up through my chest with sadness," she recalled in an interview in 2018.
Máire Rua was undoubtedly Daniel's number 1 fan. She was front and centre for Daniel's concerts and generally at the head of the queue at the tea parties in Kincasslagh.
She was a big supporter of community events and was popular for the annual bed push, when she would be pushed in a bed from Naomh Pádraig, Dore to the Gaoth Dobhair Day Centre in Derrybeg to raise much needed funds.
Máire Rua featured in several television programmes and was a regular on Highland Radio and Raidio na Gaeltachta.
In March 2019, a big crowd attended her 90th birthday bash at Teach Hiúdaí Beag in Bunbeg.
Speaking from Asia, where he was on tour at the time, Daniel said of Máire Rua in 2019: "She has been a great friend to me down through the years. She was also a great friend to my late mother and I'm very grateful to her for all the good times my mother had traveling to mine and Margaret's shows all over Ireland and for that special friendship they shared."
Ar dheis Dé go raibh a h'anam dílis
Tags: