Sponsored Post:
Donegal Daily's new feature series with Letterkenny Institute of Technology continues as we hear the stories of current students and their experiences on LYIT's many courses in the run-up to the CAO deadline on February 1st.
Holly Simms, is a second year BSc (Hons) in Agriculture student at Letterkenny Institute of Technology (LYIT). Holly studied her second level education at Colaiste Cholmcille, Ballyshannon and chose LYIT following a visit to the campus during Open Day 2018. It was during this visit that Holly connected with LYIT Agriculture Lecturer Liam McKinney which sparked Holly's interest in Agriculture at LYIT. 
During her first few weeks at LYIT, Holly was assigned a peer mentor which really supported her first few weeks on campus, Holly commented, "My peer mentor was so supportive during my first few weeks in first year, the lecturers were too, this really helped in the first few weeks on campus. In first year of my agriculture degree, I explored modules such as 'Animal Husbandry' which gives you a run-through of all animals and also, all systems used on a farm, it was so engaging. I also really enjoyed the 'Introduction to Agriculture' module which explores the business side of agriculture. What is exciting about agriculture at LYIT is that there are so many career opportunities from this programme, you can explore opportunities in farm consultancy, farm management, even second level teaching from this programme!"
Holly further added, "Student life is great at LYIT, in first year, I set up the Agriculture Society at LYIT. I am the President of the LYIT Agriculture Society and as President of the Society, I have linked in with companies such as 'Lely', a company that provide innovative solutions for dairy farmers on behalf of the society.  I am now working with influencers in the agriculture sector and I am hoping to have 'guest speakers' connecting with society members soon on our social media platforms." 
If Holly were to return to Colaiste Cholmcille to talk about LYIT to current Leaving Certificate students, she highlights that, "LYIT is different, the lecturers are there for you, the courses are fantastic and you are part of a community, you are not invisible. This is so important when you are studying, everyone is there to help you at LYIT. So far, I have had a really fun experience and have had so much support from the LYIT staff along the way."
LYIT's Department of Science offers a wide and varied range of Level 6/7 and Level 8 CAO programmes. 
(Holly's Story Continues Below)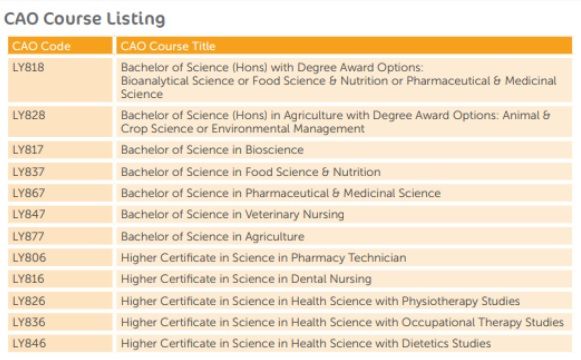 To find out more about the Department of Science CAO programmes available at LYIT visit:https://www.lyit.ie/Study-at-LYIT/Find-a-course/?dis=11&lvl=100 
To explore your CAO options further and to hear more about the Department of Science programmes, watch the You Tube video here: https://www.youtube.com/watch?v=him5OXvTTDI&t=371s 
At LYIT, your future is our focus.
Tags: