A workplace outbreak and a funeral in the northwest led to 33 cases of Covid-19, the HSE has revealed.
"It only takes one event to spark a chain of transmission of COVID-19 that can spread through a community," warned Dr Lorraine Doherty, the HSE's national clinical director for health protection.
Dr Doherty revealed how one case of Covid-19 can trigger outbreaks in workplaces and homes.
In the northwest region, 11 cases arose from a workplace outbreak in the construction sector.
One of those people attended a funeral and a wake, which became associated with 14 more cases.
From the workplace, four more outbreaks occurred in family homes, resulting in eight more cases.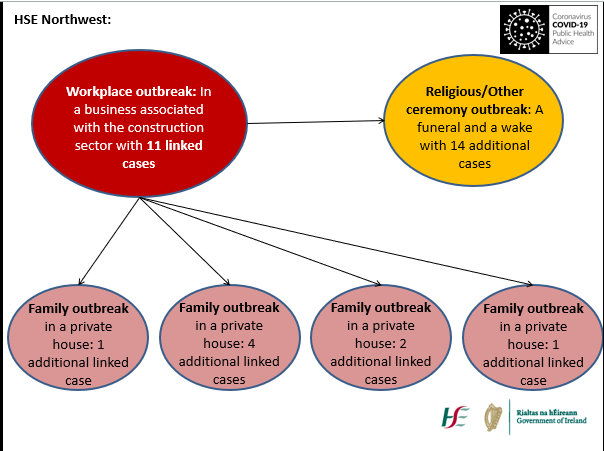 Dr Doherty said: "We have seen examples of outbreaks in a workplace that has led to multiple outbreaks in families and other work settings, and these ultimately lead to a higher incidence in the community and threatens the most vulnerable to COVID-19. Every action an individual takes matters."
Professor Philip Nolan, Chair of the NPHET Irish Epidemiological Modelling Advisory Group, added: "Incidence is falling and by working collectively to reduce contacts, we have achieved suppression of transmission with the R number estimated at 0.4-0.7. We are maintaining an extraordinary effort but still we have a long way to go. We must maintain full suppression for several weeks if we are to achieve strategic options for the future. If we keep this up, we would be down to 200-400 cases per day by the end of February."