COUNTRY music star Daniel O'Donnell paid a moving tribute at the Funeral Mass of his number one fan, Máire Rua Gallagher.
From his Kincasslagh home, Daniel told the Funeral at St St Mary's Church, Derrybeg: 'Rest in peace, my darlin."
Daniel sang an emotional version of 'There's a Blue Moon over My World Without You'.
"i"m very sorry that I'm not there at your funeral," Daniel said.
"Thank you so much for all the great friendship and support. I enjoyed it every time we met. I enjoyed most the times I would sit in the house with you. We would enjoy great fund and craic."
Daniel hoped that his own late mother, Julia, and their great friend Pio McCann would be waiting in Heaven with Lucozade.
"You'll be greatly missed but never forgotten," Daniel said.
Máire Rua's devotion to Celtic Football Club was remembered by Fr Brian Ó Fearraigh and the club sent a letter, which was read by Fr Seán Ó Gallchóir.
Celtic FC Chief Executive Peter Lawwell wrote, in the letter to Máire Rua's daughter Mary Teresa: "My thoughts and prayers are with you all.
"Although I didn't have the privilege of knowing your mum, I knew of the lifelong passion she had and the magnificent support she gave the club throughout her life.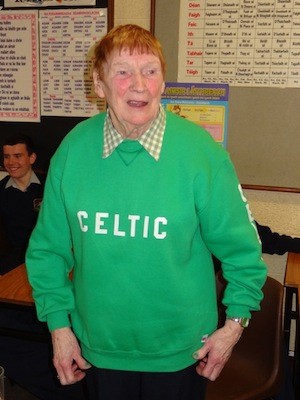 "I know how loved and highly regarded she was among the Celtic support. I hope that their sympathies, kind words and knowing that her loss was felt by so many gives the family some comfort. I wish you all peace, healing and comfort in each other at such a sad time."
This afternoon's Mass heard of a 'woman who lived life to the full'.
The much-loved Máire Rua, late of Magheralosk, Gweedore, passed away at Letterkenny University Hospital last weekend, aged 91.
"Máire Rua was a passionate woman in so many different ways," Fr Brian Ó Fearraigh, CC Gaoth Dobhair, said.
"She was a woman who lived life to the full. She travelled and attended concerts the length and breadth of the country.
"Country music was her life. She was country music's greatest fan. She thoroughly enjoyed attending concerts and shows and it lifted her on a regular basis, lifted her above the routine of every day living.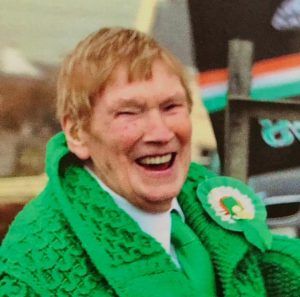 "She lived her life with joy and she enjoyed every opportunity that life presented to her."
Country music star Gary Gamble sang at the Mass. Due to Covid-19 restricts, only the limited attendance were present in the Church.
For many years, she worked as a bus conductress in Glasgow and it was during those years that her love of Celtic grew. She also worked as a tattie hawker in Scotland in her teenage years.
Fr Ó Fearraigh said: "She was a loyal and faithful Celtic fan.  We send Máire Rua to the gates of the true Paradise knowing the the message she wants us to carry is one that she belted out with pride: 'Walk on, with hope in your heart, and You'll Never Walk Alone.'
The Celtic anthem was played as Máire Rua's remains were brought into the Church.
Fr Ó Fearraigh recalled Máire Rua's devotion to her family and her deep fondness for her community.
"She was irish to the core," he said
Máire Rua featured in several television programmes and was a regular on Highland Radio and Raidio na Gaeltachta.
Survived by her daughter Mary Teresa, her son in law Doimnic, her grandson Dominick, nieces, nephews, extended family and many loyal friends, Máire Rua will be buried in Magheragallon Cemetery.
Tags: