People who may be struggling with their mental health are being offered support through a new community call service called 'Safe to Talk Buncrana'.
The listening ear service (087 170 8743) has been launched to help anyone who is finding things tough or having suicidal thoughts.
'Safe to Talk Buncrana' is a first step in a project by Insight Inishowen to create a network of safety and care in the area. Members of the community from all walks of life are on hand to answer a call for help and to refer people to the support they need.
The initiative was launched with an impactful video featuring volunteers from Insight Inishowen, and from sports clubs, schools and the business community.
Watch here:
Andrew Garvey-Williams, coordinator at Insight Inishowen, tells Donegal Daily: "We are concerned with the mental health of people generally, but especially at this time. We know that a lot of people are going through a lot of stress and difficulty and that helping them to be able to share that and talk about it is behind the whole project.
"We aim to take away any stigma that might prevent people from being open and honest about how they are feeling.
"We are also conscious there are a good number of people in the community that have received training and are able to talk and help with first aid intervention for people that are struggling, particularly with thoughts of suicide."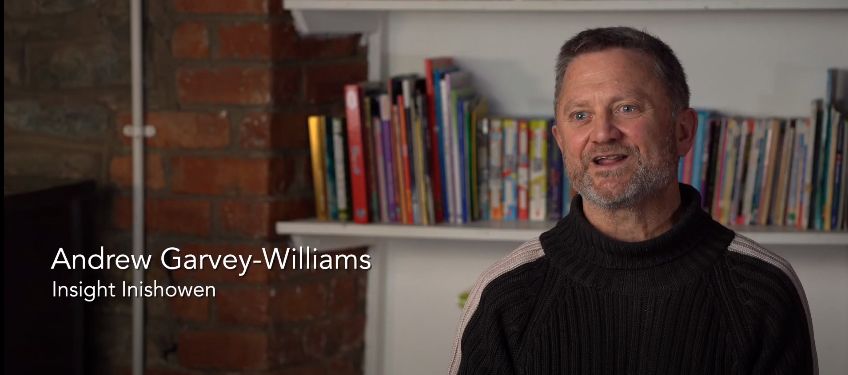 Any person who rings the listening ear service, in confidence, will be linked with members of the community who have completed ASIST (Applied Suicide Intervention Skills Training), safeTALK training or other suicide prevention training. All people in the network have the knowledge to provide or link people to help.
"These people are not all expert psychologists, they are ordinary people but they are willing to talk and link people to help and get them the support they need," Andrew said.
Insight Inishowen are encouraging people to pick up the phone at any time that they may be struggling.
"People can ring just to chat, to talk through any topics. At Insight we have counsellors and services that we can direct people to, it's not necessarily HSE, it could be local, social support or private counselling. We have a certain number of hours that we can offer free to people. In our heart, we believe that early prevention stage is always preferable rather than waiting for a crisis."
The ASSIST network is rooted in Buncrana as a pilot project, but if it proves successful, coordinators are set to explore the possibility of identifying other communities around Inishowen.
"That is something that we would champion and facilitate and help," Andrew said.
"The 'Safe to Talk Buncrana' video project was made possible through funding through the HSE's Donegal 'Connecting for Life' suicide prevention strategy. We are really grateful for our links with Connecting for Life and statutory services."
If you are finding things tough, please call the Listening Ear service on 087 170 8743
Tags: