AWARD-winning musician KT Tunstall is encouraging people to protect their ears from damage and have regular hearing checks so they can continue to enjoy the sounds they love for years to come.
The star was opening up about her own battle with hearing loss ahead of tomorrow's World Hearing Day. 
Hearing a sound that we like puts 91% of us in a good mood and 71% say that if we were to lose our hearing it would seriously affect our enjoyment of life. That's according to research commissioned by Specsavers to mark World Hearing Day.
Yet, 66% of people have not had a hearing test,even after noticing a problem.
A further 69% of people also believe that having a good sense of hearing is something that often gets taken for granted, which is something that 45-year-old KT can relate to.
"I'd never been particularly careful about my hearing over the years, especially as a clubber through my 20s and cranking the volume up on bad monitors at my early gigs," she said. 
"But about 10 years ago, I suffered very sudden high-frequency, or top-end, hearing loss and developed constant tinnitus in my left ear. I remember the tinnitus being especially hard to deal with at first and it was causing me some depression – it's difficult to deal with when you can't ever escape this sound. But I got used to it and carried on."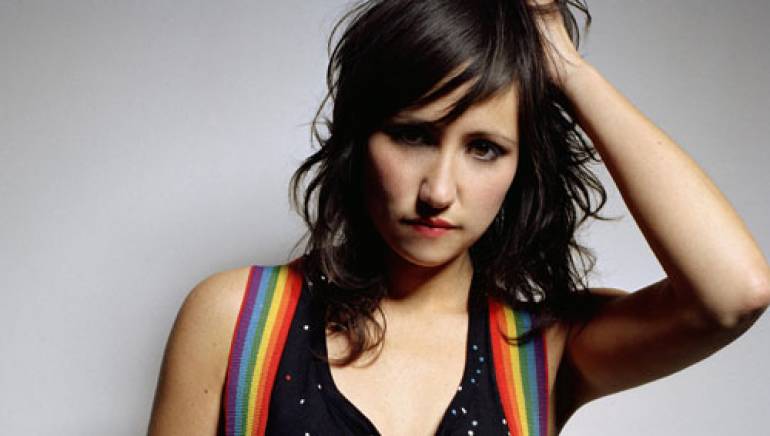 However, without adequate hearing protection, KT's hearing loss worsened. 
"Two years ago, I had another event, which led to me losing my hearing entirely on that side – a condition called sudden sensory hearing loss (SSHL)," she continued. 
"The kicker is, I still have the tinnitus, even in a deaf ear. I've adapted really well and can still perform and record, but if I could do it all again, I would definitely make sure I was going for regular hearing checks from a young age, the same as I would go to the dentist, or for any other health check-ups."
Headphones
Most people (78%) think that hearing loss is something that happens as they get older – but this isn't correct. 
If you are surrounded by loud noise, you are putting yourself at risk, and that includes listening to music via headphones.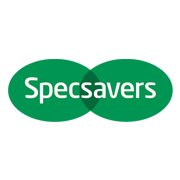 Research shows that almost a third of people (32%) listen to music with their headphones at least once a day. Yet only 16% are aware that the recommended noise limit for headphones, in order to avoid hearing damage, is 60% volume.
Specsavers' survey also showed that 47% have experienced some form of hearing loss or tinnitus, however, 65% of people have never worn hearing protection to protect their ears from damage.   
Orla Walsh, Specsavers Irelandaudiologist, says: "Almost half of people (48%) say that their favourite sound is music and that they would miss this the most if they couldn't hear. But in blasting our favourite tunes loudly through headphones we can be causing irreversible damage to hearing that cannot be restored. 
"It's so important to protect your ears if you are exposed to high levels of noise. Not only can loud noise cause pain, tinnitus and a temporary loss of hearing, long-term exposure to noise can cause permanent, irreparable nerve damage, that may not show up for a number of years.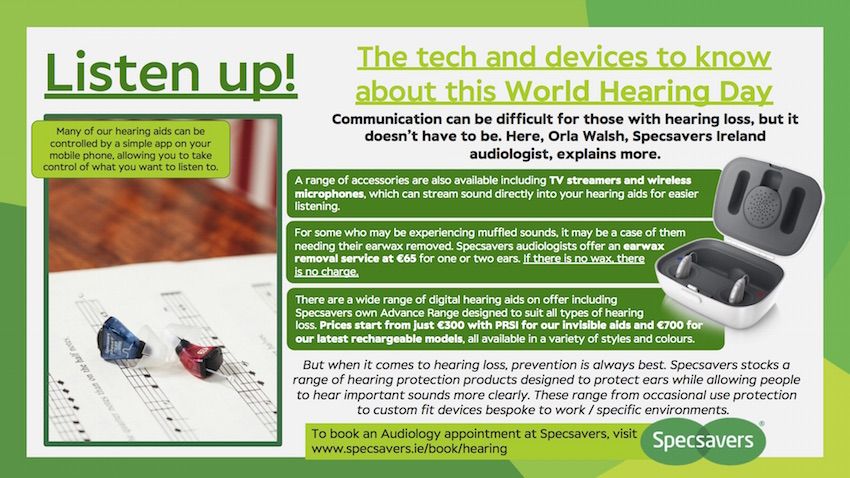 "The best thing to do is to make sure that you never listen to your music above 60% volume as this is when damage to your hearing can occur. It is also advisable to give your ears regular breaks. And, when you know you're going to be surrounded by loud noise – such as at a gig or concert when things go back to normal – make sure to take hearing protection with you."
Orla adds: "A lot of people think that wearing hearing protection can ruin the quality of sound you are experiencing, but this isn't true. We are seeing an increase in people buying custom-fit hearing protection as they can make all the difference and it's really important to get them fitted properly. Our audiologists can take a mould of your ear to get a good acoustic seal and ensure a perfect fit every time.
"Prevention is always better than cure, so if you notice any changes in your hearing, make sure to get it checked by your audiologist."
Specsavers stocks a range of hearing protection products that are designed to protect ears but also allow you to hear important sounds more clearly – they range from occasional use protection to custom-fit devices bespoke to work and specific environments.  
To find out more or book a hearing check visit www.specsavers.ie/hearing
Tags: