FEIDHLIM Kelly went back to Italia '90 as he sent Mark English to action on Friday evening.
As English was readying for his 800m heat at the European Indoor Athletics Championships in Toruń, Poland, his coach quoted a famous old line from Jack Charlton.
Kelly, who English linked up with during a recalibration of his plans in 2020, recalled the iconic: 'It's not going to be easy for us, but it's not going to be easy for them either'.
It was perhaps a message to the Finn Valley AC ace about the need to dig deep in the argy-bargy of the indoor area.
Later this year, the three-time European medalist will attempt the Olympic Games in Tokyo. There, he'll need to reach to the base of his reservoir again.
English last night bowed out of the European Indoors, finishing fourth in a top-class semi-final that included Adam Kszczot and Pierre Ambroise Bosse.
English was fourth in 1:48.99, but there were no tears.
After all, his focus has been clear for some time now. It is why he joined up with Kelly and a group of other elite athletes at the Dublin Track Club.
"I only came here to get some experience for Tokyo this year," English said.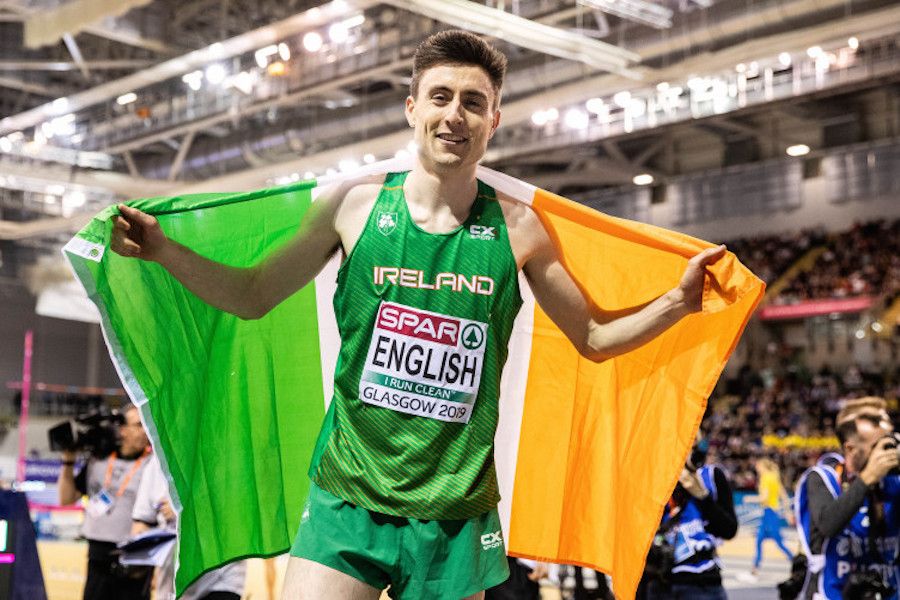 "At the end of the year, that's all anyone will be talking about: How everyone got on in Tokyo. My head is raised high now and I'm looking forward to getting back to training and getting ready for Tokyo."
English made no secret in the build-up to these Championships that he was using Toruń as part of his preparation for the Olympic Games in Tokyo.
There remain lingering what-ifs from his last Olympic experience at Rio in 2016, but he has shown a spark again. Two weeks ago, he set a new Irish Indoor record – his 1:46.10 eclipsing his own mark from eight years previously.
Last week, he told Donegal Daily/Donegal Sport Hub: "If I can go and get a medal, obviously I'll be delighted, but my aim is to just improve day-to-day."
English had to survive a stumble on the final bend in Friday's heat, but he came through having been a controlled sight over the first 700 metres.
His tactics changed for the semi – and didn't bring the dividends he sought.
The Letterkenny native said: "It's kind of a toss up really. I tried to go out hard yesterday to stay on the leader's shoulder and that didn't work. I tried to go back to what worked for me in the past, like the European final in 2014. Bosse beat me in that semi-final and then I came back for the final, came through and beat him. It wasn't to be today.
"I don't think the tactics were wrong. It was more fatigue than anything.
"I'd like to have finished higher. It just was't there. I'm a big guy and it can be fought to navigate as easily as someone the size of Kszczot.
"It was tough competition out there. Bosse and Kszczot are gold and silver medalists at the World Championships so I had my work cut out."
Nicolaus Copernicus was born in Toruń.  A statue in his honour stands in the middle of the main square of the city, although with the Covid-19 restrictions and protocols English's sight-seeing will hardly have been widened. An astronomer, it was Copernicus who told the world that the sun was at the centre of the universe and the planets orbited.
For English – currently working as an intern doctor at the Mater Hospital – the planets are orbiting around a target of running 1:45.20, the qualification mark for the Olympics.
He said: "I'd like to run the automatic qualification. The rankings system may not allow me to qualify because guys are running crazy fast times over 800m at the moment.
"I'm excited. I'll continue racing through May to try and get that qualifying time."
The time is well within his reach, not to mention that elusive Irish outdoor record of 1:44.82, held by David Matthews, which English trails by just two hundredths of a second.
The calendar year is all about Tokyo and always has been since the postponement of the Olympics.
It could be a chance for English's very own 'put em under pressure'.
Tags: