Featured photo: Art handlers carry the portrait of Kay McNulty into the Stokes Building with (l-r) Dame Kathleen Lonsdale, Beatrice Alice Hicks, Katherine Johnson and Dr Marie Maynard Daly in situ. Photo: DCU
An impactful portrait of Donegal computing legend Kathleen (Kay) McNulty was officially unveiled at DCU on International Women's Day. 
McNulty's remarkable life achievements were encapsulated in art by internationally-acclaimed artist John Fitzpatrick for Accenture's Women on Walls initiative.
The portrait was one of five pieces commissioned as part of the project to celebrate inspirational females from the world of science, technology, engineering and mathematics (STEM). The five portraits are in recognition of the ground-breaking work of Beatrice Alice Hicks, Katherine Johnson, Dr Marie Maynard Daly and Irish duo Kay McNulty and Dame Kathleen Lonsdale.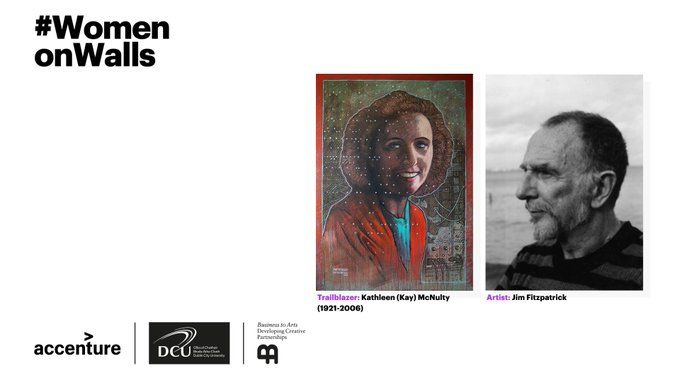 Creeslough born Kay McNulty was one of the world's first Computer Programmers. She moved to the US with her family as a child, and became one of only three female mathematics graduates in a class of 92 when she graduated in 1942. She was responsible for inventing the subroutine and was inducted into the Women in Technology International Hall of Fame in 1997.
The five new portraits were unveiled at a virtual event yesterday with DCU President Professor Daire Keogh, Managing Director and Head of Inclusion & Diversity at Accenture in Ireland Dr Michelle D. Cullen and Chief Executive of Business to Arts Andrew Hetherington. 
The launch is available to watch back here: 
This is the third chapter of Accenture's Women on Walls, a campaign that seeks to make women leaders visible through a series of commissioned portraits that will create a lasting cultural legacy for Ireland. The campaign commenced in 2016 with the Royal Irish Academy, and a second chapter with RCSI was unveiled in 2019.
The commissioned portraits will be temporarily installed in the Stokes Building at DCU before eventually moving to the Future-Tech building, under construction at the university's Glasnevin Campus. This flagship building will be at the forefront of DCU's international reputation for excellence in science, computing and engineering disciplines.
Tags: