A student photography contest at LYIT has inspired a stunning collection of photos of Letterkenny and Donegal.
See the full gallery and photo stories below
This academic year, the LYIT International Office has been organising Weekly Engagement Events (WEE) for International Students who are far from home.
In mid-February, the WEE Photography Contest/Campaign was introduced to encourage International Students to "Share A Photo; Tell Your Story" about their experience in Ireland.
The campaign received 20 wonderful submissions which demonstrated diverse perspectives through the lenses and words of International Students living in Letterkenny amid the pandemic. Among them there were students from India, Malaysia, Vietnam, Germany, Netherlands etc.
Their submissions went through the process of a public vote (on Instagram), and a review by the organising committee to decide the final winners: 1st Prize: Siddharth Bangera; 2nd Prize: Rajinder Singh; 3rd Prize: Akhilesh Singh.
1. Siddharth Bangera, MSc in Big Data Analytics.
Hidden gems or places often turn out to be beautiful and mesmerizing. One such place hidden place in Ireland is Letterkenny. Confused about scouting colleges, I remember choosing Letterkenny Institute of Technology over other colleges and I feel it was/is/will be the best decision I ever made.
The college and the town are a perfect mixture of what I was looking for. Far away from the hustle-bustle, Letterkenny has something very unique, be it the clean streets, the well-planned city centre, the county-side roads, or the weather. My typical day, apart from the lectures and assignments, includes grabbing the camera and setting out for a walk (within the 5km radius 🙂 ). The unpredictable weather gives a new experience of photography; even the same place would appear a bit different every other day thanks to the moody weather. Walking along the countryside roads has been a stress-buster for me and it's something I am grateful about.
Not to forget, the constant smiles and greetings you receive from the locals walking by makes one feel at home. That's Letterkenny, my happy place 🙂 . I know times have been tough lately, with the future being uncertain. But like every other story, we will come out of this and when we are free, do value and cherish the small moments.
Signing off, Sid.
2. Rajinder Singh, MSc Big Data Analytics.
Moving to Ireland was a big step for me. People who know me, know how much I am in love with nature. I was very excited to explore the whole new country and have done my research about the destinations that I was planning to visit in Ireland. But pandemic changed everything. The extended lockdowns were not only a setback to my plans but also affected the mental health. But the human spirit is to fight back and life is all about finding happiness rather than waiting for it to come.
So, I decided to explore Letterkenny and its outskirts (within 5kms radius) to try to capture every bit of it. I visited St. Eunan's Cathedral, Ballymacool Town Park, markets, outskirts, the shore, and many more. It keeps me happy and relaxed. However, I wanted to capture it all in one frame with the golden sunlight of winter. I had explored an area with my friends and found the perfect spot. Here I got the full view of the town and I froze that moment on my camera. I hope you would like your beloved town from my perspective.
3. Akhilesh Singh, MSc in Cyber Security.
2020 has been a difficult year for everyone. Amidst the chaos, some of us decided to mark new beginnings. Leaving a well-settled job and family in India and move across oceans to pursue a master's wasn't an easy decision but I'm happy I made it. Glad to be in this beautiful city of Letterkenny with such wonderful people around and the breath-taking scenery everywhere. Things are settling down slowly and I'm optimistic about the future. Let's hope everything will be alright again soon. "The greater the obstacle, the more glory in overcoming it." – Molière.
Here a memorable night shot from my brief time in this heavenly Town.
Featured Submissions 
Nikhil Dharmavaram, MSc in Big Data Analytics & AI.
Personally, I feel that making up our minds to come out of our country in the middle of the pandemic was a bold move. Icing on the cake was that we ended up in the most beautiful town in Ireland, the lush green fields and the cloudy skies makes up to the most scenic view. This photo was captured on one such rainy morning when the sun was fused with warm light of dawn creeping down the barren trees , clouds low and gray with cold breeze which ended up being the most memorable.
Venkata Mullangi, MSc in Big Data Analytics.
Photography has always been and will be my passion. I want to make people see the world from my eyes, making it an unique experience of art to the audience. Here what makes the picture unique is, you can spot both the sun and moon in one picture.
The sun says 'Hi, good morning' while the moon says 'Bye, see you tonight'.
I think Letterkenny has much more surprises awaiting like this for photographers like me, I would love to spot and snap those moments.
Last but not least, I always believe in these lines by 'Frank Lloyd Wright'- "The longer I live the more beautiful life becomes. If you foolishly ignore beauty, you will soon find yourself without it. Your life will be impoverished. But if you invest in beauty, it will remain with you all the days of your life." The picture was shot in Letterkenny on phone.
Supriya Meshram, MSc in Big Data Analytics & AI.
So, when they say the sky and the ocean are of the same colour. Do they mean the same, blue? Or the turquoise of the waves that shine when the sun is high? Or is it the misty white when the waves crash the rocks and the clouds cover the sky? Or the greys? Standing at the edge of this cliff I sometimes wonder if we all are aligned to this dichotomy. To the calms of the depths of the ocean or the raging waves? The symmetry to this world and the world that would lie beyond the horizon.
If I were to be a lighthouse I would cease the sunsets and sunrises and take the light to guide a far of traveler. To keep the secrets of many lovers and sailors. And if I were to be the lighthouse I would be standing tall, to look at the ocean again and marvel at the movement of the waves. Chase the moonlight-scatter; glistening.
So, when they say I can be a poet near the ocean, do they mean I can express myself better or do I become one with it? Do I loose myself or do I start a journey into finding myself?
Floor Noteboom, Bachelor of Laws (Hons) LL.B.
This picture was taken at Glenveagh National park while I was still in my first year. It captures the first time I was able to explore the beautiful area we live in. Since then, I have gone on many different trips around the county and have been fortunate enough to see some beautiful spots. I have also really enjoyed going for walks starting at my house and exploring different areas of Letterkenny. I was really positively surprised by the gorgeous and vast fields and hills that surround us here. It really gives you a free and youthful feeling while walking there. Especially during the pandemic, it has been awesome to get outside and just walk in a random direction.
Kaiser Nath Patnaik, MSc in AI (Research).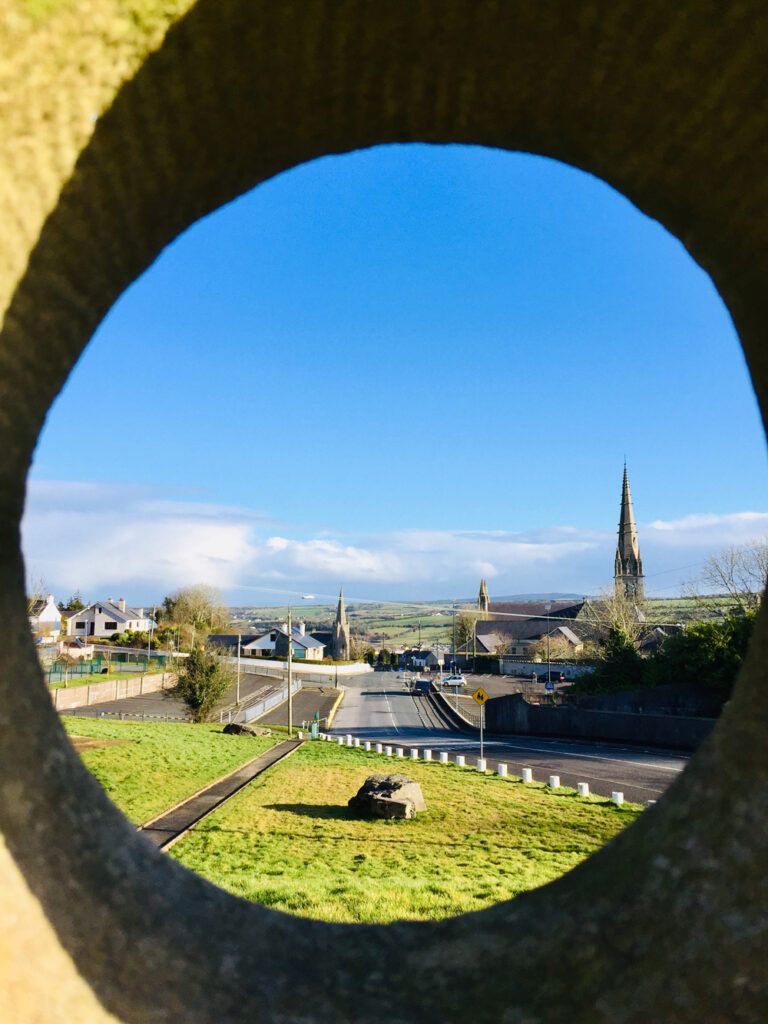 Eye of St.Eunan's. Well that is the caption of my picture. Not too dramatic but yes! all of us international students are here in LYIT backed by some or the other faith.
This view gestures towards the peak of the only cathedral in Donegal, transcending into the warmth of mother nature's bosom. As I peak through the Eye of St.Eunan's, the horizon stretches far beyond my imagination and strengthens my faith as it calms my mind and makes me feel like I'm home. Coming to Ireland in the wake of the cruel pandemic of the 22nd Century was a brave call I had made from back in India, with a faith and the Eye of St.Eunan's keeps that faith alive. In the era of AI, Machines and Concrete jungles, the Eye of St.Eunan's reminds me each time and pacifies the quest of questions inside my mind as it advocates against my scientific temper that 'Faith' would win in the event of a distant singularity and this sense enriches my humility for being human at last!
Nguyen Nhu, MA in UX Design and Applied Innovation.
This is no new discovery; I am pretty sure all of us might have walked pass this spot countless time. But still, it did not fail to astonish me on days like this. Before Letterkenny, I had spent all my life in big and vibrant cities of Asia where hustle and bustle is the norm, so I was flustered by all this peacefulness at first. Now I am simply immersing myself in the freshness and tranquillity of this city because who knows, after this one year, I might cluelessly throw myself again into the crowd with the energy of youth. Life can get back to normal in a few months but it's impossible to return to this time even if we want to. So, I choose to live the moment, and find peace in within.
Sree Akhil Naidu, MSc in Big Data Analytics.
This is the best spot, which I wake up and have a look. It is the most beautiful view from my room.
Avura Jerry Ubogmine, MSc Computing and AI.
Keep believing and have a positive mindset as we stay safe together to conquer.
Avura Jerry Ubogmine, MSc Computing and AI.
Keep believing and have a positive mindset as we stay safe together to conquer.
Ansh Mahajan, BSc Applied Computing.
The moment you enter Letterkenny, the great spire of the St. Eunan's Cathedral greets.
Anna Marks, Bachelor of Laws (Hons) LL.B.
The community of international students has really helped me feel less alone and more at home, especially when I first came to Ireland from Germany.
Mohamed Ibrahim, MSc in Big Data Analytics & AI.
A double rainbow is considered a symbol of transformation and is a sign of good fortune.
Nikhil Patade, MSc in Big Data Analytics.
Walking in nature means seeing a thousand miracles… Joy in looking and knowing is the most precious gift from god.
Jia Min Tan, Bachelor of Laws (Hons) LL.B.
Studying abroad might be a crazy idea, especially during a pandemic. However, the nature in Glenveagh National Park told me, it is all worth it.
Stevenson Koninti Mark, MSc in Big Data Analytics.
This particular time (sunset) of the day calms me down from all the stress the day holds just by watching those beautiful colours in silence.
Mamta Mittal, MSc in Cloud Computing.
Farms and landscapes in Letterkenny are a stress buster. Spotting an animal makes me excited like a kid. Thanks Donegal for expanding my wish list.
Varun Kumar, MSc Cloud Computing.
A cute horse nearby Letterkenny Farm, looking everyone passing nearby and able to attract people because of his innocent look.
Praveen David Mathew, MSc in Cyber Security.
Finding my refuge. I took a deep breath , I felt lite again , I felt alive like never before.
Tags: