A local bus company has told parents that if their children do not wear masks they will NOT be allowed to travel on their school buses.
The Letterkenny-based company today texted parents saying that all primary-school children must wear masks on their services.
The text reads: "Dear parents/guardians, please note as of Monday 22nd March 2021 face masks must be worn by all children using our school bus services.
"Our drivers will be operating a strict policy of NO MASK NO TRAVEL. This is to ensure the safety of all our passengers and staff."
However, one outraged mother contacted Donegal Daily saying the bus company had no right to ban children from getting to school if they do not wear a mask.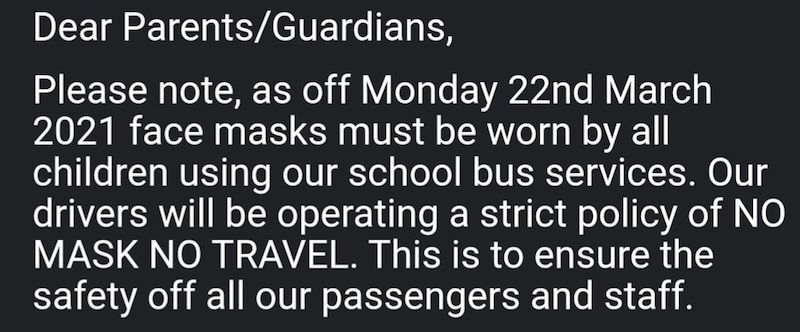 The woman said she did not want to identify the bus company for fear that her children would be discriminated against in some way.
The mother said "This is simply outrageous. My children are young and they do not understand that they must wear a mask.
"Surely this bus company is acting illegally. Children cannot be forced to wear a mask. They do not have to wear them in schools so why do they have to wear them on buses.
"I understand that this company os worried about their drivers but they are adults and if they take the right precautions they will be safe."
Tags: