Dr Mike Ryan of the World Health Organization has been announced as a speaker at a seminar next week led by the Inishowen Development Partnership.
Dr Ryan, the executive director of the WHO's health emergencies programme, will be a keynote speaker at the ChangeMakers annual seminar. The event will take place virtually on 15th April from 10 am-1 pm.  It will be hosted by ChangeMakers Steering Group member Denny Elliot, Self Help Africa, and will be officially opened by Minister Charlie McConalogue. 
The theme of the seminar will examine the overall impact of the global pandemic on human rights in Ireland, the global north and the global south.   
A spokesperson for ChangeMakers said: "Each year we have an annual seminar to explore some of the prominent themes across our development education programme, such as social justice, climate change, sustainable development and global inequalities.  
"We are so delighted, given the subject matter, to have secured some high profile speakers, in particular Dr Michael Ryan, Executive Director, WHO Health Emergencies Programme. 
"Dr Ryan has been at the forefront of managing acute risks to global health for nearly 25 years. He served as Assistant Director-General for Emergency Preparedness and Response in WHO's Health Emergencies Programme from 2017 to 2019. His name and face will be familiar to us all as we get through this pandemic. So we are so delighted that he looked favourably on our invitation to speak this year. He will speak to the topic of the right to health and access to healthcare from a global perspective.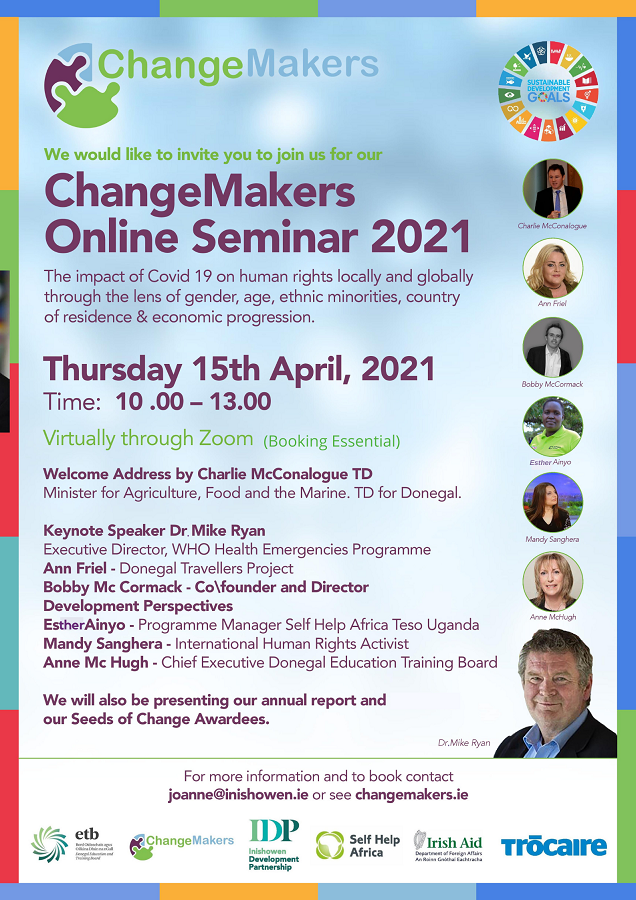 "Also joining him on our panel of speakers this year we have Ann Friel who will speak to the same topic but from a local perspective. She is a Traveller woman, a human rights activist and works as a Primary Health Care Co-ordinator within Donegal Travellers Project. She is committed to achieving equitable health outcomes for the Traveller Community and has advocated at local, national and international level to attain transformative change for Travellers in policy and practice, utilising a community development and human rights framework.
"We also have secured Bobby McCormack co-founder and CEO of Development Perspectives who has been directly involved in Development Education / Global Citizenship Education since 2006. Bobby is the programme manager of a new strategic partnership programme called "Saolta" which will embed Development Education / Global Citizenship Education in the adult and community education sector in Ireland. 
"Following Bobby's presentation on the central challenge to freedom of movement we are honoured to have Esther Ainyo who will address the topic of 'the right to earn a living'. From Uganda, Esther is currently Programme Manager there with one of our ChangeMakers partners, Self Help Africa(SHA). She currently works with the Teso Sub region, to implement SHA's livelihood development projects. 
"After Esther's presentation, is world renowned motivational speaker, Mandy Sanghera . Mandy is an award winning  philanthropist , community consultant and global campaigner often referred to as a global catalyst . As well as being an international human rights activist & motivational TedX speaker from UK,  Mandy  has travelled  all over the world   empowering and motivating others.  With over three decades of experience, Mandy  is an expert in various development related fields. Her topic at our seminar is the impact of Covid on human rights.
"Last but by no means least in our array of speakers, we are delighted that Chief Executive of Donegal Education and Training Board, Anne McHugh could join us. Donegal ETB, another our ChangeMakers Project Partners, is one of the largest in the country and the biggest Education and Training provider in the County, Anne will speak to the topic of "The right to an education"."
Changemakers Collaboration
ChangeMakers are a collaborative Development Education & Action project led by Inishowen Development Partnership (IDP), with Donegal Education & Training Board (ETB), Self Help Africa (SHA) and Trócaire as project partners. Their work involves awareness raising and education on issues such as human rights, social justice, climate action, sustainable development and the SDGs. They also aim to help individuals and communities understand, connect and act to be the change, linking and addressing local and global development issues. 
The event has just gone live on Eventbrite and as the organisers expect great interest due to the calibre of speakers, people are advised to register early. The link is https://www.eventbrite.ie/e/changemakers-online-seminar-2021-tickets-148918327727  or please see the ChangeMakers website www.changemakers.ie to book .