The t-shirt is a hint. His love of soccer. The crisps are another. He still loves crisps.
A certain Raphoe man turns half a century today.
He's a little thinner on top and a little rounder 'round the middle than the days when he marshalled many a backline.
He never shirked a tackle but always offered a handshake after games.
Evan Logan is regarded as one of the best sports photographers about, not that he'd want any plaudits.
Now an employee at Letterkenny University Hospital, Evan will always remain first and foremost a photographer to most of us.
Formerly of the Inishowen Independent, his pictures have graced many of the country's leading newspapers and we at Donegal Daily have also been lucky enough to have his work on our pages.
His time at Letterkenny hospital can't be easy, especially when he even passes a sign in the lobby for a needle.
The very sight of said instrument is enough for our Evan to go weak at those already very dodgy knees.
Our picture of him marking (or rather trying to mark!) a certain Jonathan Speak reflects the high level which he played.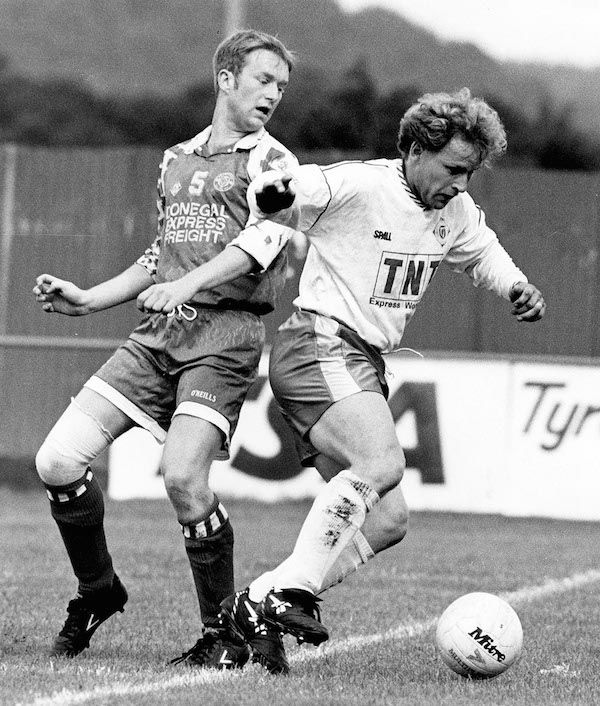 Never one lost for a smart comment and always a smile, he's never far from wife Karen, daughter Abbie and son Conor.
Nor is he ever far from his beloved Ballymena United where he spent his early years before moving to Donegal.
He'll need all his energy today blowing out the 50 candles on that very big cake later today.
Just as long as nobody produces a needle and sends him weak at the knees.
Happy big birthday lad!