THERE have been fresh calls for the establishment of a 'rapid response unit' to tackle gorse fires in west Donegal.
Councillors at the monthly meeting of the Glenties Municipal District spoke about the issue of setting up a dedicated unit made up of local volunteers.
Two years ago, hundreds of local residents had to battle a gorse fire that tore through the area, putting homes and property in danger.
"This is one of the most pressing issues in this Municipal District," Cllr Michael Cholm Mac Giolla Easbuig told the meeting.
"It's an issue that we have been talking about for a long time. I began speaking about this a long time ago and the Council should its down with people who are willing to fight fires.
"A few seconds can make a big difference. It is emotional to think about the big fire and the consequences of that.
"Donegal County Council should b2 more supportive, by providing training, equipment. It is extremely important to engage with the locals, who will be out fighting the fires."
In April 2019, gorse fires ravaged through a large area of west Donegal. The blaze was described at the time by Cllr Mac Giolla Easbuig as a 'Holy mess'.
Up to 200 local people battled the flames, with over a dozen fire tenders responding to a fire that first started in the Annagry area, quickly spreading towards Loughanure and Belcruit and towards Dungloe.
At one stage, a support helicopter was needed to douse an area when a fire crew became surrounded by flames.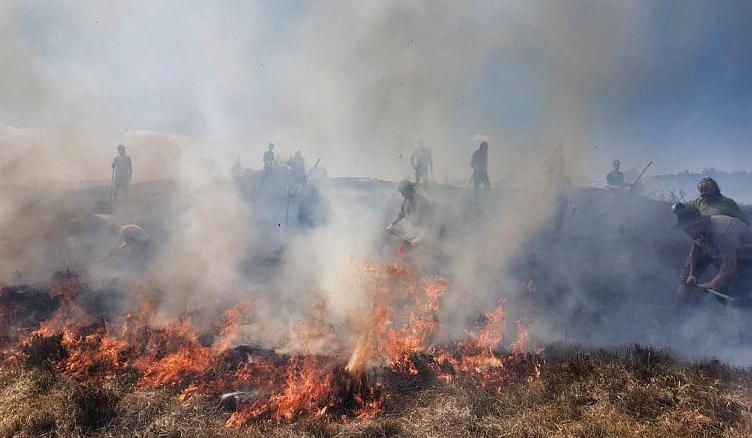 A house and two sheds were destroyed and it was later reported that staff shortages meant that it took eight hours for the Air Corps to respond.
The Cathaoirleach of the Glenties MD, Cllr Noren McGarvey, said that 'huge devastation' would have scorched through the area but for the action of the volunteers.
Cllr McGarvey outlined that she submitted a letter to the Emergency Response Committee last week  and was awaiting a response.
So far in 2021, there have been 96 recorded fire brigade incidents within County Donegal, figures released at the meeting show.
Cllr Mac Giolla Easbuig added that a Fire Service on Tory Island needed reviewed. He said: "No longer should these people on Tory be classed as second-class citizens."