Job Vacancy: Donegal Town Credit Union are recruiting a Compliance Officer to join their team.
JOB TITLE: Compliance Officer 
CREDIT UNION: Donegal Town Credit Union 
REPORTING TO: Board of Directors 
GENERAL SCOPE OF ROLE:
This role encompasses the ownership of Compliance within the Credit Union. 
This role is four days per week.  
COMPLIANCE OFFICER
Reporting to the board of directors, the Compliance Officer will have responsibility for ensuring compliance by the credit union with regulatory, contractual, corporate and industry best practice standards in all aspects of the credit union's business.
Prepare the risk-based annual Compliance Plan and oversee its delivery.

Prepare and deliver the Annual Compliance Statement.
Evaluate new and emerging regulatory requirements and ensure their incorporation into internal compliance processes, policies and procedures.
Manage potential compliance issues, including errors and breaches.
The role will be part of the management team of the Credit Union, and will act as a source of expertise to management in decision making processes.
Update policies and procedures within the required timeframes, manage the sign off process and communicate polices to staff as required.

To devise, implement and deliver appropriate training programmes for the credit union's directors, committee members, employees and volunteers as required.

To monitor changes to legal, regulatory and industry environments on an ongoing basis and assess impact on the business, and provide advice and appropriate documentation for the credit union to ensure compliance.

To devise internal compliance audit procedures and ensure their implementation.

To ensure audit and regulatory recommendations are implemented within the stated deadlines.

To attend and contribute to meetings as may be directed by the Credit Union Manager and Board.

Liaise with the ILCU and the Regulator as necessary and foster and build good relations. 

To undertake such other reasonable and lawful duties as may be directed from time to time by the Credit Union Manager and the board of directors.
Ideal Candidate will Have
Prior experience in a control function such as Compliance, Audit, or similar member facing financial institution.

Experience in dealing with compliance issues in a financial services environment.

Ability to read and understand complex regulation, standard policies and procedure and then distil the requirements in order to provide practical and relevant advice and guidance to the organisation.

Strong organisation skills as the applicant will be managing a number of compliance processes and procedures across the organisation.
Salary will depend on skills and experience. 
Closing date for applications is 12pm Tuesday 4th May 2021.
Please apply in writing with full CV and cover letter to: –  office@donegaltowncu.ie 
Donegal Town Credit Union is an Equal Opportunities Employer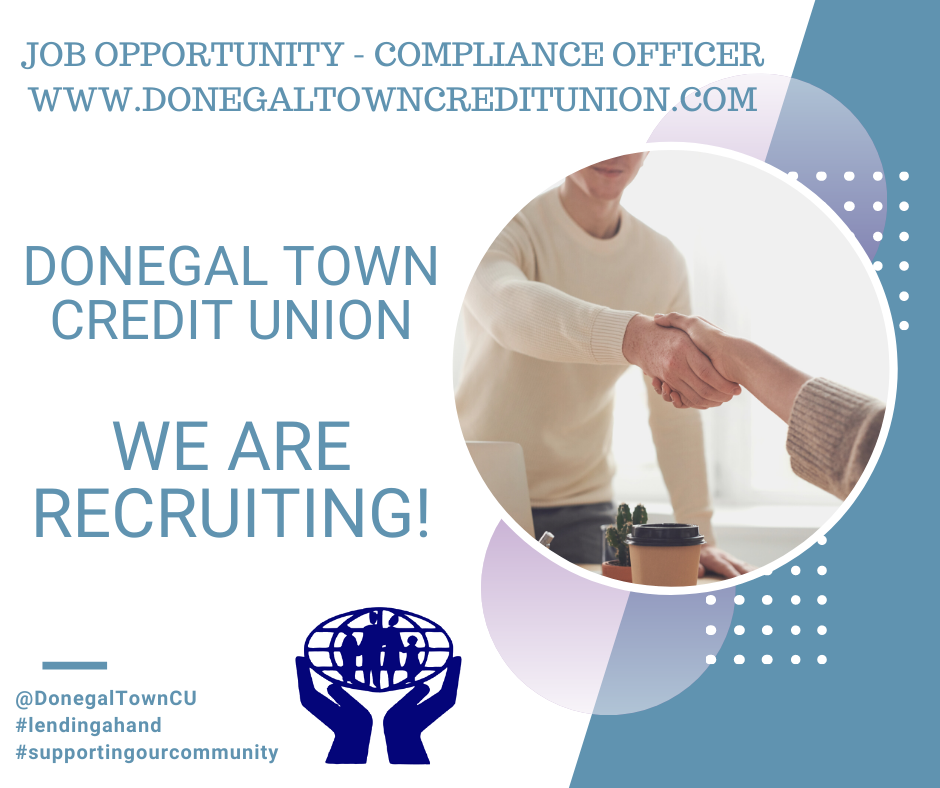 Tags: