Sponsored Post
Katy Herron is enjoying views from the other side this year as she gains a professional knowledge of sport science.
Donegal and Western Bulldogs star (31) is on the verge of completing her Masters in Sports Performance Practice at Letterkenny Institute of Technology (LYIT).
Education has long been a part of Katy's life, but she has taken a career break from her post-primary teaching role to become the student once more.
Katy is hoping that her MSc will point her in the right direction of becoming a qualified PE teacher, alongside endless other opportunities in performance analysis.
The specialist programme has given Katy new knowledge of the practical and applied approach of sports science, and how she can blend the two.
Katy told Donegal Daily: "A lot of my experience is purely practical as a player and an athlete. I struggled with going back to education after so long and seeing that whole scientific approach to sport. Now, it's nice to look at it from both ends. As a player, you get insights on strategies and how to improve your performance based on the best practices."
The accessibility of the Letterkenny college and the facilities on offer were both pull factors to Katy as she took the leap back into education, she says. The opportunity came to her last year, after she returned from Melbourne after playing an important role in the 2020 AFLW season with the Western Bulldogs.
"Given my sporting background, my own circumstances, where I'm located and my work, I never would have had an opportunity to go into any further study. But when the opportunity came up in Letterkenny, I was taking a career break from teaching. It all fell into place nicely, it was a massive opportunity that I never would have had before," said the former Donegal Ladies captain.
While covering all strands of performance practice and technologies, Katy was also impressed by the facilities at her disposal at LYIT.
"To see the college investing in the equipment that is there is a real pulling factor, the lab has all the technology to study lactate and VO2Max. People don't use this unless you are involved in a higher end environment. It's nice to see the extent that teams and researchers go to to find best practices," she said.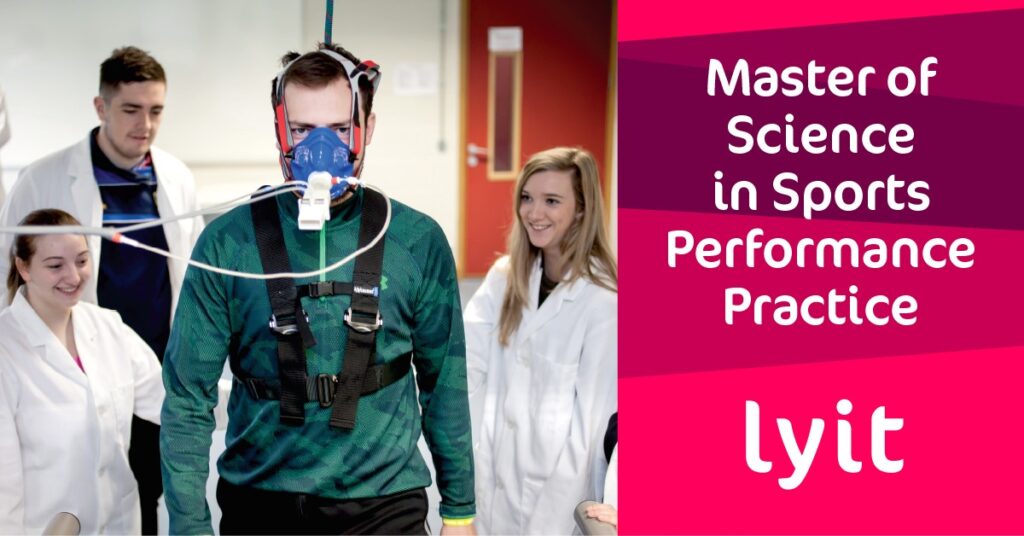 Covid-19, unfortunately, has limited access to the gym facilities, but lessons have progressed online in a blended learning style for students who are also working.
"The blended approach opens the course to anybody, and not just students who are coming straight from undergrad level," Katy explained.
"Regardless of your background, studying can be a daunting experience, so it's nice to have a group of lecturers there who are so open and willing to help if there's an extra need.
"The college has done brilliantly with online lectures and they have given us that insight into that professional life and what will happen when we go out into the field. They had a lot of guest lectures to share their experience so we are as best prepared as we can be."
Katy has also had her eyes opened to other avenues of research and work undertaken by graduates who have a specific knowledge of Applied Sport Science.
"People might think you will go straight into sport performance and working with a team, but you don't think of all the special populations and people with disabilities in sport," she said.
"We're encouraged to keep an open mind. Once you're involved in sport there are so many different levels and grades."
Katy has always been a strong advocate for women's participation in sport, and she plans to apply her studies to strengthening the campaign as much as she can. Her thesis too is focused on women in sport as she researches disruptive sleep in the menstrual cycle – an issue that wouldn't have even been discussed not long ago.
"There are so many campaigns out there, I know Lidl have run a very successful campaign on leveling the playing field for female athletes.
"I think with a course like this it's really important for us to do the same as female practitioners, to do more and take opportunities to get more female athletes qualified.
"That's something I would love to do, to get into working with teams, it's a very male dominated area at the minute, but when you have an opportunity like this, there are plenty of doors that can be opened from it, it will be nice to see where it takes me."
For anyone with a passion for sport and an interest in gaining expert knowledge in sport performance and teaching, Katy recommends exploring options with LYIT.
"There is so much to learn, if you are an athlete yourself, or if this is something you want to pay back to the community, your own clubs, or on a higher level, there is so much to be gained from this."
Watch the video below to see what students and lecturers have to say about the MSc in Sports Performance Practice.
For more information contact Head of Department of Law and Humanities, Siobhan.Cullen@lyit or visit: https://www.lyit.ie/CourseDetails/D403/LY_HSPEF_M/SportsPerformancePractice
Tags: