Sponsored Post
McElhinneys have today launched their 50 years in business celebrations, with the 4th of May, 2021 marking the official 50th birthday date of the opening of McElhinneys Department Store in 1971. 
McElhinneys is a multi-award-winning retail destination, based in Ballybofey, Co Donegal and is a one-stop shop, with fashion, beauty, homeware, accessories, lingerie and bridal – all under one roof.
After an unforgettable past year, the team in McElhinneys are delighted to reach the 4th of May, which officially marks 50 years since John McElhinney first opened the doors of McElhinneys in Ballybofey.
As one of the few remaining independent, family-run department stores in Ireland, and indeed Europe, the consistent factor of McElhinneys success throughout the years has been the drive, ambition, and initiative of John McElhinney. Despite the hardships over the years, John has created a destination store in the heart of North West of Ireland, Donegal.
Speaking about the celebrations, John McElhinney, owner of McElhinneys, said: "We are delighted to reach such a milestone in retail and it has been a great journey and the future looks bright for McElhinneys with lots of exciting projects on the pipeline.  We as a business have overcome many challenges from floods, firebombs and a global pandemic and would not be here without the support of our loyal customers and the superb dedication from our staff over the years". 
Join McElhinneys in celebrating their Birthday Bash all this weekend exclusively online. Join Sandra on MCE Live on Facebook all day Friday the 30th April for on the hour, every hour unmissable offers that are sure to sell out.
Plus, enjoy 25% off all clothing and footwear, and 10% off home, gift, jewellery, luxury bags and kids footwear from the 1st to the 5th of May – must end midnight Wednesday. Enjoy these offers and more exclusively online at www.mcelhinneys.com.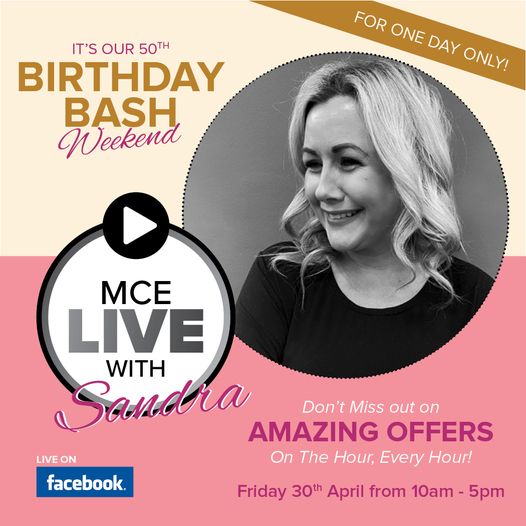 Podcast: The story of McElhinneys is being retold in a podcast series, with John McElhinney looking back over the business beginnings – selling from the back of a Dodge van – to becoming a global brand.
The McElhinneys Podcast 'From Fires to Floods' is a fascinating journey through moments that have shaped the past and defined the future and legacy of McElhinneys.
Listen to the McElhinneys Podcast 'From Fires to Floods' on Spotify: https://open.spotify.com/episode/2RISCHYQjnYKeFA9zWqK7G?si=PLuZoLC_RZmlfn2xHnMqmg
McElhinneys wishes to thank everyone for their continued support and friendship over the past 50 years in business, and can not wait to reopen and welcome you all in store again soon.