Three separate outbreaks in Donegal have caused 135 new cases of Covid-19 in recent weeks, the HSE has revealed.
A local wake led to 84 infections in one community, while a family outbreak which spread into a workplace caused 32 other cases.
Dr Anthony Breslin, Director of Public Health, HSE North West, released graphs displaying how easily Covid-19 can spread to households and schools following a gathering.
He revealed how people attending a local wake and a funeral in April extended to a community outbreak which impacted a school, childcare facility and several family homes.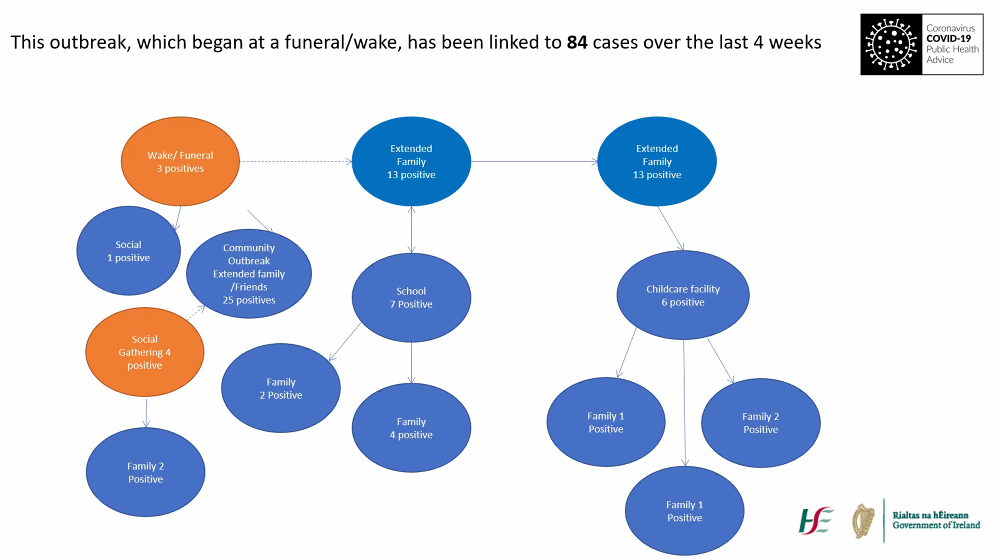 A further 32 cases of Covid came from an infected person who caught the virus from a family event. They were a close contact of a case and underwent a Covid-19 test. They were asymptomatic, but did not follow public health advice and then went to work while still awaiting the result of a Covid test. That person infected 15 people in their workplace, who subsequently infected their own families.
"If you are sick, or if you are in contact with someone, stay put. Follow the public health advice. We're not saying this advice for the fun of it, we're saying it to stop the spread of infection," Dr Breslin told a local media briefing earlier today.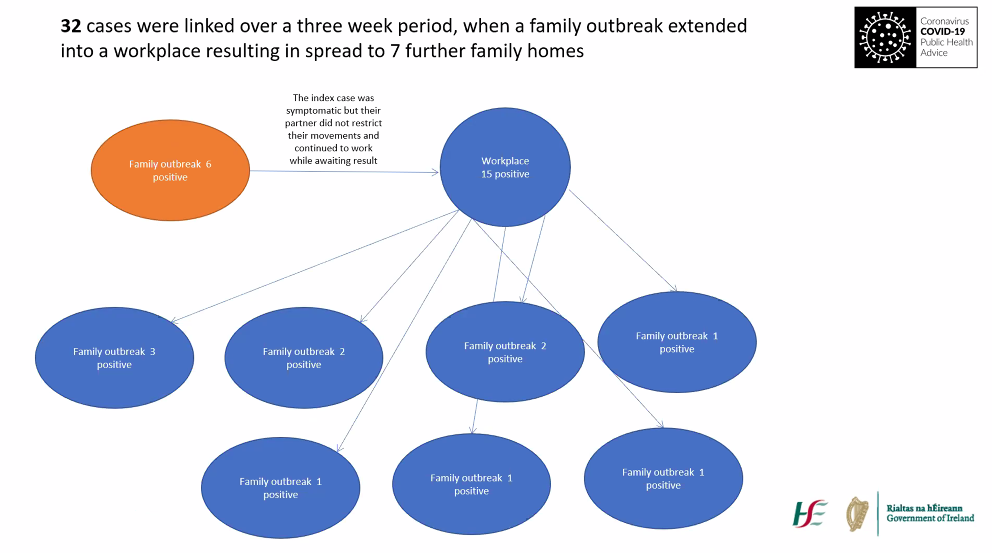 A further 19 cases spread amongst a group of younger people who had gathered for an 18th birthday party. Some of the attendees went on to gather at the seaside, which resulted in cases spreading two plus families.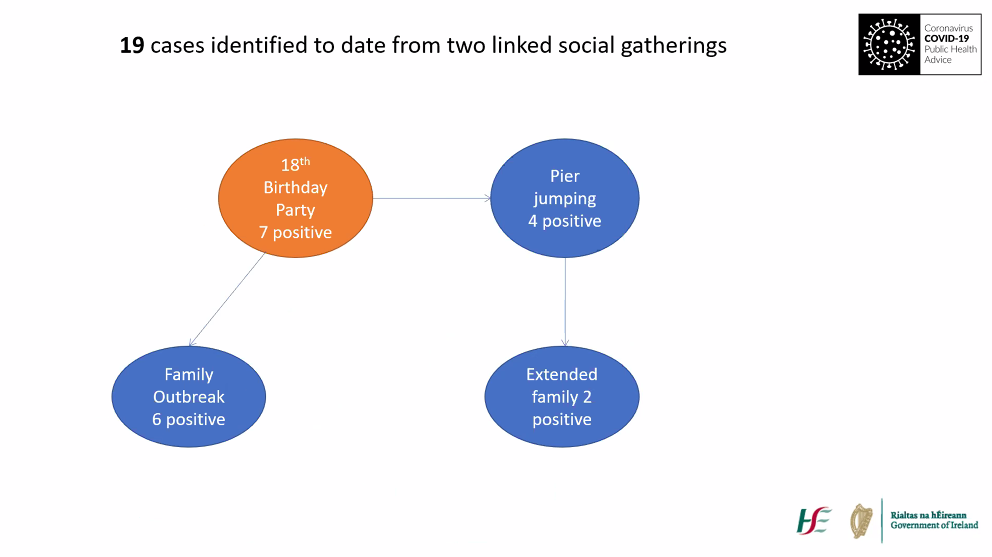 Dr Breslin said this party is just one example of 70th, 50th, 40th, 21st and 18th birthday parties taking place in Donegal.
"People are just getting together because they want to," he said. "While the virus is still out there, it loves any opportunity for people to get close together and not do the social distancing, not wear a face covering and get together in an enclosed environment.
"We cannot, under any circumstances, be allowing family get togethers, or outside parties, because the virus does spread. When the virus hits we don't know what is going to happen to someone – is nothing going to happen, will they have a minor infection, are they going to be in bed for four weeks, will they end up going to hospital, in ICU, or will they unfortunately die?"
"We have to accept the virus can infect everyone and it can have consequences. We want to get the rate down to a background level, the same as the rest of the country, and that will help us get rid of it entirely once we get more people vaccinated."
Dr Breslin's comments were made at an online media briefing this afternoon discussing concerns over Covid-19 in Co. Donegal. Deputy Chief Medical Officer Dr Ronan Glynn said there are no plans to keep Donegal in lockdown when the current restrictions are eased on Monday next, but urged the public to follow the positive to calls for action to bring the incidence rate down.
Read more about the meeting on DonegalDaily.com: