A new walking festival has been announced for Inishowen.
Save the date for Friday 10th – Sunday 12th September 2021, when people will be invited to step up to a new challenge and enjoy scenic routes across the peninsula.
The event is being organised by the Inishowen Social Enterprise Network and generously supported by Donegal County Council and Donegal Sports Partnership.
ISEN are also working on another new project for the region, with details to be revealed at a later date.
"We are sure that both projects offer great opportunity and the potential for wider impact for the peninsula!," said Heidi Doherty Manager of Explore Inishowen.
Ms Doherty added: "The ISEN network is a great way for community and voluntary organisations and their staff to support each other. It can be a lonely place working in our individual roles securing funding.  We are stronger together: we motivate and support each other. We have started on two projects, and full details will follow soon."
"We are supportive of projects where organisations come together, look at solutions and maximise their resources, and this is exactly the type of initiative we like to see," says Shauna McClenaghan, Joint CEO of IDP.  "You will be aware of our recent engagement with the wider Inishowen community, through our Envision Series.  The workshops were held for locations right across the peninsula (online) and resulted in insightful and valuable data that will help form many projects in the future.  I believe the work of ISEN is typical of this model in action, so we look forward to connecting the work of ISEN into the ideas and groups who took part in Envision".
Spring 2021 very much sprang into action for ISEN, Inishowen Social Enterprise Network.  Almost a year to the date, after having to transfer their activities to Zoom, Social Enterprises from across Inishowen marked the online year with a Zoomiversary!  They launched a new network logo and continued to get back on with developing new Inishowen-wide projects.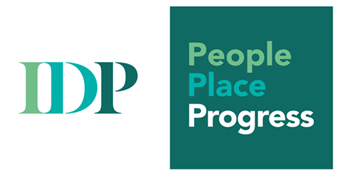 The network is now mid-way through the THRIVE programme, a bespoke training programme that arose from listening to the training needs of the group; this was launched in February through support from the Social Inclusion and Community Activation Programme (SICAP) 2018-2022, which is funded by the Irish Government through the Department of Rural and Community Development and co-funded by the European Social Fund under the Programme for Employability, Inclusion and Learning (PEIL) 2014-2020. The THRIVE programme is currently being delivered under The LightHouse IDP to ISEN members and other Community/Voluntary organisations based in Inishowen by Enterprise North West and Irvine Training.  
With the support of Karen McCormick with assistance by Aisling Sheehy at IDP, the ISEN group has sprung into action and, among other initiatives is currently collaborating on two focused projects with working groups and designated Team Leaders in place to help steer the ship. 
"We began 2021 on the right footing, says Karen, "by completing an initial planning and evaluation of the network in January.  This reinvigorated the members and helped us focus and prioritise what it is we want to achieve this year as a network.  This is a forward-thinking group and we have even established an easy-to-use networking platform so that we can communicate and update each other in real-time on relevant sector information such as funding opportunities and peer learning".  
Ali Farren, Manager of Malin Head Community Centre, said "There are many personalities in the ISEN group and between us we managed to lift the spirits of those who were exhausted with their amazing efforts in the community response, whether that be in the Inishowen Food Bank or making PPE.  But more than so we encouraged each other to support any positive efforts going around peninsula such as the #MayThe4thFestival and Free Wee Libraries. Everyone is so invested in not only preserving but growing vibrant communities that it was a natural next step to start collaborating on projects."