THEIR lives and their careers have had so many similarities – and Andy Lee hopes Jason Quigley can emulate him by conquering the world.
The two were successful amateurs, both having been the Irish Elite middleweight champion.
In the Irish vest, they were on the podium on the big stage. Lee won World Junior bronze, EU silver and European Elite bronze etsdals before turning pro.
Quigley is a World Elite silver and three-time European (Elite, U23 and Youth) gold medalist.
Lee took the tough road as a pro, moving to Detroit to train in the famed Kronk Gym with Emmanuel Steward.
Lee was 15-0 when his career hit a bump, losing to the unheralded Brian Vera at the Mohegan Sun Casino, Uncasville in March 2008.
Following the death of Steward in 2012, Lee – who had already exacted his revenge on Vera with a 2011 win in Atlantic City – linked up with trainer Adam Booth.
In December 2014, Lee brought Matt Korobov, a previously unbeaten Russian who was 24-0 at the time, to a shuddering halt. In the sixth round of their WBO world middleweight title fight in Las Vegas, Lee landed the biggest punch of his career to clinch the belt.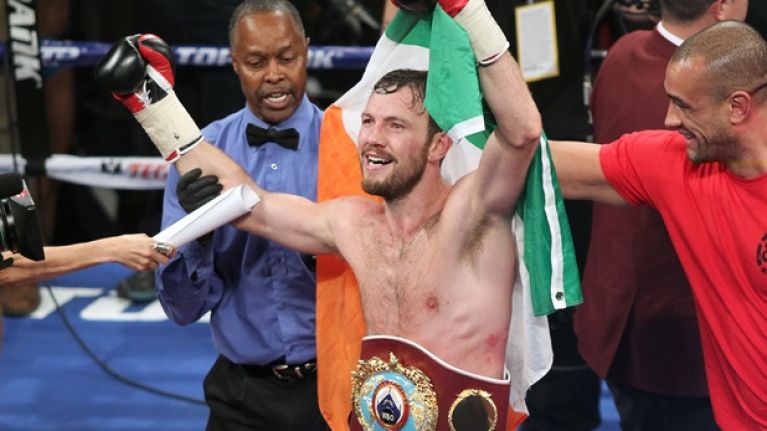 His journey was almost mirrored by Quigley, who was 16-0 when he was beaten by Tureano Johnson in July 2019.
Quigley cut his pro teeth working under Manny Robles in Los Angeles before relocating to Sheffield and linking up with Dominic Ingle.
However, the Johnson loss had Quigley recalibrate and the stars aligned him with Lee, who now trains the Donegal middleweight.
Under Lee's guidance, Quigley hit knockout wins over Abraham Cordero and Fernando Marin. This Saturday night in Las Vegas, Quigley meets Shane Mosley Jr with the NABO middleweight title on the line.
"Jason has trained really well for this fight," Lee said.
"He's the consummate professional.  He lives the life. He's a dream to work with. He's one of the easiest guys I train; he's always on time, he eats the right stuff outside of the gym when he's not with me.
"He lives the right way and he works extremely hard.
"What you'll see – and what I see – is someone who is in control of himself, who knows what he's doing in the exchanges and the rounds. He knows what he's doing and why. He's a lot more in control when he's fighting."
Lee has a busy stable and is rising fast as a trainer. Working as part of Tyson Fury's team, Lee also trains Joseph Parker, the former WBO heavyweight title, and Irish prospect Paddy Donovan.
His analytical eye in assessing Quigley's loss to Johnson raised the interest of the Donegal man as he stewed over that defeat.
Soon, he was meeting with Lee and the pair – who had already been acquainted from their days in the Irish amateur ranks – clicked.
Lee said:  "Jason is a much more positive person than I was. He was hurt, but he was upbeat.
"I don't think he realised the impact of the loss. He has had two fights against nobodies really, no disrespect to those guys.
"He has had to wait and work hard to get back onto the bigger stage. He's had to be steadfast in his resolve. he could easily have walked away. Everyone else has been fighting.
"He's not been given anything to excite him, but he's worked hard.
He's had two tough years since then, but he has worked hard and improved all the time. To use all that experience that he has banked, to come out and show a new fishiness and a newer version of himself."
Mosley defeated Jeremey Ramos last July and in February defeated Cristian Olivas at Fantasy Springs.
Lee, though, believes that an in-the-zone Quigley will prove too hot to handle.
He said: "Mosley has had activity and he has fought. You look at Jason's amateur career and the class of a fighter he is. Mosley's activity shouldn't level the score.
"Jason should still be leagues ahead of him. Mosley has some deficiencies but he has attitude. He'll come to fight and come to win. Jason knows what he's up against and knows what he has to do to win the fight."
Tags: