LOCAL Republicans, historians and family members gathered at Sessiaghoneill graveyard yesterday evening to commemorate the 100th anniversary of the death of Captain James McCarron.
James McCarron was a volunteer with the Irish Republican Army who was shot dead by the Black & Tans following an ambush near Trusk, Ballybofey on the 2nd June 1921, along with another local man, Edward Doherty.
Yesterday morning, the tricolour was raised at the Donegal County Memorial in Stranorlar, and it was flown at half mast throughout the day in remembrance of James and all those who gave their lives for Irish freedom.
A ceremony was held at the graveyard at Sessiaghoneill where James is buried.
The event was chaired by Cllr Gary Doherty and a wreath was laid on behalf of the Tír Chonaill Commemoration Committee by Cora Harvey.
Donal Ward laid a new grave marker in remembrance of James on behalf of the committee, alongside a baton once owned by him which was laid by his Grand Niece Mandy McNulty. The Tír Chonaill Roll of Honour was also read by Cllr Liam Doherty.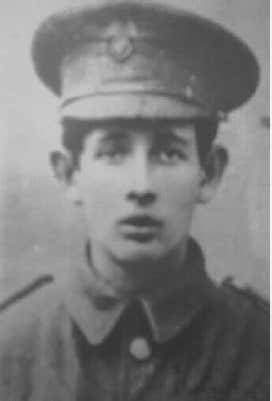 Speaking at the event, Cllr Gary Doherty said: "James McCarron joined the hundreds of Republicans in Donegal and the thousands throughout the island of Ireland and beyond who rose in arms during the War of Independence to assert Ireland's claim to freedom.
"During this decade of centenaries, it is important that we remember what was a sad and difficult time for this island. It was a period that resulted in many sad events, events such as the early and untimely death of James McCarron and many others, but which also inspired the subsequent generations to strive to ensure that what those brave men and women fought for cannot be forgotten, and that their ultimate goal of a free and Independent 32 county Irish Republic is still what drives so many today."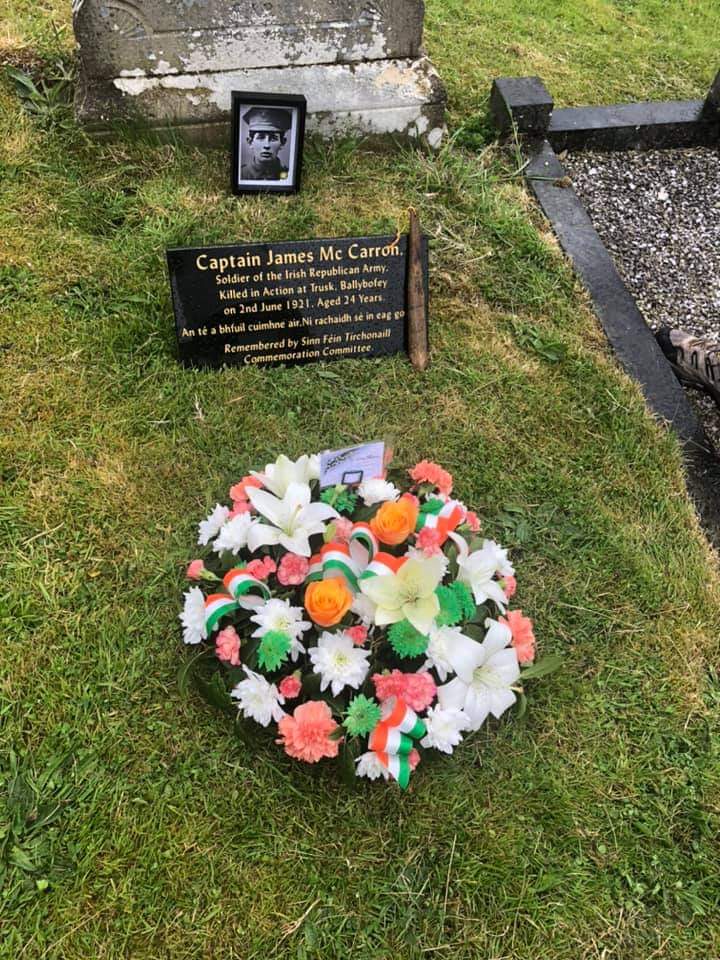 Those in attendance were then given the following history of the life of James McCarron by local historian Brian Anderson.
"James McCarron was born in Stranorlar in 1896 and attended Stranorlar National School.

His family moved to Ballybofey, where his father ran a local fruit and veg shop, which is now the China Tower Restaurant on the main street. In WW1 like many Irish, James joined the fight against Germany where he was injured twice and gassed on eight different occasions on the front lines.

In 1919/20 James returned to Ballybofey and took up a new fight and joined the 4th Brigade IRA 1st Northern Division to drive the Auxiliary's and Black and Tans out of Ireland. He was captured and interned in Ballykinlar.

As things were quiet in the Ballybofey area, James signed a contract to not engage in any activity against the British forces and was released. But when he returned home to Ballybofey he went on the run and formed a flying column.

They were involved in several incidents in the Finn Valley area, including one of the most famous which is celebrated in song, the commandeering of "Doctor Johnston's Motorcar".

On Thursday 2nd June 1921 James was the leader of a four man unit that laid an ambush on the road to Trusk, 3 miles outside Ballybofey to surprise a group of Black and Tans fishing at Trusk Lough, but, the Black and Tans had placed a scout and seen the ambush that lay in wait. They therefore sneaked in behind McCarron's party and opened fire.

There was an exchange of fire after which James lay dead and another Volunteer, Patrick McAteer was injured.

Requiem Mass was celebrated in Stranorlar, which was attended by an enormous congregation.

The Tri-colour was placed on the coffin of Captain James McCarron which was carried on the shoulders of Volunteers and Cumann na mBan out the Trusk road to his final resting place in Sessiaghoneill.

James was ironically shot by members of the regiment in which he served in WW1."