Longstanding Fianna Fail Councillor, Gerry Crawford, has been elected Cathaoirleach of the Lifford-Stranorlar MD for the coming year.
Cllr Crawford had barely adorned the Mayoral chain when he announced that the North West Greenway would be extended from his hometown of Lifford to nearby Castlefin.
"I know the responsibilities this position brings and it is not something I take lightly," he said.
"After a tough year, there are many exciting things on the horizon – I just just got word that the greenway is going to be extended from Lifford to Castlefin."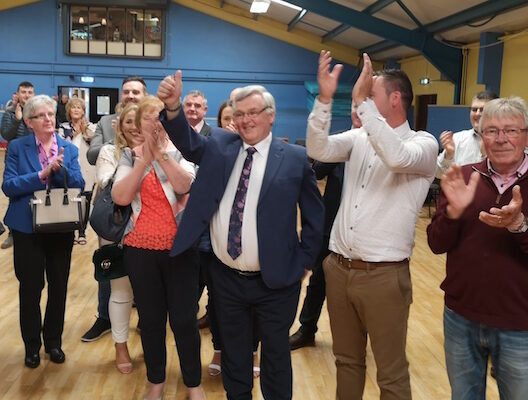 Cllr Crawford added there were also new social housing projects under construction in St Johnston and Raphoe.
"They're also positive and something to look forward to – the Riverine project is also hugely exciting."
However, he also said there were  'huge problems' ahead in the MD in the form of the mica defective block issue which affected many homes in east Donegal.
"It (mica) won't go away and has to be dealt with – we all have to work together on this."
Cllr Crawford said he looked forward to working with his fellow councillors and council management and staff.
"I look forward to us all working together as a team. Although the doors were closed, there were people in behind, keeping the doors open by taking calls and doing a lot of work. We're totally dependent on co-operation."
Outgoing Cathaoirleach, Cllr Gary Doherty, also thanked his colleagues and council staff for their help during what was a very tough year.
"I would like to say it was an enjoyable year, but that would not be quite the truth due to Covid-19," Cllr Doherty said.
"We have had no physical meetings since September. It was also an extremely difficult year for businesses who were limited due to Covid and to those who lost their jobs. We send our sympathies and solidarity to those affected. I hope we are entering a new phase and the incoming chair will have a better year and see us returning to some form of normality."
Fine Gael's Martin Harley was elected Leas-Cathaoirleach.
Tags: