MICA campaigners have told how their children's lives have been turned upside-down by the 'tragedy' that has swept Donegal.
Pictures by Joe Boland, North West Newspix
Thousands of families are watching as their homes literally fall apart around them. Many of the homes built using the defective concrete blocks have to be completely demolished and rebuilt.
Those affected are demanding a 100 per cent redress from the Irish Government, with thousands going to Dublin yesterday to march in protest.
At the Convention Centre, where a Dáil sitting was underway, Mica campaigner Paddy Diver handed a letter outlining key issues to Sinn Féin leader Mary Lou McDonald.  A second copy of the letter was presented to the Housing Minister Darragh O'Brien.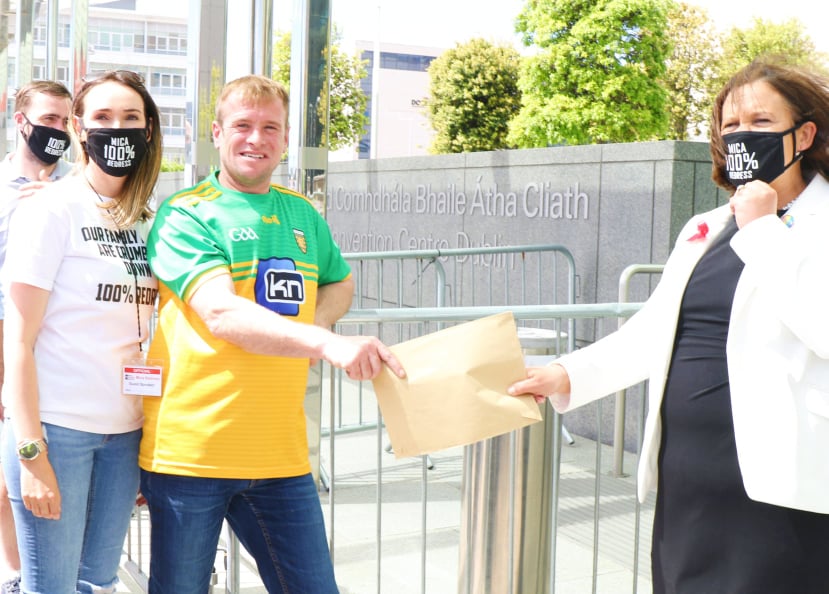 The letter, signed '100% Redress – No Less' outlines the 'utter devastation with the impact mica defective block is having on our families'.
"We have frankly been our own advocates," the letter, seen by Donegal Daily, states.
"Our children are mica experts, they call out examples of mica-affected properties when passing in the car. We find them crying in their room and when asked what is wrong, they reply 'where are we going to live? Why does our house needs to be knocked down?'
"Our forever homes have become prisons, they offer little sanctuary and continue to deteriorate and exhibit worrying signs of structural degradation. We need and indeed demand Government intervention to put an end to this crisis."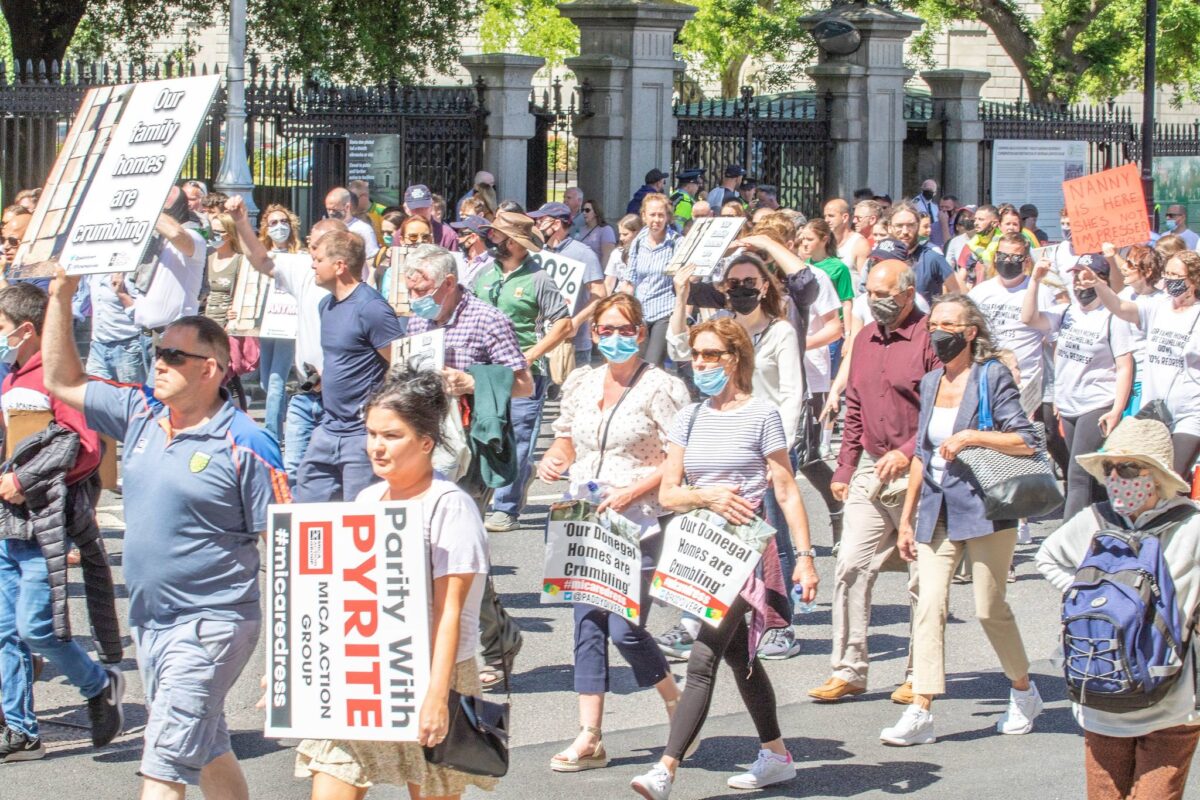 After protesters marched from the Convention Centre to Leinster Houe, representatives of the Mica Action Group (MAG) met with the Housing Minister and Government officials in Government Buildings.
MAG members Paddy Diver, Eileen Doherty, Mickey Doherty, Eamonn Jackson and Anne Owens, accompanied by Inishowen-based Fianna Fáil Councillor Martin McDermott, held what was described as a 'constructive' meeting.
The campaigners outlined to elected representatives that the current scheme is not working.
Their letter explains that low-income families are 'locked out' as they are unable to source the €6,000 costs for testing and engineer reports.
The group tells how the administration process is 'fraught with delays' and families are having to engage in multiple bodies.
"The application process has added more stress and anxiety to families rather than have the desired outcome of ameliorating it," their letter says, adding that some who have managed to source the entry funding are now finding that they need to raise sums between €30,000 and €100,000 to have their homes repaired.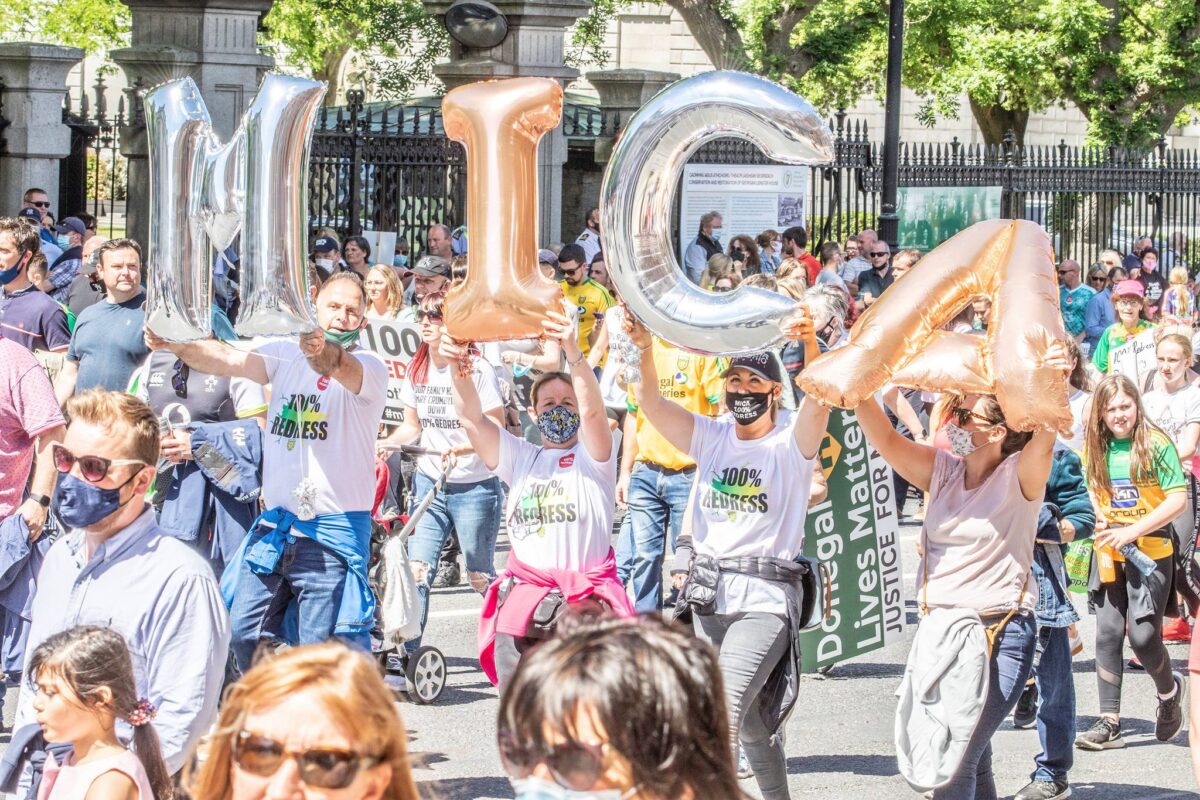 In the region of 50 buses traveled from Donegal yesterday to the capital with others joining from counties Mayo and Clare.
Campaigners are calling on an 'urgent public enquiry' to bring those responsible to task.
They say they were left 'with no other choice' but to demonstrate in their thousands in a public show of the scale of the problems.
"Our lives are on hold until this issue is resolved," the letter says.
"Precious wonderful years with our children growing up have been overshadowed with this nightmare. We implore you, put a stop to this today
"We need urgent consideration and implementation of these demands in order than we can end this tragedy."
Tags: