A Dunfanaghy school is certainly in a field of its own after being chosen as the National Champion-Runner Up in the Farm Safe Schools Programme.
The pupils of Ballymore National School, Dunfanaghy took part in the Farm Safe Schools pilot programme throughout March, April and May of this year.
The programme organised by Agri Aware, Agri Kids, the Irish Farmer Association (IFA) and supported by the FBD Trust consisted of three modules aimed at increasing awareness of farm and animal safety, farmer health & wellbeing and safety around farm machinery and equipment.
The programme, undertaken by 500 schools across Ireland, was designed to assist teachers in educating their pupils about the potential dangers associated with farming and agriculture.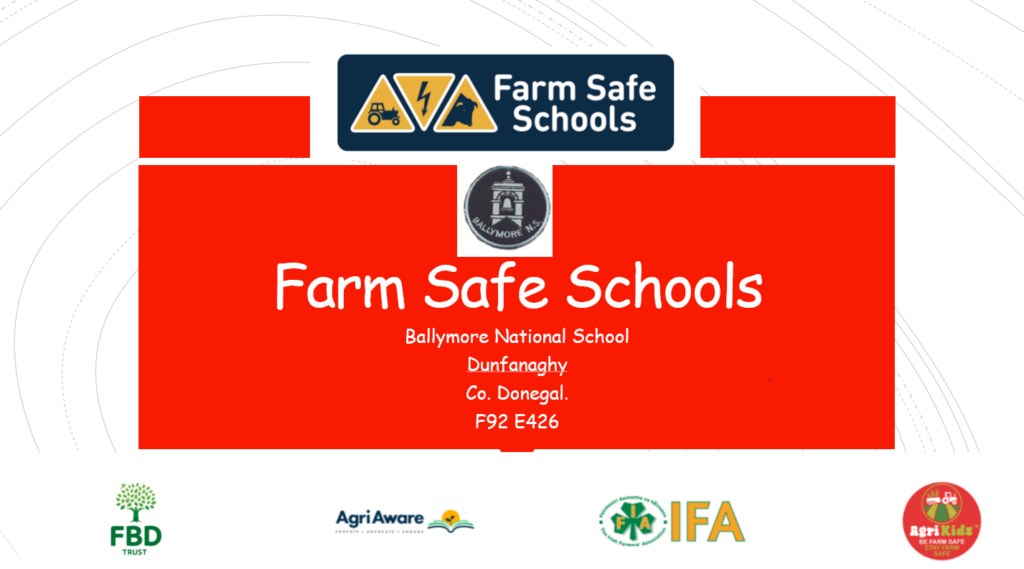 Through an array of fun and interactive lessons, webinars and activities the children became farm safety ambassadors helping to create safer, brighter futures for everyone working on Irish farms.
As the school worked towards gaining Farm Safe Schools Gold, Silver or Bronze status the organisers ensured, through regular prizegiving, that momentum was not lost – at regular intervals teachers involved in the delivery of the programme had opportunities to nominate pupils for recognition of their hard work and dedication towards spreading the Farm Safety message.
School principal Cáit Ní Chuireáin said she was so proud of the entire school.
She said "As a school we were delighted to receive notification in April that Conor, one of our sixth-class pupils, had been recognised as Regional Champion of Ulster for his dedication to the project.
"To learn, this week, that the school was awarded the prize of National Champion-Runner Up certainly created a great deal of excitement across the school community. Not only did the children receive a certificate but they have been awarded €500 to spend on wellbeing resources for the school.
"As principal, I am so proud of the children and their engagement with the project. They are very worthy winners and as a school community we couldn't be prouder of them.'