The fastest commercial vessel in Ireland is currently berthed in Killybegs, ahead of a challenging Arctic Circle voyage.
Built in Cork by Safehaven Marine, Thunder Child II arrived in Ireland's premier fishing port on Thursday evening. Valued at over €1m, it is designed for high speed, with minimal turbulence.
The vessel is going to stay in the harbour, waiting for appropriate weather conditions prior to a high-speed crossing to Reykjavik, Iceland.
We reported earlier that the crew were stopping over in Killybegs, before attempting a new world record transatlantic crossing.
However, a spokesperson for Safehaven Marine informed us that the marathon world record attempt has been postponed for now. 
"Regrettably Covid 19 put paid to our plans to undertake our transatlantic record attempt last year, and due to the continuing Covid restrictions on travel, it's also resulted in making the transatlantic run logistically too difficult to undertake this year," the spokesperson told Donegal Daily.
In the meantime, with Thunder Child II's crew now all vaccinated, they plan on undertaking a shortened, but still pretty extreme and challenging record run this summer. 
"The new record attempt is from Ireland to Iceland, taking in the first and longest leg of the original UIM record route: Killybegs, Ireland to Reykjavik, Iceland. Living on the boat, we then plan to continue voyaging to northern Iceland, then head east, crossing the Arctic Circle line and on to Greenland. We will then have achieved one of our longstanding ambitions, that being of voyaging beyond the Arctic Circle in Thunder Child II."
The 23 metre long speedboat has four 650 bhp engines, can reach a maximum speed of 54 knots, has a fuel capacity of 8,000 litres and can travel up to 750 nautical miles (nm) before refueling. 
The crew plans to cast off from Killybegs in the early morning, passing close to Tory Island and heading to the first refuelling stop in Castlebay in the Outer Hebrides, a distance of 163 nautical nm. After refuelling, they face a long voyage across the North Atlantic of 555nm.
With the night passage completed, they should arrive at the island of Vestmannaeyjabaer on the South Coast of Iceland to refuel mid-morning the next day. They then have a relatively short 113nm final leg to cross the finish line off Reykjavik late afternoon. Overall,  the record leg is 831nm.
"After completing the record leg, we plan to continue voyaging onwards towards the Arctic Circle and refuel at Isafjorour in North Western Iceland. We shall then head northwest crossing the Arctic Circle, through the Denmark Straits and on to the desolate uninhabited Blosseville coast, navigating along the edge of the sea ice and through the icebergs off East Greenland. We shall voyage on to make landfall off Scoresby Sund, Greenland."
In July 2017, the 17-metre original Thunder Child set a record in circumnavigating Ireland, anticlockwise, via Rockall, in just over 34 hours. 
Safehaven Marine's regular remit is to build high-speed commercial and naval/military craft. It has supplied more than 120 boats to some 26 countries worldwide since being established in 1998. It employs 30 people.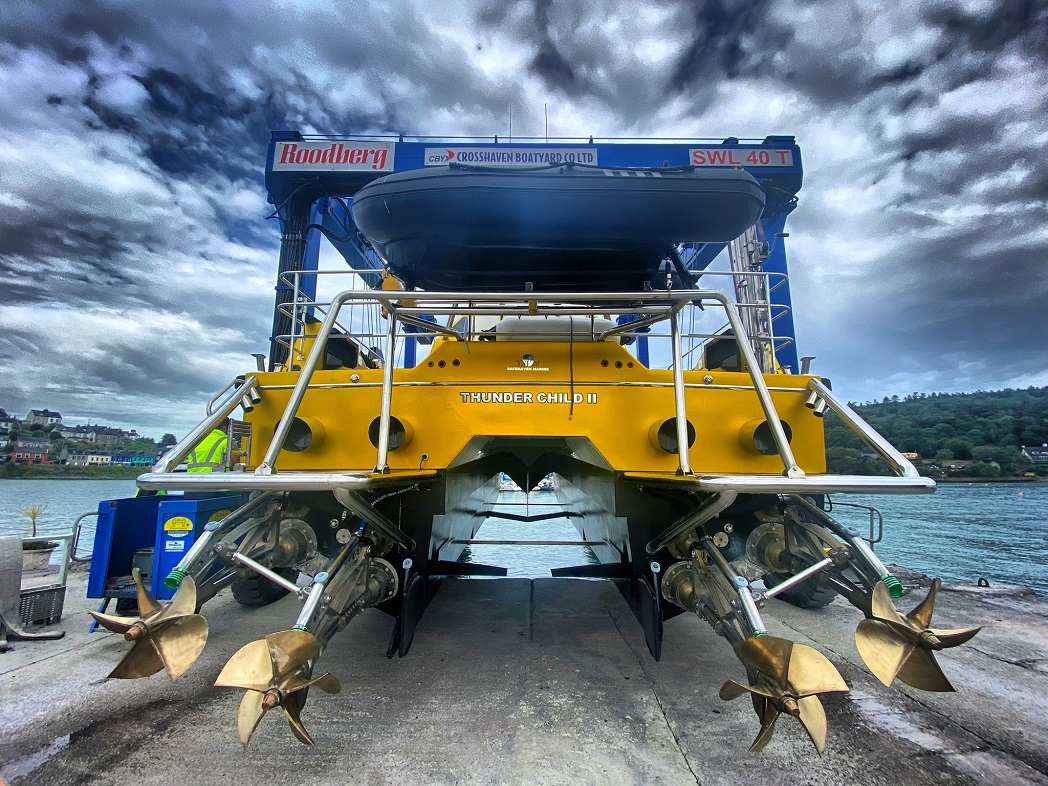 Tags: