Donegal's Covid-19 case rate has jumped by 44% in the past week.
A total of 573 new cases were detected in the county in the past fortnight.
The 14-day incidence rate has jumped again to 359.9 per 100,000 – three times the national average.
The 5 day moving average of confirmed cases in Donegal stands at 48.
The younger population is most affected, with 22% of national cases among the 19-24 years age group.
Many of the new cases are confirmed Delta variant, the HSE confirmed, with the majority of cases are in the Inishowen area and South Donegal area.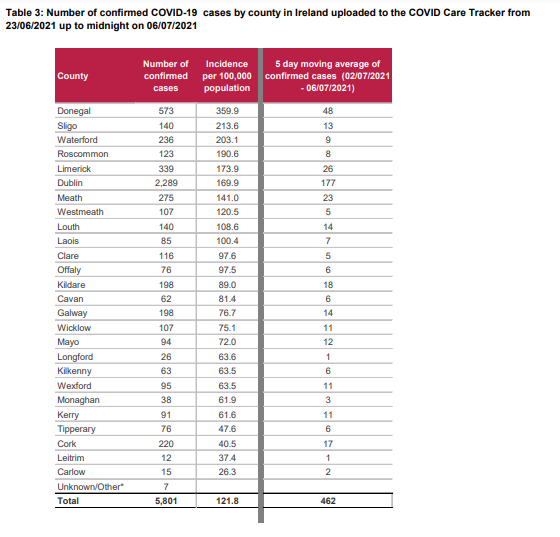 Inishowen has seen an outbreak, resulting in the establishment of an additional pop up, walk-in/no appointment necessary test centre in Buncrana this week.
The facility is located at Nailors Row Car Park behind Cockhill Health Centre, Buncrana, Co. Donegal F93 PW65 and will operate today, Wednesday 7th, Thursday 8th and Friday the 9th of July.
Meanwhile there has also been a marked increase in the number of cases in South Donegal in the Bundoran area.
Director of Public Health for the HSE North West Region Dr Anthony Breslin said ; "It is now more important than ever that people adhere to COVID-19 prevention measures in terms of social distancing, hand washing and not congregating in large numbers. Many of these cases are confirmed Delta, which is a highly transmissible strain. It is not a time for complacency, it is a time for extra caution."
As of 8am Wednesday, there were 60 Covid-19 patients hospitalised, of which 17 are in ICU.