B&S Credit Union is delighted to offer their special Renovate Product for Home Improvement Loans with rates available for loans from €15,000 to €70,000.
Have you a room to improve?
When do you know it's time to make some major changes in your home? Most likely when you can't bear to look at your old bathroom fixtures, cracked tiles or the outdated kitchen cabinets and shabby vinyl floor. Or it could be that you need some additional space to accommodate your growing family.
B&S Credit Union only propose property renovation loans with realistic terms, whether your plans include building on an extension, overhauling your kitchen, revitalising your bathroom, or just giving your home a fresh new look, talk to the friendly team at B&S Credit Union.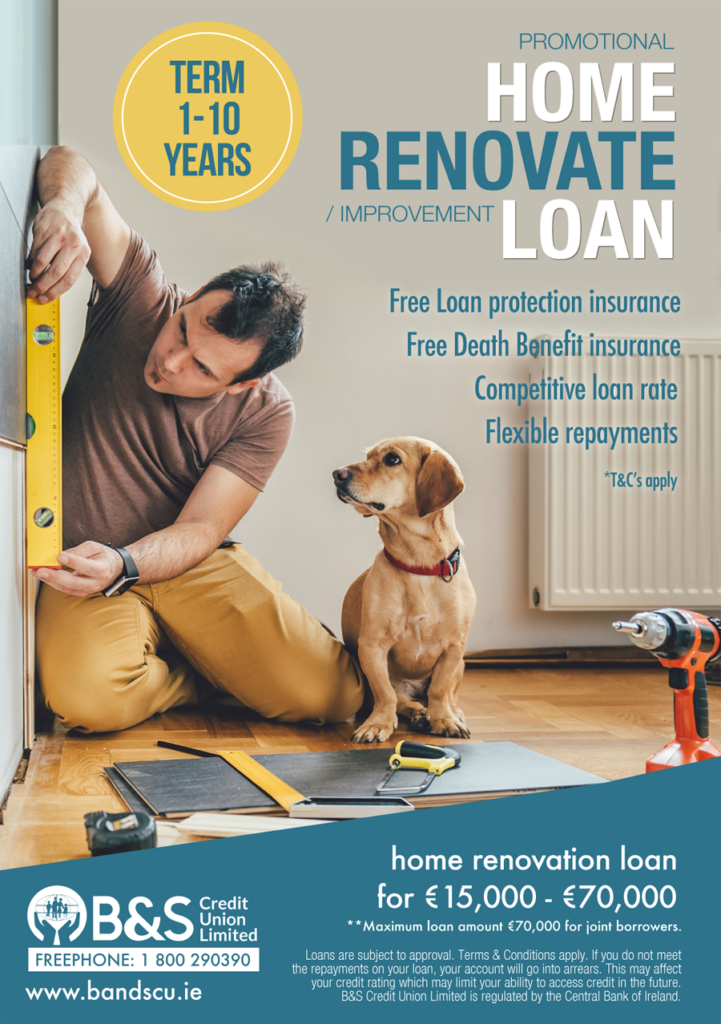 So if your home is in need of some repairs or renovations to turn your existing house into your dream home, or if you have purchased an investment property that needs upgrades before you sell it, B&S Credit Union can help with their 'Renovate' Home Improvement loan.
B&S Credit Union CEO Kevin Morahan said: "We are pleased to offer our 'Renovate' Home Improvement loans from €15,000 to €70,000 to suit your plans. Loans can be paid back in a way that works best for you over 10 years.
Benefits of the home improvement loan include the willingness of B&S Credit Union to work with each individual borrower to structure repayments in a way that will suit their individual circumstances. There are no hidden fees or administration charges, free life cover on your loan (subject to terms & conditions), flexibility to repay your loan in a manner that suits you, with terms of up to 10 years. Borrowers can also pay back their 'Renovate' Home Improvement loan early without penalty, if that becomes an option.
7.99% (8.31% APR) Variable
Representative example as at 06/07/2021
| | | | |
| --- | --- | --- | --- |
| Amount | Term | 364 Weekly Repayments | Total Amount Payable |
| €25,000 | 7 Years | €89.65 | €32,631.61 |
Renovate? Make that dream come true!! Call B&S Credit Union for more information on FREE PHONE 1800 290 390 or visit www.bandscu.ie to apply online. New members are also welcome to apply!
Loans are subject to approval. Terms & Conditions apply. If you do not meet the repayments on your loan, your account will go into arrears. This may affect your credit rating which may limit your ability to access credit in the future.
B&S Credit Union Limited is regulated by the Central Bank of Ireland.