A Donegal man hanged in a high-profile murder case in London in 1883 may have been the victim of a miscarriage of justice, according to newly discovered evidence.
Patrick O'Donnell, who was born in the Gweedore Gaeltacht, was hanged in London on December 17th 1883 for the murder of James Carey.
But evidence that was closed to public scrutiny for over 100 years suggests that crucial information may have been withheld in court.
Patrick O'Donnell (45), a labourer with no formal education, stood trial charged with the murder of James Carey.
Carey led the Invincibles, the group responsible for the Phoenix Park murders in which two of the most senior political figures in the country, Thomas Burke and Lord Cavendish, were viciously stabbed to death in May 1882. In order to avoid conviction, Carey turned informer and gave evidence against his colleagues, five of whom were hanged in 1883.
A newly published book 'The Queen v Patrick O'Donnell' and a TG4 drama-documentary of the same name, reveals for the first-time evidence found by Falcarragh native Seán Ó Cuirreáin which suggests that Mr Justice Denman misled the court, including the defence and prosecution teams as well as the press, when he amended and misrepresented the wording of a direct question from the jury which showed they were inclined to believe the killing was 'without malice'.
Watch a film trailer here: 
Patrick O'Donnell, from Min An Chladaigh, had emigrated to America as a young man. 
He admitted to shooting Carey in front of witnesses but his defence was that the killing was in self-defence.
O'Donnell had unknowingly befriended Carey during a three-week sea voyage from London to Cape Town. The informer and his family were attempting to flee into hiding under an assumed name. Carey was one of the most "reviled and despised" figures in Ireland at the time and his evidence against colleagues who were later hanged was seen as treachery.
According to Ó Cuirreáin, O'Donnell was lauded as a hero for killing the informer whose death was celebrated throughout Ireland and in the Irish-American communities where he had spent half his life.
An 'O'Donnell Defence Fund' established in America accumulated $55,000 (c. €1.5 million now) to employ a high-powered legal team to defend him. Since O'Donnell had been granted American citizenship during his years there, the US President pleaded that the sentence of death be postponed pending efforts to mount an appeal. 
The iconic French writer Victor Hugo also took up his case and contacted Queen Victoria directly with an urgent request to spare the Donegal man's life. Such appeals were rejected and O'Donnell was hanged at Newgate Prison on 17th December 1883. His death secured his immediate status as a national hero at home and abroad and he was celebrated as an Irishman who had died for Ireland.
Two large Celtic crosses were erected to commemorate him, one in Glasnevin Cemetery in Dublin, the second in his native Gweedore, where a public event in his honour is still celebrated annually.
The Queen v Patrick O'Donnell is published by Four Courts Press, price €17.95 (paperback) and available online from www.fourcourtspress.ie or from all good local booksellers.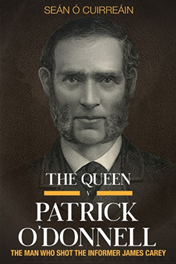 The Queen v Patrick O'Donnell is also the title of the feature-length drama-documentary commissioned from independent production house ROSG by TG4. The 90 minute-long feature contains dramatic reconstructions of the main events, including the Phoenix Park murders, the killing of the informer James Carey on board ship off the coast of South Africa, the trial of Patrick O'Donnell for murder in the Old Bailey and the hanging of O'Donnell at Newgate Prison, London. It also contains analysis from those with a detailed knowledge of the story from Ireland, Britain, the USA and South Africa including historians, journalists, academic and legal experts as well as a descendant of the O'Donnell family.
Actors Eoghan Mac Giolla Bhríde, Stephen Jones, Brídín Ní Mhaoldomhnaigh and Sophie Campbell portray the roles of the main characters in the feature docu-drama.
The drama-documentary has already secured international recognition with shortlisting at film festivals in Vancouver, Canada and Madrid, Spain and will have its first festival screening in Ireland at the Galway Film Fleadh (20th-25th July).