Have you ever considered taking a tour of Ireland? For a small country, we are really spoilt for choice, some of the most iconic sights and incredible landscapes in the world can be found right here!
The Emerald Isle is full of natural wonders, friendly locals and is rich in culture and history.
Experience the best holiday destinations in Ireland and check out our selection of the top places to visit.
There's no place like home!
Now that Covid vaccinations have begun to take place, very soon the world will be opening again for some well-deserved travel experiences.
Donegal Daily have partnered with Travel Department to select some the best places to see in our lovely country.
---
Travel with Confidence
Before we start, the wonderful team over at Travel Department know how important flexibility is to you now. So, from July 1st to July 31st, 2021, any new bookings made for travel in 2021 can be changed for free or you can swap your deposit for a voucher that has no expiry date. This flexibility is valid right up to when your balance is due. Rest assured you can book with confidence today and give yourself something to look forward to. More information here.
---
Explore the Aran Islands
One of the top day trips from Galway and the best place to immerse yourself in the Irish language is possibly the Aran Islands, where Gaeilge is the mother tongue of many locals. There are three islands that make up The Aran Islands, Inis Oirr, Inis Meain and Inis Mór. We recommend taking a guided day trip from Galway to Inis Mor, the biggest of The Aran Islands. Make sure to go to Dun Aengus fort, which is perched on the dramatic cliffside and overlooks the Atlantic Ocean; it's one of many prehistoric sites to visit in Ireland. And if you're feeling energetic you can explore Inis Mór by hiring a bike!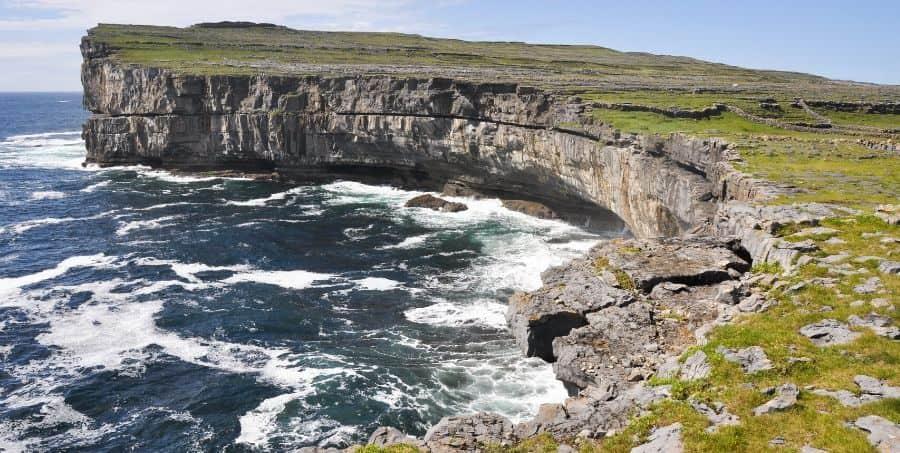 Walk the beaches of Donegal 
Donegal has a long and spectacular coastline full of beautiful beaches, some of which often make top ten lists of the best in the world. If you are looking to go beyond the beaches, we suggest staying in Letterkenny as part of your trip to Donegal; it's a great gateway to see the 'Forgotten County' of Ireland!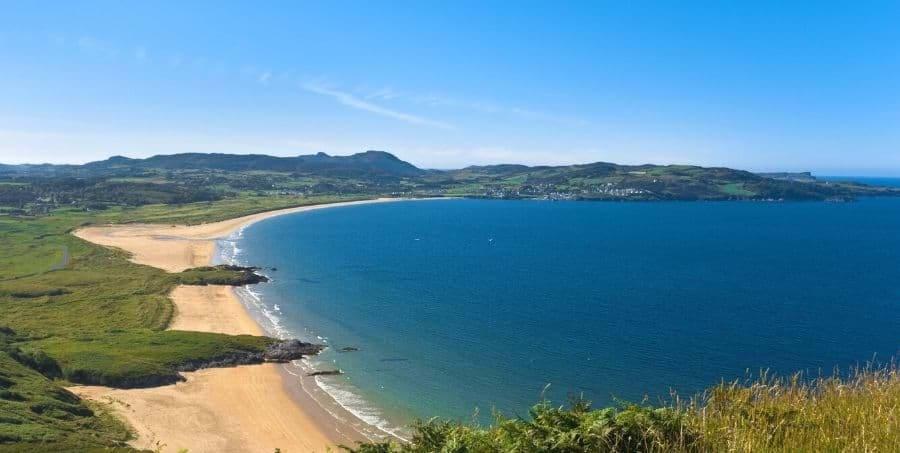 Experience the Ring of Kerry
The best way to see 'The Kingdom' in all its glory is to do the Ring of Kerry. On this tourist trail you'll take in mountains, coastlines, lakes and pass through charming villages. Although you can do this famous circuit yourself, we feel the best option is to do a guided Ring of Kerry tour, so you can let someone else do all the driving. All you need to is sit back, relax and take in the best sights in Kerry.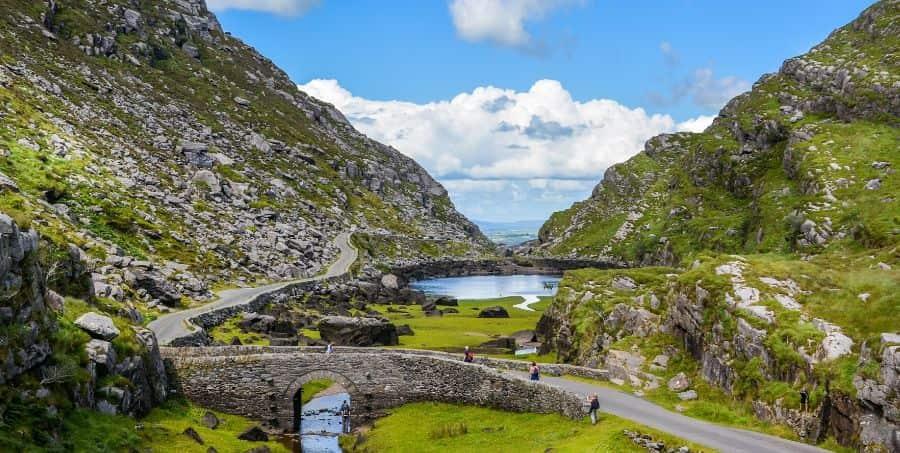 Learn about Irish Kings at the Rock of Cashel
One of the best archaeological sites in Ireland, the Rock of Cashel is an ancient fortress and it's where the iconic Brian Boru was crowned High King in 990; the only king to unite all of Ireland under his rule. It's also known as 'St. Patrick's Rock' as the legend goes that Saint Patrick arrived in Cashel in 432 AD and baptised King Aegegus who became Ireland's first Christian ruler.
Trek Croagh Patrick 
If you are thinking about a getaway to County Mayo, then you must see or hike Croagh Patrick, one of the top natural sights to see in Ireland. Locals call it 'The Reek' and it has been a destination for pilgrims for thousands of years; it is no wonder it's considered to be the 'Holiest Mountain' in Ireland. You do not need to climb to the very top to appreciate its beauty; you can get magnificent views of the Mayo countryside and Clew Bay from any stage on the way up.     
Explore Cobh
Cobh is a charming harbour town and is one of the top highlights of Cork. 
You may recognise it; one of the most photographed shots in Cork are the 'Deck of Cards', a row of colourful houses built in the 1850s on a hill with St Colman's Cathedral in the background. Locals have joked that if the house at the bottom of the hill falls, the others will follow and collapse like a deck of cards! This town was the last port of call for the Titanic, and it used to be known as "Queenstown" to commemorate a visit by Queen Victoria.
You can retrace the steps of the 123 passengers who boarded the ship at Titanic Experience Cobh, where you learn about their stories and what happened when they left Ireland on the 'unsinkable ship' on its fateful maiden voyage to America.
See the Cliffs of Moher
If you are taking a Wild Atlantic Way tour, then you must see the Cliffs of Moher. Voted as Ireland's favourite visitor attraction 2019 and 2020 by Irish Independent readers, it's quite possibly one of the most breathtaking natural sights in Ireland. It has even featured in classic films like 'Harry Potter and the Half Blood Prince' and 'The Princess Bride.' You can enjoy a scenic walk along the safe paved pathways and take in County Claire's jagged coastline or learn more at the Cliffs of Moher Visitor Centre.
Uncover Galway City
It's no surprise Galway was voted the friendliest city in Europe in the Condé Nast Traveller 2020 Traveller survey. The 'City of Tribes' is known as Ireland's cultural heart as it's one of the best places to experience traditional Irish music and it has a fantastic pub scene. When you visit Galway, see the medieval 'Spanish Arch', explore the Latin Quarter and we recommend getting an ice cream while taking a stroll along Salthill promenade to watch the sunset over the Atlantic Ocean. Make sure to kick the wall at the end of the promenade as it's good luck!
Visit Kilkenny Castle
Built soon after the Norman invasion of Ireland in 1195, although Kilkenny Castle has been rebuilt and adapted throughout its 800-year history, it has stood the test of time and is one of the most famous landmarks in Ireland. If you are looking for a day trip from Dublin, it's approximately one hour away from the capital, you can learn more about Kilkenny Castle with a guided tour or you can explore its wonderful grounds by yourself.
Discover Hook Lighthouse
If you're looking for some day trip ideas in Wexford, then we suggest a visit to the Hook Lighthouse. Located on the Hook peninsula in Wexford and built 800 years ago, it's believed to be the oldest operating lighthouse in the world. Take in the stunning views of Ireland's Ancient East from Hook Lighthouse and if you are lucky, you may spot whales or dolphins!
We hope this has inspired you to discover the top places to see in Ireland. Discover all our guided Irish holidays and uncover the best of this incredible island with us. Looking to explore more of Ulster? The check out our top 5 places to visit in Northern Ireland.
---
With 25 years' experience perfecting tours to 100 destinations worldwide, Travel Department's escorted holidays typically include flights, accommodation, transfers and guided tours. They carefully plan your trip, so you experience the best holiday highlights accompanied by a friendly local guide. With Travel Department you see more!