MONA McSharry finished eighth in the women's 100m breaststroke final at the Olympic Games.
The 20-year-old, swimming in lane eight, finished in 1:06.94.
McSharry was beaming as she entered the arena for her day of days, becoming the first Irish swimmer in 25 years to reach an Olympic final.
McSharry turned at 31.68 seconds and came home in eighth spot.
USA's Lydia Jacoby took gold in 1:04.95 with Tatjana Schoenmaker from South Africa claiming silver in 1:05.22.
Lilly King, the defending Olympic champion, left with bronze, the American clocking 1:05.54.
"It's mixed emotions," McSharry said. "I put in a good fight and I'm happy to come away from my first Olympics with an eighth place.
"I tried to go out smooth and replicate the semi-final. I lost a bit of speed coming off the wall.
"I'm happy with how I did, it's three swims under 1:07 which is good. That shows consistency and the training is working."
For McSharry, reaching this final was a landmark moment – and sets her up for Paris in 2024, not to mention other leading championships. Going on her marks at the pool for an Olympic final was a seismic moment for the Grange native.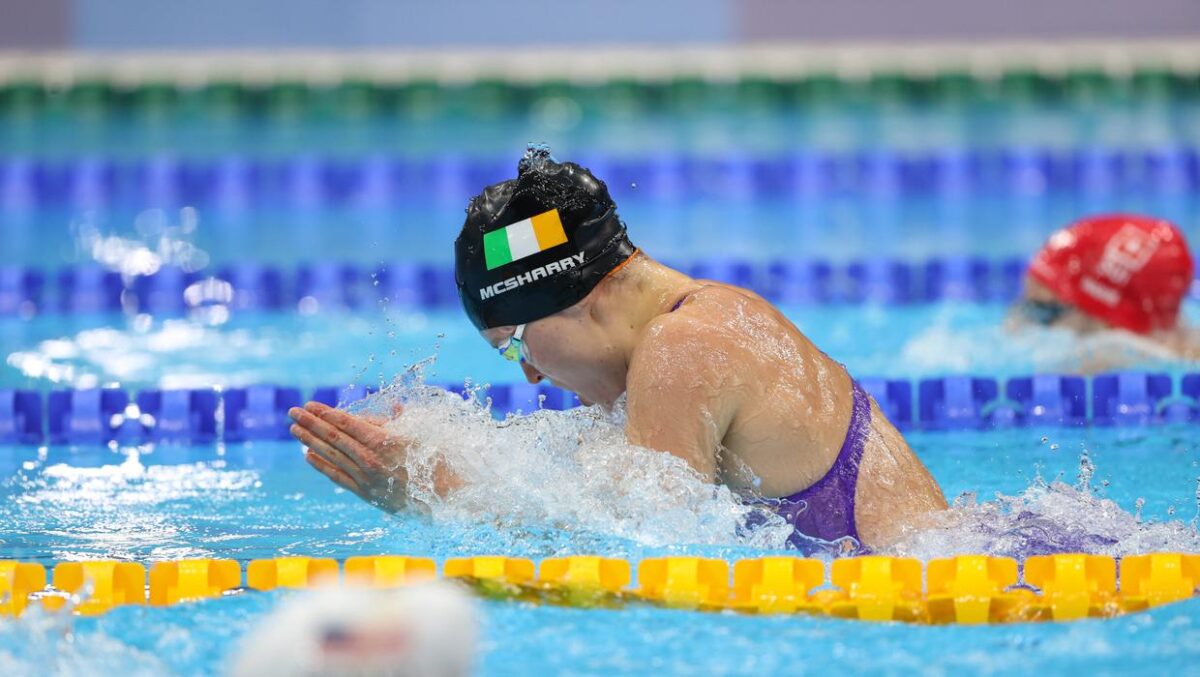 McSharry cut her teeth in the sport while competing for Marlin's Swimming Club.
Her teenage years were spent mainly in the modest confines of the Ballyshannon Leisure Centre, where the lights flicked on while most of the Erneside town still slept.
The Olympic Games were the dream a long way out.
Her coach at Marlin's, Grace Meade would recall: "Over time she developed into a fabulous breaststroker. She is very determined with a great mindset and attitude."
Meade predicted that McSharry would do 'exceptionally well'. McSharry was just 0.9 of a second from qualifying for the 2016 Olympic Games. While Paris in 2024 was always the big target, McSharry was destined for Tokyo and her performances so far at the Tokyo Aquatics Centre have opened the world to her talents.
McSharry bridged a 25-year gap on Monday when she became the first Irish swimmer since Michelle Smith to reach an Olympic final.
Her 1:06.59 qualified her by one hundredth of a second. Australian Chelsea Hodges missed out with McSarry just 0.3 seconds off her Irish record.
Her PB of 1:06.29 was set in April on a week when she had her ticket to Tokyo punched.
She came through her heat third in 1:06.39, actually a quicker time than her semi-final. Her heat included a new Olympic record of 1:05.82, set by Tatjana Schoenmaker from South Africa.
The 2017 World Junior champion squeezed into the final as the eighth fastest qualifier, but vowed beforehand: "No one's given a medal before they go in. We all have a chance. I'm definitely going to go for it."
Tags: