Portugal truly has it all for that unforgettable holiday – a fascinating history, warm, friendly people, great weather and incredible beaches. With so much natural beauty and character it's no wonder that visitors return year after year to this beautiful haven. We've selected just some of the top attractions you should see on your trip to Portugal.
Now that Covid vaccinations have begun to take place, very soon the world will be opening again for some well-deserved travel experiences. Donegal Daily have partnered with Travel Department to highlight the best places to visit in Portugal.
Browse the latest holidays at: www.traveldepartment.com/donegal-daily
---
Travel with Confidence
Before we start, the wonderful team over at Travel Department know how important flexibility is to you now. So, from July 1st to September 30th, 2021, any new bookings made for travel in 2021 can be changed for free or you can swap your deposit for a voucher that has no expiry date. This flexibility is valid right up to when your balance is due. Rest assured you can book with confidence today and give yourself something to look forward to. More information here. 
---
1. Algarve Beaches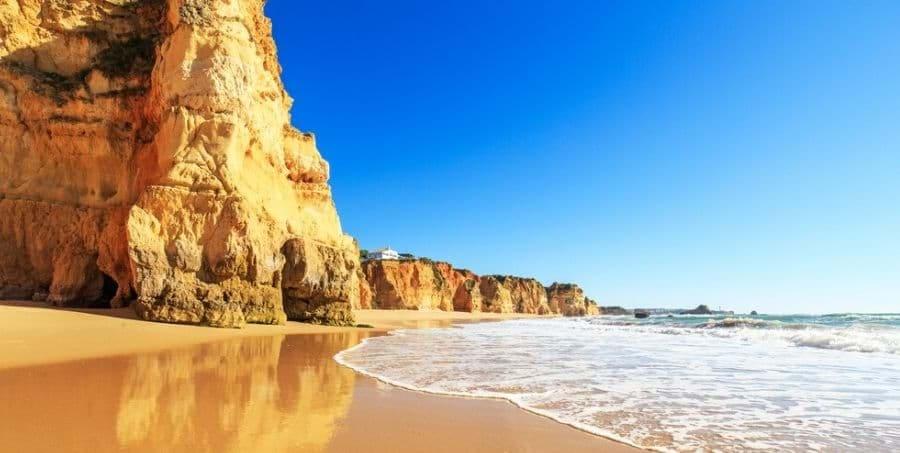 There are about 100 attractive sandy beaches on the Algarve's Atlantic coastline, with rust-hued cliffs and rock formations forming an impressive backdrop. Due to the maritime shelf and water currents, the sea temperature is surprisingly warm. Make sure to keep an eye out for dolphins and whales, which can often be spotted off the Algarve coast! We suggest staying in Albufeira or Praia da Rocha, two lovely seaside towns on your Algarve getaway.
2. Silves
This well-preserved historic town is the former capital of the Algarve and was the most important city in the south of Portugal during Moorish times.
3. Cape St. Vincent
One of the best excursions in the Algarve is to see the 'End of the World'. Cape St. Vincent in Portugal is the most south-westerly point of Europe's mainland. Here you can enjoy breath-taking views of the Atlantic Ocean from this jagged cliff top setting.
4. Belem Tower
This tower is to Lisbon what the Eiffel Tower is to Paris or Big Ben is to London. It is the city's most photographed landmark, which along with the marvellous 'Monument to the Discoveries' should top your list of must-see monuments in Lisbon.
5. Jeronimos Monastery
One of the best UNESCO sights in Portugal to see is the Jeronimos Monastery designed by Portuguese architect Diogo de Boitaca , it took many years to finish as construction started in 1501 and it wasn't completed until 100 years later. It's a fine example of Manueline or Portuguese late gothic. If you're looking for one of the best places to try a Pastel de Nata in Lisbon, we suggest Pastéis de Belém as they have followed the original recipe from the Jeronimos Monastery since 1837. You can enjoy the laid back atmosphere of Portugal's capital, a place overflowing with history & culture with our Lisbon City Break or on a guided excursion on our Estoril & Lisbon Coast holiday.
6. Sintra National Palace
Sintra National Palace, a beautiful 16th century palace that is a UNESCO World Heritage Site. This is where the Portuguese Royal Family formerly spent their summers; the fairy tale town is located in the hills of the Sintra Mountains.
7. Porto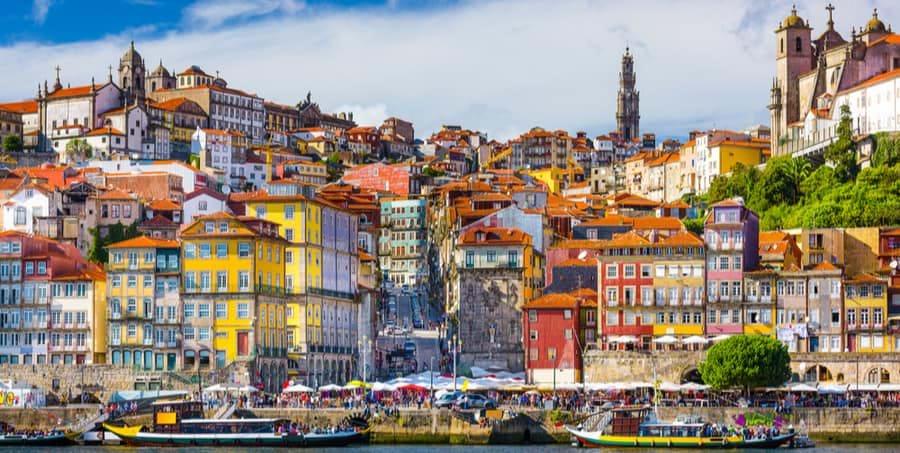 Located on the Douro River in Northern Portugal, Porto is one of Europe's oldest cities, and was declared a UNESCO World Heritage Site in 1996. Lovers of the arts will be spoilt for choice in Porto. Visit the Rua Miguel Bombard, home to many of the city's galleries and the Palacio da Bolsa do Porto (the stock exchange building) – one of the most attractive buildings in the city. A city break to Porto is perfect for those looking for a quick and cultural Portuguese escape; or if you have more time, you can commence a Douro River Cruise from Porto.
8. Pinhao Train Station
Another way to discover the top sights in Portugal is with a relaxing Douro river cruise. One of the highlights is to see the lovely town of Pinhao and its famous train station decorated with blue and white tiles which is known as 'azulejos' a form of Portuguese tile work which is often seen throughout the country on various buildings. 
9. Guimarães
The "Cradle of the Portuguese Nation", Guimarães historic medieval centre is incredibly well preserved and it was the first capital of Portugal.
10. Braga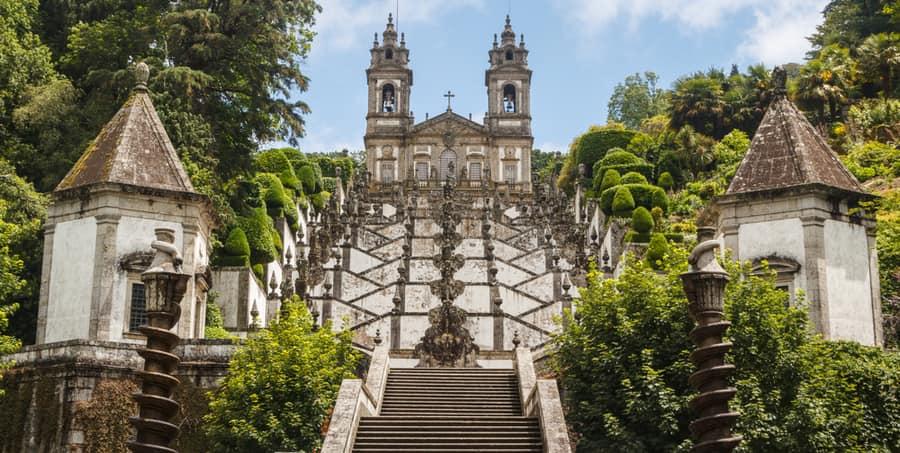 On our Highlights of Northern Portugal & Santiago de Compostela tour, we'll discover Portugal's third-largest city. An elegant town laced with ancient narrow lanes, strewn with plazas and a splendid array of baroque churches. The constant chiming of bells is a reminder of Braga's age-old devotion to the spiritual world. Its religious festivals – particularly the elaborately staged Semana Santa (Holy Week) – are famous throughout Portugal.
There are so many wonderful sights and Travel Department's local expert guides on one of their escorted holidays to Portugal can provide true insight to their beautiful country. 
With 25 years' experience perfecting tours to 100 destinations worldwide, Travel Department's escorted holidays typically include flights, accommodation, transfers and guided tours. They carefully plan your trip, so you experience the best holiday highlights accompanied by a friendly local guide. With Travel Department you see more!