A peaceful protest is to be held for the 100% Mica Redress next month in Lifford.
The demonstration will take place in The Diamond of Lifford town, outside Donegal County Council at 2pm.
The gathering has been organised by a local group in the Lifford-Clonleigh area with the aim of keeping the campaign for 100% Redress front and centre.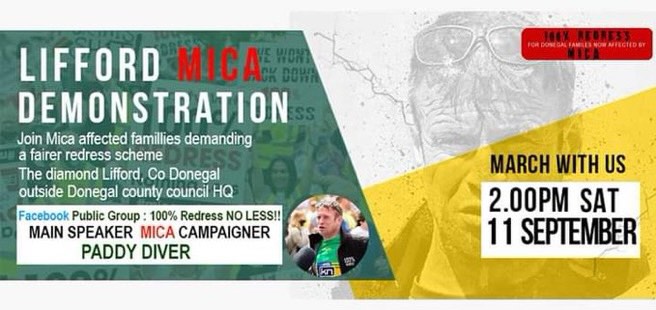 The main speaker will be Mica homeowner and prominent campaigner Paddy Diver. After crowds took to the streets of Buncrana on Wednesday, Mr Diver called for other towns in Donegal and other affected counties to do the same.
Lifford musician Fearghal Mac Lochlainn, one of the organisers of the upcoming protest, said: "These final few weeks is what Donegal has got left to nail this message home to the government. Therefore we need to mobilise as many people as possible from the Lifford-Clonleigh, Finn Valley and Inishowen areas, from all over Donegal, to come out and support these families for a fight for full 100% redress."
People from neighbouring counties are being invited to come and lend their support on the day.